In just a mile of coastline, Nantucket's Surfside area offers not one, but four pristine beaches to stroll, shell, surf, and swim: Fisherman's, Stone's, Nobadeer, and Surfside. MoreNantucket.com has options to walk, bike, and take the bus to this beautiful stretch of island beaches.
From downtown, Surfside Beach is about 3.5 miles. With bike paths nearly the entire way, it's a fun and easy ride for all ages. There are places to stop along the way for refreshment or a rest, and biking to Surfside Beaches is a great way to see the mid-island area of Nantucket. If you have not brought a bicycle to Nantucket, you can easily rent one for a few hours, a day, or a week from one of eight bicycle shops, some with delivery and pick-up service.
The WAVE bus runs between downtown (Greenhound Building at 10 Washington Street) and the Surfside Beach parking lot daily. It departs every 40 minutes starting at 10 am every day to September 6, 2021, with the last bus from the beach back to town departing at 5:40pm. The bus ride is a short 15 minutes and just $3 per person cash, collected upon entering the bus.
Once you are in Surfside, you can choose from several beaches, each a short walk from the Surfside Beach lot. These south shore beaches have soft sand, dunes with dune grass, rosa rugosa, and beach peas, and the ocean surf that island beachgoers love. Nobadeer Beach has lifeguards in season, as does Surfside Beach along with facilities and food service. Stone's and Fishermans have no formal services and tend to be more open.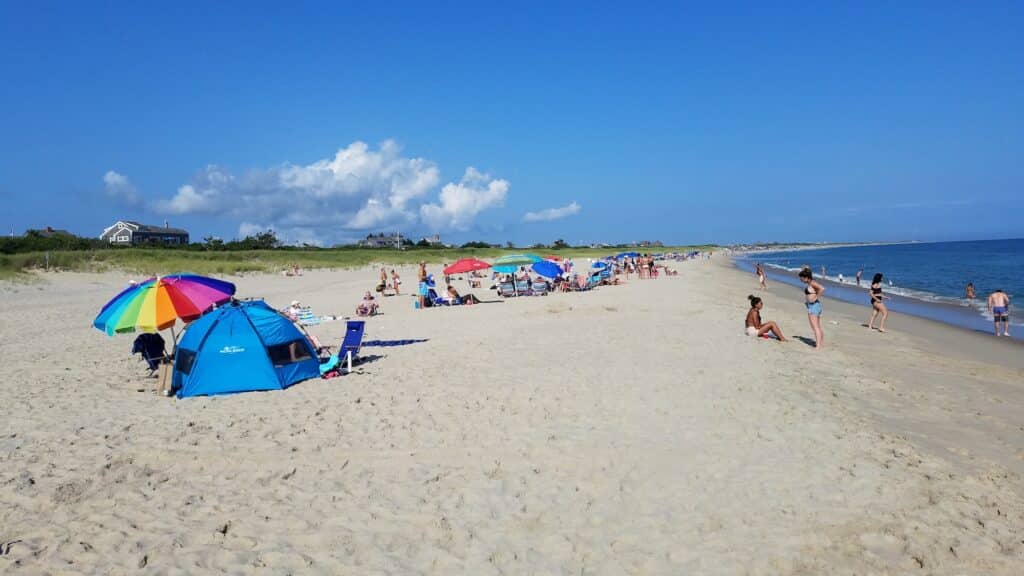 If you'd like to explore an even less well-traveled stretch of beach, walk to the right of the Surfside Beach parking lot and head to the Nantucket Land Bank's Western Avenue Beach. There's a small grassy area with benches to sit and gaze at the water. If you'd like to go further, you can walk down the staircases and then along a sandy pathway lined with pines to get to yet another stretch of gorgeous Surfside shoreline.