This winter, Egan Maritime Institute is opening the doors to its Shipwreck and Lifesaving Museum to the Nantucket Community. Curious minds of all ages will be able to explore the museum and partake in a series of programs designed to celebrate and promote Nantucket's seafaring history.
"The museum is typically closed to the public in winter, but this year we've designed a lineup of community programs for all ages. We are collaborating with various community organizations to ensure our programs are accessible to all. Plus, our team has been busy planning a few signature events," said Carlisle Jensen, Egan Maritime's Executive Director.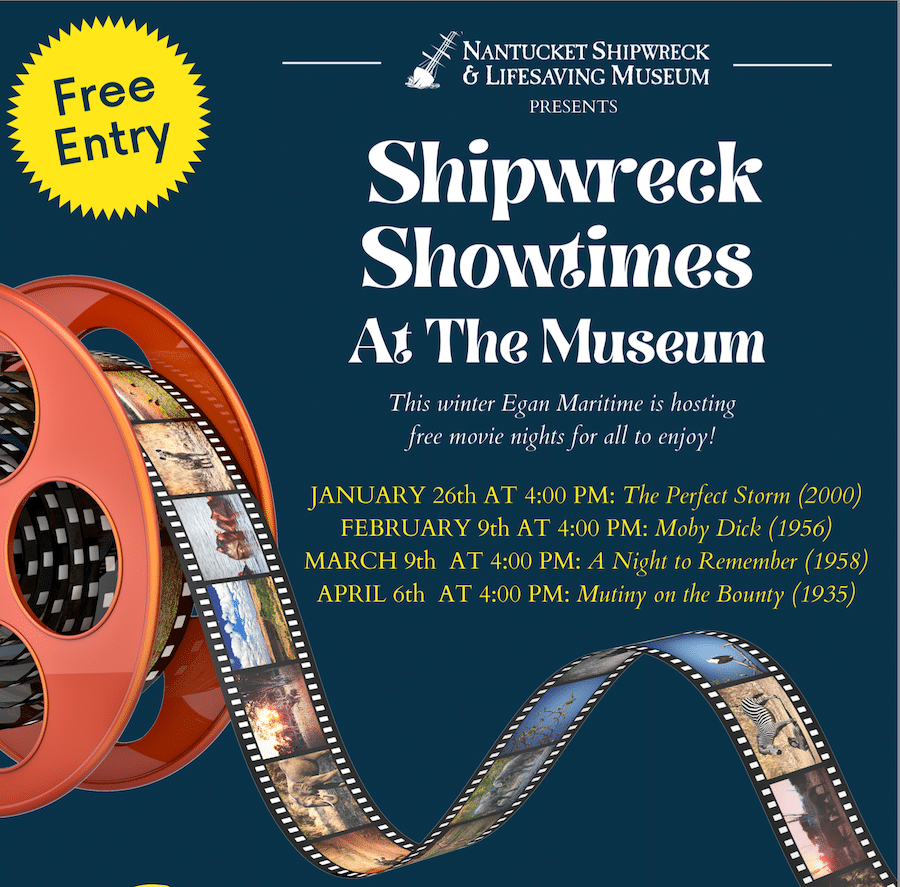 Over the next few months, community members are invited to join Egan Maritime for free movie nights, Saturdays at the Museum, and an evening of Shipwreck Stories and Songs from the Sea. For younger visitors, Egan has partnered with the Nantucket Boys and Girls Club and Nantucket Community School to provide free educational programs at the museum. These activities are inspired by Egan Maritime's Sea of Opportunities curriculum, with a team to provide hands-on learning to anyone who visits the museum. "We hope to inspire children to dive in and learn more about maritime culture," shares Evan Schwanfelder, Director of Education.
Egan Maritime is also thrilled to partner with Nantucket Center for Elder Affairs and The Saltmarsh Center to offer programs designed explicitly for Nantucket's lifelong learners. The new Where It Happened: Nantucket's Hidden Historic Places series includes visits to key island spots related to Nantucket's long and gallant history of rescues from the stormy, treacherous seas surrounding our island. Another new program is the Museum's Ports of Call program at the Saltmarsh Center, during which the Shipwreck Museum crew will engage with seniors where they live, meet, and play. Programs will include workshops on caring for family heirlooms and discussions on the mysteries surrounding recently uncovered old shipwrecks. Interested participants will be able to sign up for these programs starting in February. 
"We purposely collaborated with key community organizations so that we were able to truly meet the needs of our year-round community," Jensen concludes.
In addition to new programs, Egan Maritime staff is bringing back island favorites with a few tweaks: a night of Shipwreck Stories and Songs from the Sea and the Salty Dog Showcase, modeled after NPR's quiz show. The Salty Dog Showcase will test your knowledge against some of Nantucket's best and brightest while figuring out what's real news and what's made up.
For more details about Egan Maritime's winter programs and to learn more about the institute, call 508-228-2505 or visit eganmaritime.org
Founded in 1989 by island native Albert F. "Bud" Egan, Jr. and his wife Dorothy H. Egan, Egan Maritime Institute's mission is to preserve and celebrate Nantucket Island's seafaring heritage.