Just 7 miles by 14 miles, Nantucket Island is known to be very accessible for walkers and cyclists. Downtown Nantucket and the Village of Siasconset are both filled with charming lanes, beautiful gardens, and historic buildings, so walking and biking are the best ways to explore and to discover hidden treasures.
ReMain Nantucket launched MoreNantucket.com as part of this campaign to encourage visitors and residents to leave their cars at home and instead walk, bike, or ride a bus to come into town. The idea is that you get "more" of what you want from your Nantucket experience when you choose not to drive your car here. It is more relaxing to ride the bus than look for parking spaces. It is more amazing to see history and nature up close when you walk or bike around our island.
Each section of the site includes reasons why it makes sense to use alternative transportation, along with links to helpful resources.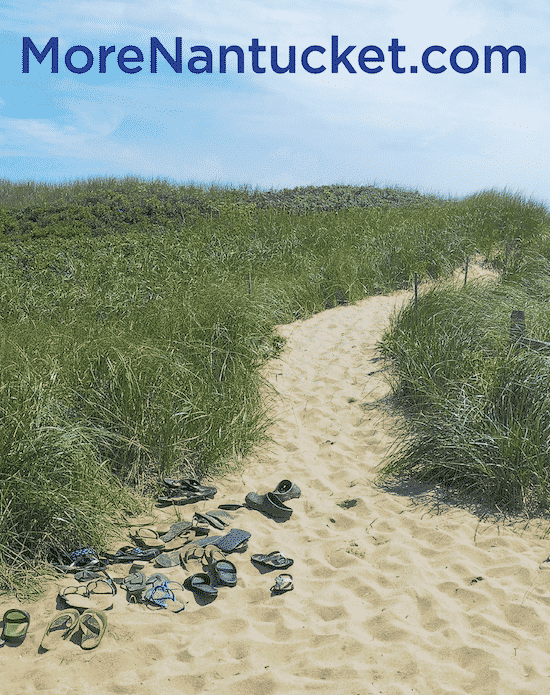 There's a reason Nantucket Island has earned a high "walk score"–there's so much here to discover! The WALK section mentions the 10 museums and historic sites, our 37 local restaurants you can walk to, and 18 cultural district attractions plus links to the new Conservation Foundation app.
The BIKING section talks about our miles of dedicated bike paths and maps for self-guided bike tours with notable stops along the way. And this section also has links to island shops that rent bikes and an island bike tour company. Biking is fun and healthy, and much of the island's terrain is very conducive to cycling by people of all fitness levels.
For those who'd rather ride the NRTA Shuttle, visit MoreNantucket.com's Bus Section. These air-conditioned shuttles traverse much of our island and depart from a convenient downtown bus station that is a short walk from Main Street.
NEW to MoreNantucket.com is a collection of FREE walking and biking tours. Each is self-guided and available in audio format to download and play on your phone, or a PDF that you can access on your phone or print out in advance. The tours include tons of fun factoids. For example: did you know that the Macy's Department Store logo is based on Nantucketer Roland Macy's tattoo of a red star on his forearm? And, did you know that Siasconset Village on Nantucket is the site of the first Marconi Wireless Station, which was the first US mainland station to receive distress calls from the sinking ship Titanic?
There are currently two downtown walking tours on MoreNantucket.com and two biking tours (Milestone to Sconset or Monument Square to Cisco Beach).  More of both will be added this fall. Check back for the new additions!