Join the Nantucket Maria Mitchell Association (MMA) this fall for open hours at the Hinchman House Natural Science Museum and Research Center, as well as various public programs, including Beach Biology Field Trips and Open Nights.
Beginning on October 9, the Natural Science Museum will be open on Saturdays from 10am to 1pm. Admission is $5 per person and free for MMA Members. Included with admission is a 10am to 11am "Animal Feeding" program with museum staff. No registration is required; tickets will be available at the door.
Each month during the off-season, the museum will have a different theme with special exhibits, seasonal trivia, and live animals. This month, the museum theme is "Ominous Animals," featuring bizarre animals and other mysterious science. The museum will be open on Saturdays from 10am to 1pm through November 20 and reopen again for 2022 after the new year.
On October 23, in celebration of National Chemistry Week and Mole Day (10/23), the MMA will be handing out free take-home science kits as part of our Everyday Science program supported by ReMain Nantucket.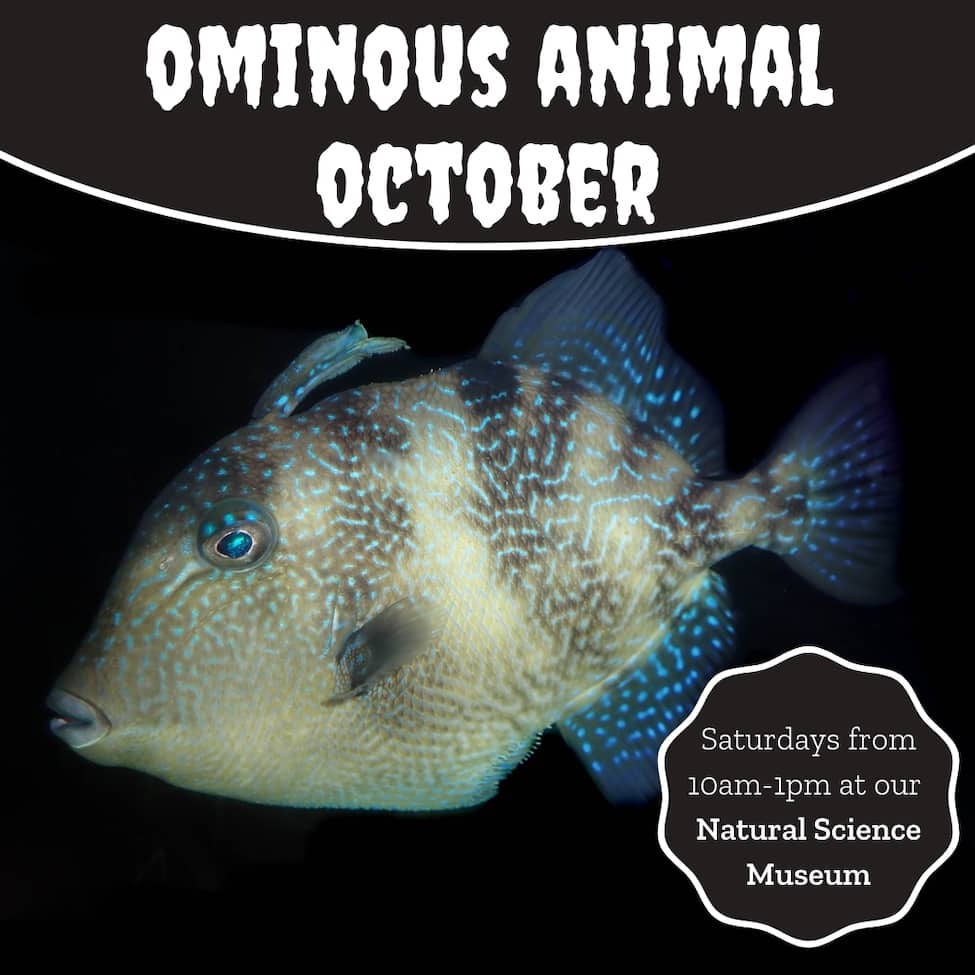 The Research Center will also be open on Saturdays from 10am to 1pm for Biological Collections Open Hours with the MMA's Field Ornithologist, Ginger Andrews. During Open Hours, visitors learn about the collections, why collections are important to science, and examine different specimens during each session. From specimens of birds and mammals to insects and plants, you never know what will be on display. Biological Collections Open Hours at the Research Center are free for everyone. No reservations are required.
The ever-popular Beach Biology Field Trips will begin this Saturday, October 9. Each Saturday through November 20, MMA Aquarium Director, Jack Dubinsky, will lead walking trips at Madaket Beach from 2 to 3:30PM. Participants will discover shells and bones of more than 15 species of marine animals and are likely to observe live mole crabs, sand fleas, shore birds, beach insects, and seals. Beach Biology Field Trips are $10 for Members and $25 for Non-Members. Registration is required; please use this link to reserve a space.
Fall Open Nights are scheduled for 7 to 8:30 pm on November 4 & 5, and on December 8 & 9. Visitors to Open Nights will join the MMA's professional astronomers for an impressive tour of Nantucket's night sky. The MMA staff will lead constellation tours and guide visitors through different viewing stations outside the observatory domes. Programs take place at 59 Milk Street Extension and are weather permitting. No reservations are required; tickets will be available at the door. Open Nights are $10 for Non-Members and free for Members. For updates on weather cancellations, call 774-325-1081 or visit www.mariamitchell.org/open-nights.
As of this time, masks are required for all in-person MMA programming and site visits.
Stay tuned for upcoming information on additional fall programming, including night hikes, bird walks with Ginger Andrews, and more.
The Maria Mitchell Association is a private non-profit organization. Founded in 1902, the MMA works to preserve the legacy of Nantucket native astronomer, naturalist, librarian, and educator, Maria Mitchell. The Maria Mitchell Association operates two observatories, a natural science museum, an aquarium, a research center, and preserves the historic birthplace of Maria Mitchell. A wide variety of science and history-related programming is offered throughout the year for people of all ages.