As part of the Envision Resilience Nantucket Challenge, a pop-up art installation will be unveiled on Friday, October 8 at 6:30 p.m. Through projection-mapping art, "Rising Above" will tell the history and envision the future of the island's resilience. The installation will be projected across the water onto the backside of 4 Old North Wharf, the scallop shanty of fifth-generation Nantucketer Ginger Andrews.
The public is invited to gather along Easy Street—a critical downtown thoroughfare itself prone to regular sunny-day flooding and storm surge events—for viewing. The art installation, which will be shown during four consecutive evenings, is a collaboration between ReMain Nantucket, Envision Resilience Nantucket Challenge, The Nantucket Dreamland, and several artists.
"Climate change deeply impacts our island's fragile infrastructure in so many ways. As a community we must rise to the challenge and begin to imagine strategic and creative solutions for our future," said Alicia L. Carney, executive director of The Nantucket Dreamland. "The frequent flooding along Easy Street is a significant concern for The Dreamland and we are honored to collaborate with ReMain Nantucket and many others to raise cultural awareness around resilience and sea level rise."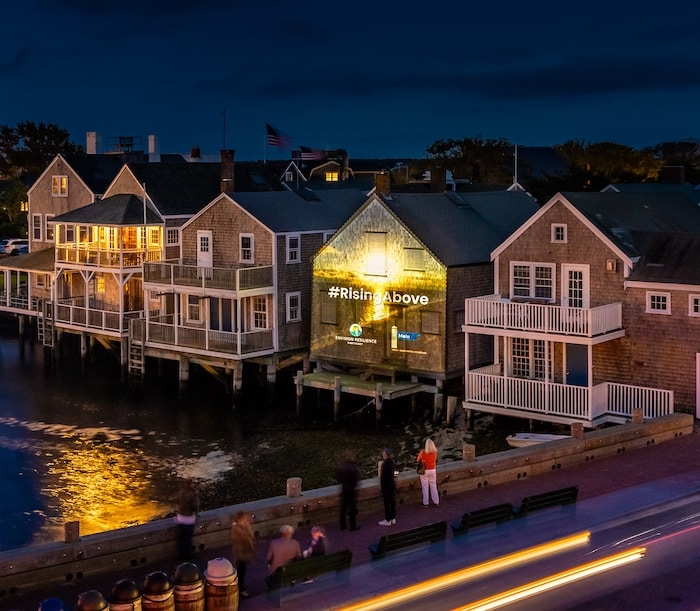 Local art director Heather MacLeod and visiting digital media designer Michael Clark of the University of Florida collaborated with the Envision Resilience Nantucket Challenge team to bring the vision for the illuminated scenographic installation to life.
"We have long discussed how we might use art to tell the story of sea level rise on the island," said Cecil Barron Jensen, executive director of ReMain Nantucket. "'Rising Above' is not just a call to action, but an ode to Nantucket's history of resilience, its working waterfront and its adaptive community spirit. The installation is reflective of the way in which our community has come together to imagine how we adapt to the impacts of climate change."
The five-minute projection-mapping art display, aimed at inspiring the public to visualize how the waterfront has and will continue to adapt over time, will run on a loop from 6:30 to 8 p.m. on Friday, October 8, 9, 10, and 11. Ferry passengers arriving and departing on the Steamship Authority vessels will be able to view the light projection during its run.
Contributing photographers include Cary Hazelgrove, Greg Hinson, Ginger Andrews, and Rob Benchley. Design renderings are contributed by Yale School of Architecture students Niema Jafari, Xuefeng Du and Kevin Gao and University of Florida student Suzanne Tielemans, all of whom participated in the Envision Resilience Nantucket Challenge. "Rising Above" opens on the evening of the Scallopers Ball, an annual event hosted by the Nantucket Shellfish Association.
To learn more, visit the Envision Resilience Nantucket Challenge exhibition, "Envision Resilience: Designs for Living with Rising Seas" which showcases student design proposals for how Nantucket residents and businesses can live with sea level rise. The free exhibition, on the second floor of the Nantucket Historical Association's Thomas Macy Warehouse at 12 Straight Wharf, is open seven days a week from 10 a.m. to 5 p.m. through December 2021.
ReMain Nantucket and ReMain Ventures are funded by Wendy Schmidt and her husband Eric to support the economic, social and environmental vitality of the island of Nantucket. In addition to ReMain Nantucket providing grants and sponsorships to support sustainable and cultural initiatives across the island, ReMain Nantucket has worked in conjunction with ReMain Ventures to revitalize the downtown district year-round through the preservation of historic buildings that are home to a mix of nonprofit and commercial businesses.
The Envision Resilience Nantucket Challenge, an initiative of ReMain Nantucket, seeks to inspire the Nantucket community and coastal communities around the world to imagine a future that is adaptive in the face of sea level rise. Learn more at envisionresilience.org.