On Tuesday, July 4, the Town of Nantucket will offer activities all day long to celebrate the nation's Independence Day. Locations include the Main Street area, Children's Beach, and Jetties Beach. Food trucks will be available downtown for purchase of food from 8:30 am to 12:30 pm.
FOURTH OF JULY MAIN STREET AREA EVENTS
9:00 am: Reading of the Declaration of Independence at Unitarian Universalist Church
11:00 am: Live Musical Performances on Federal Street.
12 Noon: Water competition between Nantucket Fire Department and Boynton Lane Reserves. BE PREPARED TO GET WET if you are standing within (or near) the "Spray Zone" along Main Street. This event is for the NFD and Boynton Lane Reserves only: the public is invited to watch and cheer for their favorite competitor. Attendees are asked to refrain from bringing water balloons, soakers, and all other 'water competition' materials.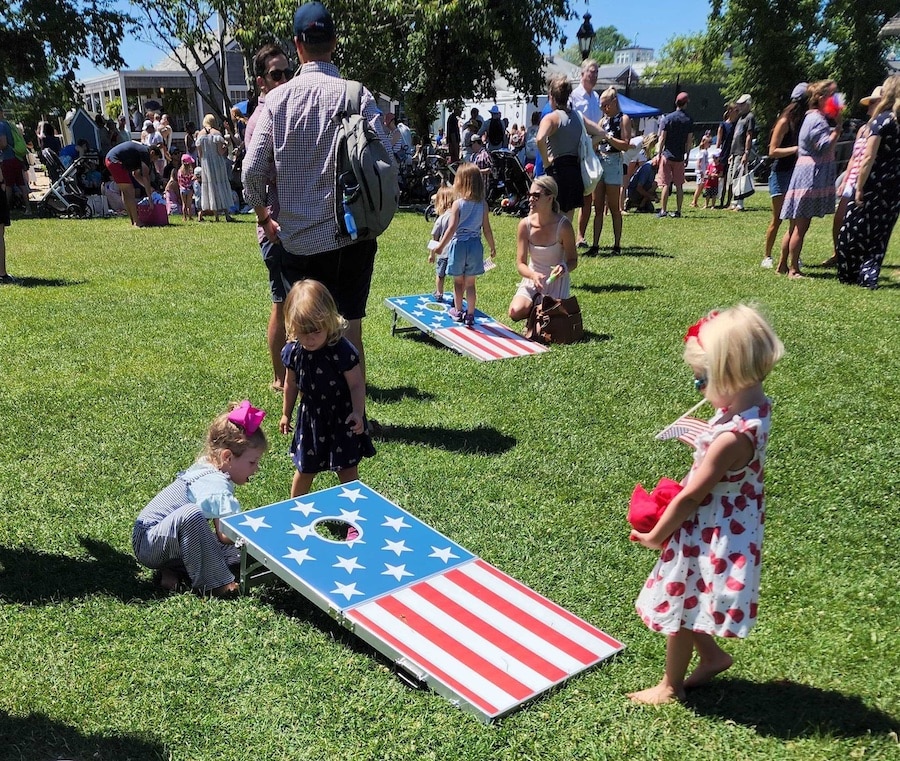 FOURTH OF JULY CHILDREN'S BEACH EVENTS
10:00 am: Local Musician P.J. Moody sings the National Anthem and other patriotic music, Children's Beach bandstand.
10:30 am: Nanpuppets puppet show on the bandstand will entertain little ones & their caretakers.
11:00 am: P.J. Moody returns to sing on the bandstand.
11:30 am: Children are invited to parade around the park with their decorated bikes.
5:00 pm: Children's Games will be held on the beach, including 3-legged races, wheelbarrow and potato sack races, and a Tug-of-War
Other events throughout the morning at Children's Beach include:
Matt Fee Tea Toss, lawn in front of bandstand
Cornhole tournament on the lawn in front of bandstand
The Gyp-Sea Cafe at Children's Beach (to the left of the bandstand) offers breakfast, lunch, dinner, and snacks to refresh you throughout the day.
JULY 4TH JETTIES BEACH ACTIVITIES
9:00 pm: Fireworks. The show lasts approximately 25-27 minutes. Fireworks will be shot from a barge just offshore. Bring blankets and chairs to sit on, and a jacket to wear if the night becomes chilly. Weather date for fireworks display is July 5.
Starting at 6 pm, free transportation to Jetties Beach will depart from in front of The Whaling Museum on Broad Street every 10-15 minutes and will return from Jetties Beach after the fireworks until 10:30pm.
NOTICE: Activities, locations and times may be subject to change or cancellation at the last minute.