Egan Maritime Institute (EMI) is pleased to announce a new summer program aboard the Tall Ship Lynx.
EMI partners with Tall Ship Lynx each year to bring on-the-water experiences to Nantucket students, as well as public programs during the summer season to Island visitors and residents.

The Tall Ship Lynx is an educational sailing vessel dedicated to hands-on educational programs that teach the history of America's struggle to preserve its independence, with close attention to the maritime challenges during the War of 1812. The replica Privateer Schooner employs a comprehensive, interactive program designed to enrich personal achievement through teamwork and the discipline of sailing.
This year, EMI and the Lynx are partnering to offer Tall Ship Adventure Sails. These sails are day-long expeditions for children ages 12-17 that offer a more in-depth sailing experience for participants. Sailors will board the ship in the morning and take on the role of the crew for a sailing tour that offers in-depth, traditional tall ship sailing skills. On a trip of this length, participants learn all the ship's parts and work directly with professional sailors to gain foundational skills in marlinspike seamanship and build their teamwork and leadership skills.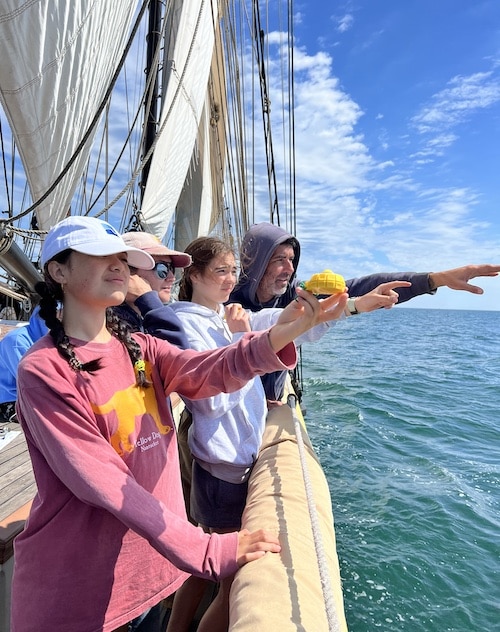 As an organization, EMI is strategically working to expand our impact within the Nantucket community and provide accessible on-the water experiences for all to enjoy. "We believe that programming aboard the Lynx is a tool to help young Nantucketers learn to work together, to understand and respect their Island environment, and above all to offer children an opportunity to test their curiosity and courage by stepping out and trying new things" states Carlisle Jensen, Executive Director of Egan Maritime Institute.
This program is modeled after Egan Maritime Institute's Sea of Opportunities Student Mariner Sails. Since 2014, Egan Maritime has sent over 145 Nantucket students aboard the Tall Ship Lynx for multi-day educational adventures. In addition to their experiential, teaching component, the sails have proven to be a pivotal experience for the youth who participate. The students begin their journey as outsiders and really begin to come together as a team while under sail. "Through the process you see growth." Captain Don Peacock of the Tall Ship Lynx, shares, "This is our time to offer personal development and self-discovery to these kids on the voyages. We are making an impact."
Tall Ship Adventure sails are generously supported by Jeff and Maureen Crowley, Candy Greig, and Dennis and Connie Keller. To learn more and explore all of Egan Maritime Institute's on the water programming visit: eganmaritime.org/tall-ship-lynx or call 508-228-2505.