Tired of giving the same old holiday gifts and stocking stuffers? Nantucket Island is the perfect place to shop for one-of-a-kind gifts. Many who come to Nantucket never venture beyond the "town square"' of Main, Center, Broad, and South Water and the side streets between. But if you venture a bit off the beaten track, you can find even more treasures.
Start your shopping on Old South Wharf.
The shell walkway is lined by shanties converted to shops and galleries. A favorites is Made on Nantucket at 18 Old South Wharf, which features many unique items by island artists and artisans. Celebrating her 25th year, owner and artist Kathleen Duncombe first opened in a much larger space on Main Street in with 65 artists and frequently hosted opening receptions and demonstrations. Her gallery on Old South Wharf is filled floor to ceiling with fine art originals, prints, and photography— her assortment of framed mini offset litho prints by Donn Russell at just $49 make fantastic holiday gifts. Duncombe has the largest collection of Bakelite in the East: jewelry, barware, flatware and serving pieces.
Her collection of handcrafted jewelry is exquisite with many pieces by island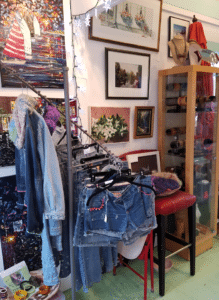 designers, and her estate and "dead pawn" Native American jewelry is gorgeous. CAJ embellished jeans and jackets make stylish gifts, and for Stroll she has limited edition pochettes by Nancy Jakubik and, of course, her exclusive and collectible Made on Nantucket 2018 Stroll Ornament. Duncombe dreams of having a larger space for 2019: fingers crossed for you, Kathleen!
Next to Made on Nantucket is Pete's Fresh Fish Prints, where you can buy the perfect island gift for fishermen on your list, and REMY, where you'll find great fashions and unique accessories. Across the wharf, Ireland Galleries has original paintings by owner Lorene Ireland side by side with her amazing mosaic sculptures in one half of the gallery. Women's clothing, handbags, and other accessories fill the other half. Our final stop on Old South Wharf is The Love Shack at #10—their beautiful, sophisticated handcrafted pendants, bracelets, cufflinks, and rings belong in every stocking and under every tree.
All the open shops on Old South Wharf are raffling off a basket of gifts at 4pm on Stroll Saturday, so be sure to enter at every shop along this wharf.
Continue your Stroll off the beaten track with a walk down Straight Wharf. Here you'll find island gifts for everyone on your list. First stop is the Authentic Boat Basin Shop where you can buy their 2018 official Stroll Knit Scarf to keep you warm and memorialize your island visit.
Moving up the wharf, you'll find something for every child (of every age) in your life at The Toy Boat. Specializing in creative toys for creative people, this shop is hosting a free raffle for kids, with the drawing at 4 pm on Stroll Saturday. Need an elf for your shelf? The Toy Boat is place to find one!
Across Straight Wharf is the G.S. Hill Gallery and the Nantucket Pearl Company. Take home a painting by island artist Gregory Hill, and you'll have Nantucket with you all year! Within the same location, you'll find shimmering necklaces, earrings, and bracelets that will inspire smiles all around this holiday season. Their Nantucket "Must-Have" pearl bracelet really is something every woman must have. The Hill's annual Stroll Drawing will be Stroll Saturday, Dec. 1 at 4pm, with tickets available Friday and Saturday.
We all dream of ending up on Easy Street: on Nantucket you really can! While you're strolling along Easy Street, visit ACK 4170 for gifts and products created by small makers and artists, many branded with your favorite island. They're giving away free ornaments with $40 purchase, while they last.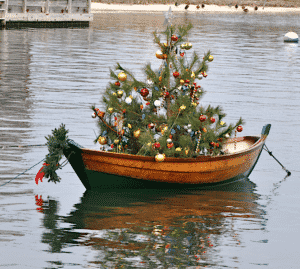 Stop to take a photo of the Christmas tree in the dory that bobs in Nantucket Harbor—it's an icon of Nantucket Christmas. Then turn around and stroll into Haberdashery of New England. Now in their 40th year, they've become well-known for apparel for men and women sure to become favorites for every season.
A little farther toward Steamboat Wharf is Commonwealth, a new island second chance boutique at 12 Oak Street that offers a wealth of resale and fresh finds, including designer brands.
Back to Easy Street for a visit to a jewelry studio and art gallery that you don't want to miss. Step into 28A Easy Street to see the designs of Susan Lister Locke. You'll find fabulous gifts for him and for her: exquisite jewelry with colorful gems, fun Nantucket themed pieces, handsome signet rings and cufflinks, and so much more. Christmas Stroll Weekend Susan is hosting a soiree, special surprise sales, and photo sessions with Santa from 3:30 to 5:30 pm!

Next stop is lunch at Easy Street Cantina on Steamboat Wharf, where you can warm up with New England Clam Chowder, fill up on a plate of Tacos, or savor a fresh Nantucket Bay Scallop Roll.
Onward toward the NHA's Museum Shop on the corner of Broad and South Beach Street…this is ideal shop for those who love Nantucket history.And just a few steps beyond, down South Beach, you can stroll into Number 2 for some holiday cheer and to browse among the fine and unusual antiques, home accessories, art photography, jewelry, and silver in the four shops that share the building. Try not to get too hungry as amazing aromas waft down from Oran Mor Bistro, upstairs at 2 South Beach Street. (Insider Tip: this restaurant is offering a final "No Mor" dinner on Sunday evening before they close for the season. You'll want a reservation for that!)
We have two final suggestions for shopping just a little farther off the beaten track: The Nantucket Lightship Basket Museum at 49 Union (across from Fifty-Six Union, a fun and fab spot for dinner!) is having their 8th annual Basket Festival and Market. From 10 am to 4:30 pm on Friday, November 30 and Saturday, December 1, visitors will be treated to weaving demonstrations, refreshments, and free admission to the museum. One-of-a-kind baskets by island weavers will be on sale.
If you time it right, after a visit to the Lightship Basket Festival, you're in a perfect position to head over for cocktails at Fifty-Six Union.  They open at 5pm and are known for luscious libations, tasty tidbits (their Truffle Fries are to die for!), and superb dinners!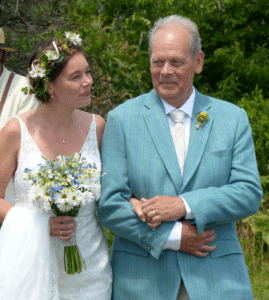 The final stop on our "Off the Beaten Track Stroll" takes you mid-island to 44 Hooper Farm Road, where you'll discover Island Weaves, a classic weaving studio where everything is handwoven with pride and love. Owner Karin Ganga Sheppard is the second generation of weavers in her family. She learned her craft from two master weavers: the internationally-known Andy Oates and Sam Kasten of Nantucket Looms. Karin is known for using highquality natural fibers. Her product line features throws made of silk, alpaca, mohair. Her "Island Wedding Shawl" is made of 100 percent silk and comes in a wide range of colors for brides and bridesmaids. Her beautiful multifiber scarves and shawls and washable baby blankets make gifts that will be treasured for years to come. "I pride myself on making heirloom-quality goods," she says. "For example, the wedding shawl can find later use as a christening blanket, or as a wrap for a night out."
Island Weaves has just introduced a handwoven jacket designed for men. "Why does only the bride get a special dress to wear?" she asked herself when her son was getting married. She designed a handsome sportjacket made from fabric she wove from bamboo and merino wool. She has since also made summer weight jackets from 100% bamboo.
If you follow our "Off the Beaten Track Stroll' this holiday season, you're sure to discover one-of-a-kind gifts that will be long treasured.