Whether you're a procrastinator by nature or you just remembered that you need a small gift for your cousin's new spouse who's coming to the holiday gift exchange, don't panic!  Even though there are just days left for Christmas shopping, Nantucket shops are still open, and many are having special sales. Here are six of our favorites for last-minute holiday shopping…
Start at the top of Main Street at Mitchell's Book Corner, the island's independent bookseller.  A Nantucket landmark for half a century, this bookstore has something for every reader: best sellers, Nantucket history, storybooks for children, classics (Moby-Dick anyone?), and, of course, the latest books by Nathaniel Philbrick, Elin Hilderbrand, and Nancy Thayer.  MBC even has a selection of autographed books.  In their sister store, Bookworks on Broad Street, in addition to a great selection of books, you'll also find lots of fun stocking stuffers for all ages. Mitchell's is open daily from 9:30 am to 6 pm; Bookworks is open daily from 10 am, with extended hours (till 10 pm) on Fridays and Saturdays.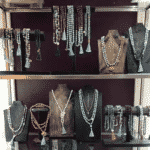 Head down Main Street and hang a right onto Union Street to visit the shops & studios at 2 Union.  Upstairs on you'll find the jewelry designs by Clay Twombly, known for his intentional designs and handcrafted malas, and by Jennifer Greenwood, whose exquisite jewelry shimmers and sparkles with joy, and by Jessica Hicks, whose rings are featured in Elin Hilderbrand's newest novel.  Jennifer is in her shop through the week, and so is Jessica. If you miss her, visit JessicaHicksJewelry.com. Clay's shop is closing — his last two days at 2 Union are today and next Saturday, December 22, so don't delay! Fans can still find him online at ClayTwombly.com.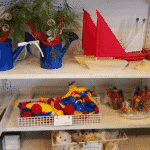 On to Straight Wharf… walk to the end, across from the Hy-Line terminal to The Toy Boat.  This Nantucket toy store has been in business at this location for decades, and we can't think of a better place to find beautiful, fun, and educational gifts for the little ones in your life.  Owner Loren Brock carefully curates her selection and is happy to help you find the perfect gift.  She has a fabulous selection of handcrafted fairies, classic wooden boats, art supplies, craft kits, marbles, kaledioscopes, toys… just too much to list!  If you are a fan of her Rainbow Fleet Toy Boats, get them while you can – these island favorites are no longer being made.  The Toy Boat on Straight Wharf is open daily through Christmas Eve. If you can't make it to town and don't need your gift by December 25, then visit The Toy Boat website.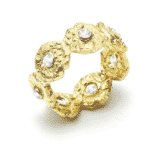 Along Easy Street, you'll find Susan Lister-Locke Gallery filled with gifts for him and for her.  Her selection includes rings, necklaces, earrings, cuff links, pendants, charms, and more! Now through Monday, December 17, she is offering 20% off her Nantucket Collection. Call her at 508-228-2132 for holiday season shop hours and visit her online at SusanListerLocke.com.
Walk around the corner and head back toward town–across from the corner of Broad &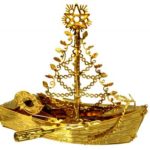 South Water streets, you'll find the Nantucket Historical Association's Museum Shop.  You can enter from the street or treat yourself to a tour through the NHA's Festival of Trees before you shop.  There's an inside entry to the Museum Shop from the lower level of this fabulous holiday display.  In the Museum Shop are many exclusive items perfect for a holiday stocking: hand-dipped true bayberry candles, a plush whale toy, and (our favorite for giving) a gold-tone replica ornament of the famous dinghy in Nantucket harbor with a Christmas tree in it. The Museum Shop is open daily from 10 am to 5 pm.
Our final stop for last-minute Christmas shopping on Nantucket is Sweet Inspirations.  This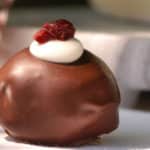 island chocolatier has been a part of life on Nantucket for decades.  The two-pack box of their award-winning truffles fits nicely into a stocking (though if your stockings are above a fireplace, you may want to place this gift under the tree).  They have an excellent selection of truffles, but for a taste of Nantucket, we recommend their Cranberry Cheesecake Truffle – an award-winner of their own culinary design.  We also love to give their Nantucket whale-shaped chocolate truffles: they're fun and delicious!  If a box with just two is not quite enough for your chocolate-loving friends, the crew at Sweet Inspirations will help you select a custom box.  They're open at Zero India Street (across from the Atheneum garden) from 10:30 am.
Happy Christmas, and enjoy your holiday shopping!