The Nantucket Maria Mitchell Association (MMA) is hosting a lecture by Dr. Christopher Niezrecki, Professor and Chair of Mechanical Engineering at the University of Massachusetts Lowell (UML). The talk, entitled "Wind and Renewable Energy and Why it is Important for Our Future," will take place on Wednesday, August 28  from 7 to 8 pm at 33 Washington Street.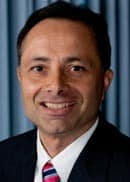 In addition to being an engineering professor, Dr. Niezrecki is the Director of the Center for Wind Energy at UML and the Director of the National Science Foundation-Industry/University Cooperative Research Center for Wind Energy Science, Technology and Research. He also leads the Emerging Energy Innovation Institute at UML. He has been directly involved in structural dynamics, acoustics, smart structures and materials, and sensing research for over twenty-three years, and has published more than 150 publications on this subject. His goals include expanding the global use of renewable energy, developing technologies that can impact the 1.3 billion people in the world who do not have access to electricity, and advancing sensing technologies to monitor structural systems.
There has been a considerable growth in renewable energy installations in the last two decades. Wind energy is leading the charge and has the potential to radically change how electricity is generated both in New England and on a global scale. This presentation will demystify the technology and its impact on the nation's energy portfolio, greenhouse gas emissions, and wildlife.
The Maria Mitchell Association has hosted a speaker each Wednesday evening from 7:00-8:00 as part of its summer Science Speaker Series, which will feature astronomers, authors, environmentalists, biologists, professors, and doctors. The MMA Speaker Series is sponsored by the Bank of America, Hyline Cruises, Zaazey Olive Oil, Cisco Brewers, and Nantucket Island Resorts. For a full schedule, please visit our website at mariamitchell.org. Talks are typically free for MMA members and $10 for non-members.  The last speaker will be on Wednesday, September 4, when the MMA's Aquarium Manager, Jack Dubinsky, will speak on Nantucket's gelatinous zooplankton.  
The Nantucket Maria Mitchell Association (MMA) is a private non-profit organization. Founded in 1902, the MMA works to preserve the legacy of Nantucket native astronomer, naturalist, librarian, and educator, Maria Mitchell. The Maria Mitchell Association operates two observatories, a natural science museum, an aquarium, a research center, and preserves the historic birthplace of Maria Mitchell. A wide variety of science and history-related programming is offered throughout the year for people of all ages.