In front of the thousands gathered at Jetties Beach for the annual Boston Pops on Nantucket concert, Nantucket Cottage Hospital capital campaign chairman Bruce A. Percelay announced the successful completion of the hospital's $120 million fundraising effort to build the island's new healthcare facility. It marked the culmination of the largest community hospital fundraising campaign ever conducted in the United States.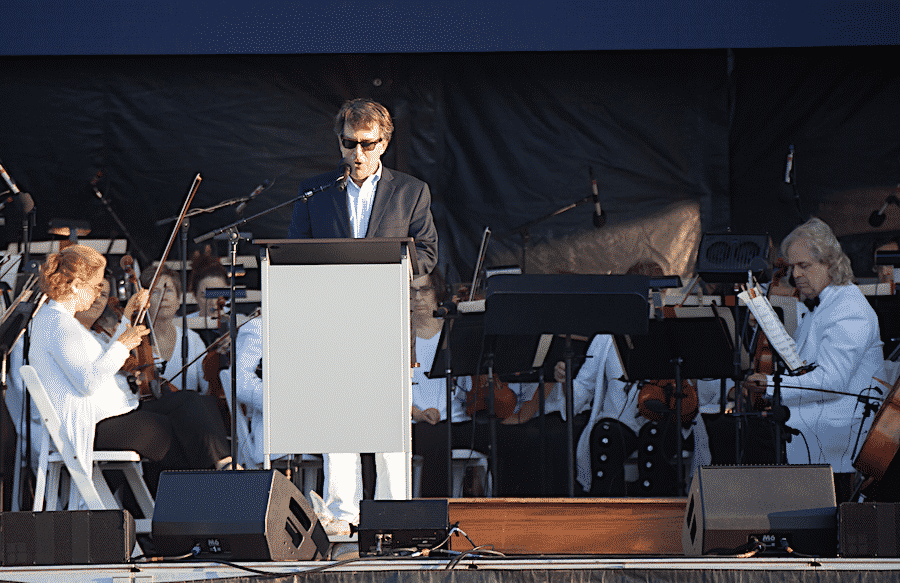 "Big dreams come true on this little island and tonight is no exception," Percelay said from the stage. "I'm thrilled, and somewhat relieved, to announce that as of 7:30 pm last night we have reached our goal of $120 million in our capital campaign for the new hospital."
The 23rd annual Boston Pops on Nantucket event was a celebration of Nantucket's first new hospital in more than 60 years, which opened its doors February 20. Built entirely through private donations, the 14-bed, 106,000 square foot hospital completely replaces the island's former facility constructed in 1957. The Pops concert was also highlighted by the announcement that NCH President and CEO Dr. Margot Hartmann will be retiring from her position after 10 years of dedicated service to the hospital and the community. 
"This is a bittersweet evening for me as these are my last few weeks as President and CEO of Nantucket Cottage Hospital," Dr. Hartmann said from the stage. "I will leave this role with my heart full and confident in the fact that our hospital is well-positioned for the future with an amazing staff, strong leadership on the Board, and an incredibly generous community. I want to thank all of you for your wonderful support and I will look back at this experience as one of the most challenging and rewarding times of my life."
A video recorded by Governor Charlie Baker and played during the show opener congratulated Dr. Hartmann for her many years of service to the hospital and Percelay on leading the fundraising campaign. The hospital's main building will now be known as the Percelay Pavilion in honor of his wife, and his children William and Charlie who were born on the island, and the family's $10 million lead gift to the campaign. 
The concert itself was opened with a stirring rendition of the National Anthem by The Voice winner and Massachusetts native, Brynn Cartelli, who was discovered on Nantucket and has received national acclaim. The Boston Pops Esplanade Orchestra and conductor Keith Lockhart opened with the main act of the evening and were joined after intermission by The Spinners who performed a variety of Grammy Award-winning hits. The event was capped by an elaborate firework display and raised more than $2 million for hospital operations.