by Catherine Macallister
"It is our collective and individual responsibility… to preserve and tend to the environment in which we all live."-Dalai Lama
Every year more than 10 million tons of plastics enter the ocean and 89% of those plastics are used only one time. Think about how many coffees, drinks, ice cream cups, to-go food containers you use-especially vacationing or stopping for a quick bite at any number of establishments on the beautiful island of Nantucket. Without realizing it, many of those plastics can end up in the ocean either polluting it or causing harm to marine life. By 2050 there will be more plastic in the ocean than fish. Not only that, but National Geographic predicts that virtually every seabird species on the planet will be eating plastic. The numbers are staggering but Nantucket can help make a difference by coming up with greener alternatives like banning single-use plastics that are petroleum-based. 
In an effort to work towards the preservation of Nantucket and its waters, a new town bylaw will be introduced to ban the use of single-use plastics. The bylaw seeks to protect Nantucket's single-source aquifer, marine life, scenic visage, and historical status, reduce litter, and protect the health and safety of present and future generations. The bylaw will go into effect on June 1, 2020 and there is an info session on Thursday, September 19 where you can learn more about the Single-Use Plastics Ban. The single-use plastics ban will prohibit petroleum-based plastic products from being commercially sold or distributed-meaning that businesses will no longer be able to offer single-use plastics that fall under the bylaw. According to the Ocean Conservancy, single-use plastics like forks, knives, and spoons are considered one of the deadliest items to bird, sea turtles and seals. 
What will be prohibited from being commercially sold or distributed?
– Straws and drinks
– Six-pack can and bottle flexible yokes
– Drinking cups and lids
– Non-recyclable coffee pods
– Plain water in PET/PETE containers of 1 Lt. or less
– Non-compostable plates and eating utensils

What can I do to reduce my impact with regards to Single Use Plastics?
-Bring a reusable water bottle-there are plenty of places to refill your bottle around town (see below!)
-Use a refillable coffee keurig pod and bring reusable mug–many businesses allow reusable mugs to be used already!
-Opt-out of using a straw or if you prefer a straw consider a reusable one made of glass, stainless steel, silicone or bamboo.
-Invest in reusable or biodegradable cutlery to bring with you if you know you are eating at an establishment that does not provide biodegradable or compostable cutlery.
-Bring your own bag to the food store or when you are shopping around downtown.
Where can I find a refillable water station?
ww.nantucket-ma.gov/1371/Water-Stations
– Jetties Beach
– Visitor Center (25 Federal Street)
– Town Hall (16 Broad Street)
– The Corner Table (22 Federal Street)
– Nantucket Bookworks (25 Broad Street)
– Community Music Center (56 Centre Street, 1st Floor)
– Children's Beach (Harbor View Way)
– Dreamland Theatre (17 S. Water Street)
– Greenhound Building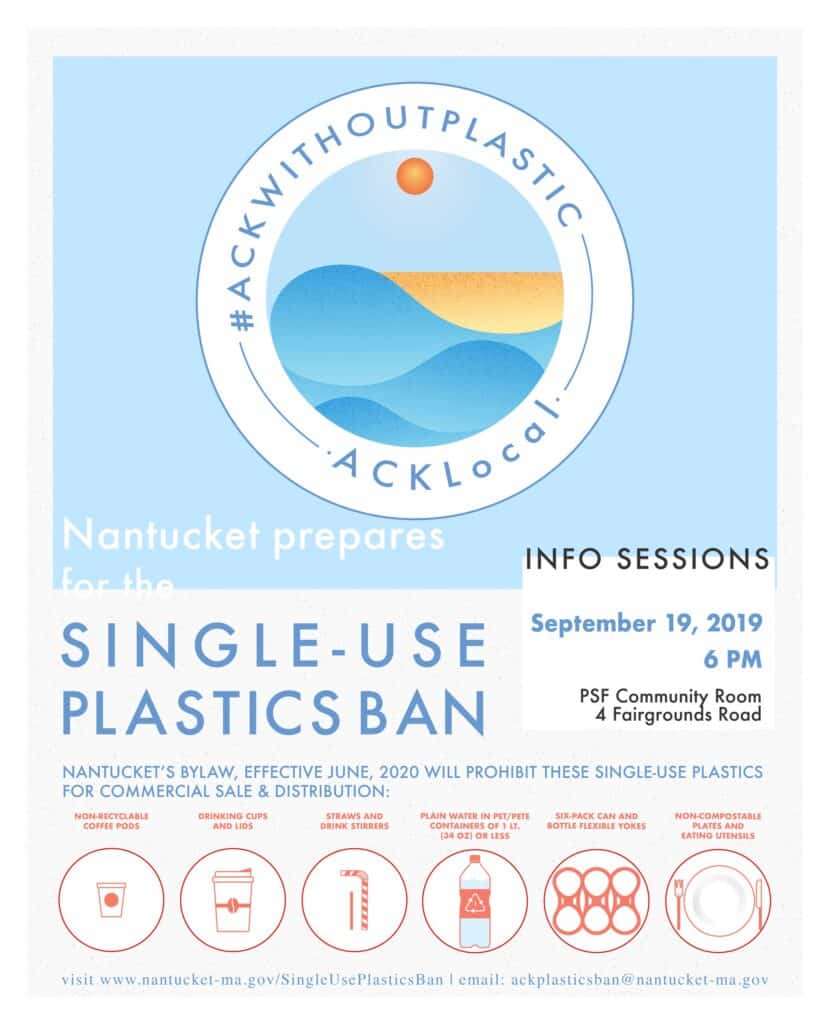 What else can you do?
Nantucket was one of the first communities to ban non-biodegradable single-use bags and continues to make adjustments in order to create a more sustainable island community. Currently, Nantucket operates under Recycling Guidelines that are available at https://www.nantucketlandcouncil.org/nlc-news-nantuckets-new-recycling-guidelines/
There are three main waste streams: Recyclable Waste, Compostable Waste, and Non-Recyclable/Non-Compostable Waste. As you take out the trash or throw away items at home or downtown, consider the guidelines below:
–Recyclable waste: Clean corrugated cardboard (like a shipping box), plastics (bottles, cups, jugs, and tubs), Tin/Aluminum (cans, aluminum, foil items, lids, and bottle caps), Glass (bottles and jars)
-Compostable Waste: Food scraps and mixed paper (pizza boxes, cereal boxes, paper towels, paper bags, newspapers, magazines, tissues, coffee grounds, cooking oil, pet waste
–Non-recyclable/non-compostable waste: Plastic bags, Styrofoam, plastic wrappers, cleaning wipes, diapers, incandescent lights, milk cartons, chip bags, products made from mixed materials.
According to the Nantucket Land Council Website: "Effectively if our compostable stream were 100% clean and free of non-compostable waste, NOTHING would be landfilled on Nantucket."
Single-use plastics remain a threat to our small island community as well as the global community at large. By taking steps to reduce individual and town waste, Nantucket can hopefully help to contribute positively to the efforts to reduce plastic pollution on a national and global scale. Head over to the PSF Community Room at 4 Fairgrounds Road this Thursday, September 19, 2019 at 6pm to learn more about the Single-Use Plastics Ban and how it will affect the Nantucket community and bring awareness to the continued protection of marine life and the environment on Nantucket.