"I know not all that may be coming, but be it what it will, I'll go to it laughing."
"It is not down on any map; true places never are."
"Better to sleep with a sober cannibal than a drunk Christian."
If you've never read Herman Melville's great novel Moby-Dick, here's your chance. Beginning Saturday, November 16 at 10 am there will be a continuous reading of Herman Melville's great novel of the sea – Moby-Dick. The reading is in honor of the 200th year of Melville's birth and will feature islanders reading the 135 chapters out loud for about 25 hours. 
Reading slots are still available, please sign up at the Atheneum (1 India Street) at the main desk.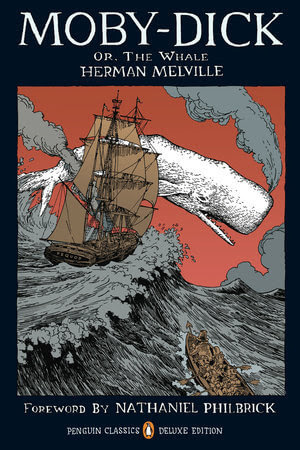 Nat Philbrick kicks off the festivities off with the first chapter on Saturday, November 16 at 10 am at the Atheneum.  Between 4 and 10 pm, the reading moves to the Whaling Museum. The marathon reading then returns to the library for the remaining chapters.
The Moby-Dick Marathon is cosponsored with the Nantucket Historical Association and is the final event in the 2019 celebration of Herman Melville's 200th birthday.