Let's face it: weather during December does not always cooperate with outdoor activities. Sun, rain, sleet, or snow, the Nantucket Chamber's annual Christmas Stroll Weekend goes on! We think it's more fun (and certainly more Christmas-y) when it snows during Stroll. No matter what the weather, there are activities to enjoy on Nantucket Stroll Weekend that weather will not interrupt. Below are 5 or so of our favorite 2022 Stroll activities for inclement weather. Bundle up (after all, it is December), and keep in mind the common New England saying: "If you don't like the weather, just wait a minute."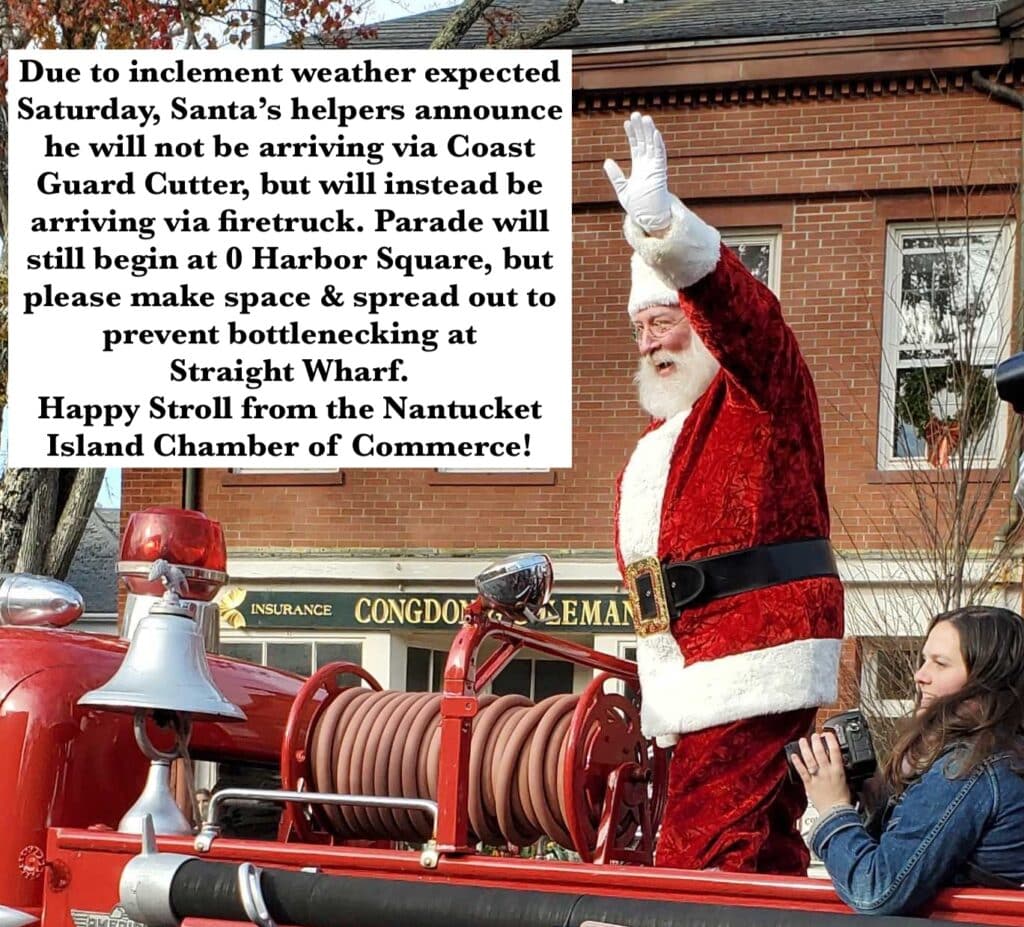 Visit the Festival of Trees
Hosted by the Nantucket Historical Association, the annual Festival of Trees is one of the most popular December events on-island. Dozens of decorated Christmas Trees dress up the NHA's Whaling Museum for the holidays. Some are traditional; some are anything but traditional. Stroll through the creativity expressed for the holidays by island residents. And you won't want to miss the stunning diorama of glass miniatures that will be on display throughout the month, featuring more than 200 illuminated stained-glass houses and churches with hand-made glass trees and animals. The Festival of Trees is open for Stroll Weekend from 10 am through 4 pm.
See a Holiday Show (or 2)
Both Theatre Workshop of Nantucket and White Heron Theatre have fabulous holiday shows that are sure to put you in a festive mood. Choose from TWN's Scrooge, the Magical Holiday Musical, a timeless adaptation of the classic tale with a talented cast of 25, or White Heron's A Nantucket Christmas Carol, when the spirit of our island meets the spirits of the holidays! Better yet, buy tickets to see both shows!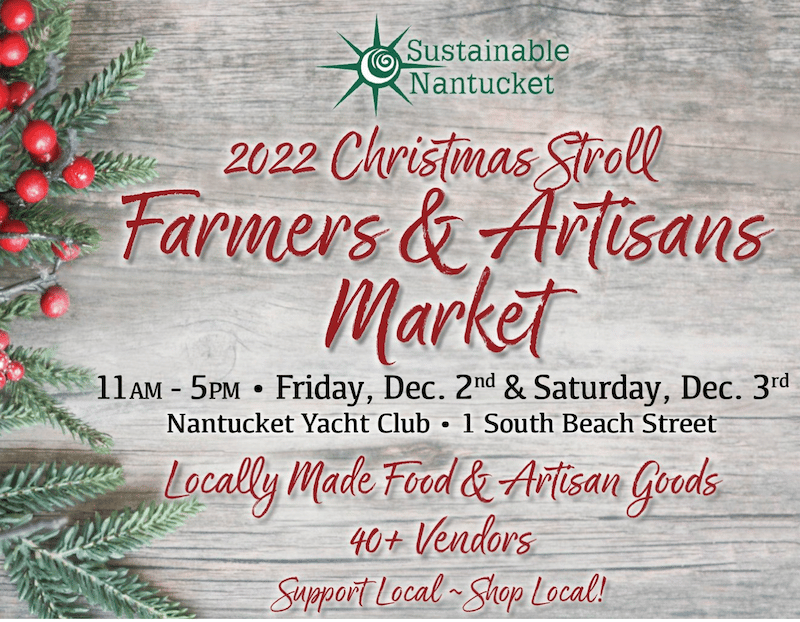 Stroll through an Indoor Artisans' Fair
On Friday, December 2 and Stroll Saturday, December 3, Sustainable Nantucket's Farmers & Artisans Market comes inside for shopping and fun. Held this weekend in the spacious Nantucket Yacht Club on South Water Street, you'll find more than 40 local vendors with unique and handcrafted gifts for everyone on your list. There will be food trucks to fill your belly, and you can chat with small makers who are happy to help you choose the perfect gifts. There is even parking (for market attendees only) at the Yacht Club.
St. Paul's Christmas Concert & Christmas Market
Friday evening, December 2 from 7 to 9 pm, you can enjoy holiday classics and sing along to favorite Christmas carols at St. Paul's Church at 16 Fair Street (the church with the spectacular Tiffany windows!). Tickets are just $20, and ticket holders may enjoy dessert, a glass of bubbly, and a first look at St. Paul's Christmas Market that opens to the public on Stroll Saturday. From 9:30 am to 3 pm on Saturday, you'll find for sale unique gifts, antiques, Christmas decorations, fresh greens & wreaths, and more! And from 11:30 to 2pm, they'll offer lunch items for sale, including chowder, quiche, chili, hot dogs, salad, and dessert. Stop by to shop, sit a bit, and enjoy a hot lunch.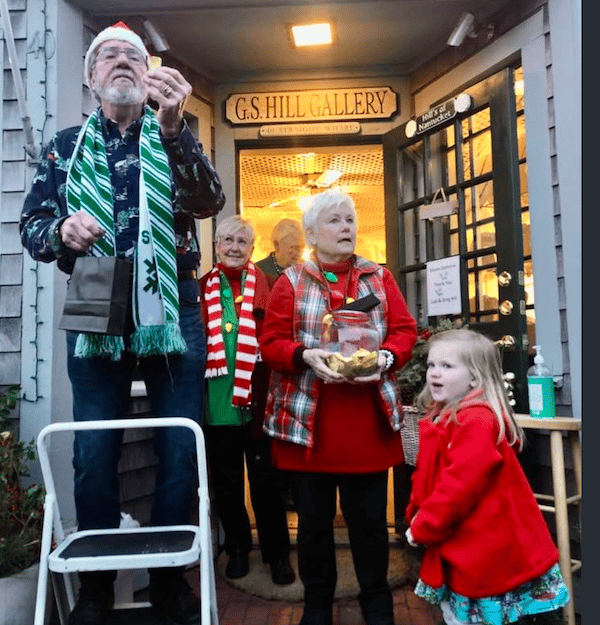 Shop & Sip & Savor & Save
Nantucket Island's merchants and craftspeople love to get into the spirit of the holidays on Christmas Stroll Weekend. They hold raffles, tastings, special trunk shows, visits with Santa, and book signings, and many offer sips and treats.
On Straight Wharf…
Visit G.S. Hill Gallery at 40 Straight Wharf for their annual Stroll Raffle & holiday cheer. The raffle is free to enter, but while you are there, you may not be able to resist the art by talented painter G.S. Hill, the beautiful (and moderately priced) jewelry by the Nantucket Pearl Company, the one-of-a-kind Nantucket Lightship Baskets (some vintage pieces for collectors), and, our favorites: their mini lightship basket Christmas tree ornaments.
Next to G.S. Hill, you'll find the only store in the US for Native Shoes. Dream of summer on Nantucket (or your beach vacation this winter) as you shop for fun shoes that are perfect for the beach, the boardwalk, the boat, walking trails, and downtown cobblestones. As you walk down Straight Wharf heading back to town, don't miss a stop at the Authentic Boat Basin Shop to pick up their annual Stroll Scarf and to take advantage of their Stroll Sale (up to 50% off select items).
On Old South Wharf…
Visit Love Shack at 10 Old South Wharf for a special Stroll sale & some holiday fun. And while you're strolling along this wharf, be sure to stop in at Icarus & Co for their stunning beach stone and ocean-inspired jewelry, at Ireland Galleries for Lorene's beautiful paintings and her selection of stunning decor pieces and fun gifts for all ages, and at Made on Nantucket for their collectible Christmas Stroll ornament, local art, jewelry, and rare Bakelite collection.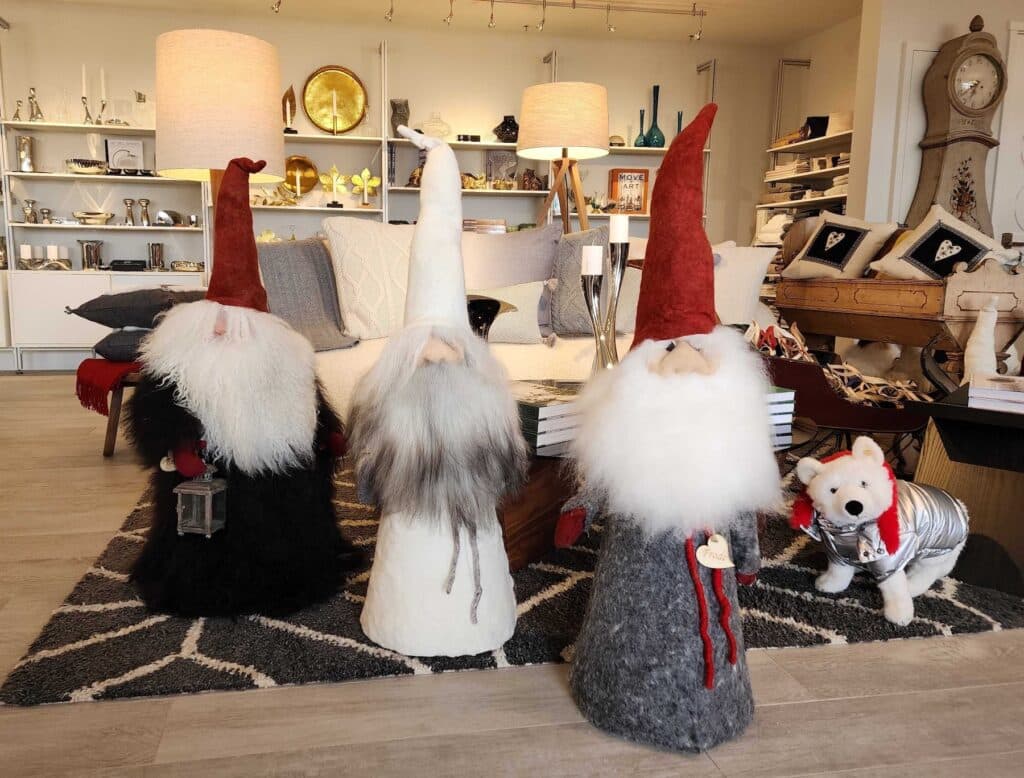 Along Easy Street…
Who doesn't want to stroll along Easy Street! Here you'll find stunning heirloom quality jewelry at R. Simantov, 1 Old North Wharf at Easy Street: it's here you want to go to find something very special for your someone special! A little farther down, across from the park, stroll into Susan Lister Locke Gallery for fun Flash Sales & photos with Santa from 1 to 3 pm on Saturday. As you head back to the Main drag, stop by Eleish Van Breems at 14 Easy Street, where you can enjoy holiday cheer and carolers as you shop for fine decor that will add just the right touch to anyone's home. (Who doesn't want a Swedish Christmas Tomte?) And stroll back to Current Vintage at 4 Easy Street on December 2 & 3 from 1 to 6 pm for a sampling of wine & bubbles while you shop for holiday party must-haves and enjoy their store-wide discounts.
The Main Drag on Main Street…
We're all hoping that the Main Street entertainment will proceed as planned, but even if the stage is quiet, there's a lot of holiday cheer for you in the shops lining Main Street:
At the top of Main, stop into Mitchell's Book Corner, where you can meet your favorite authors and have them pen a special message to the person to whom you are giving the gift of reading. See our calendar of events for the times of each book signing.
Stroll down the street & stop in to Pageo Jewelers at 46 Main Street for lite bites and libations as you shop for something that shimmers and will put a sparkle in their eyes!
A little farther down Main, you'll find A Shore Thing, and here you will surely find the perfect stocking gifts for every single person on your holiday list! And at the base of Main, just beyond the famous fountain, you can stroll into Sylvia Antiques to see the Holiday Trunk Show of gorgeous jewelry by Katherine Grover.
HAPPY STROLLING!