On Saturday, October 22 from 11 am to 4 pm, the Nantucket Historical Association (NHA) will host a fun-filled family program celebrating the 125th anniversary since the organization purchased the Old Mill in 1897. The event will be held at the Old Mill at 50 Prospect Street and is free for all attendees.
Built in 1746 by a Nantucket sailor who had spent time in Holland, the Old Mill is the only surviving mill of four "smock mills" that once stood overlooking Nantucket town. There was a fifth Nantucket mill called "Round-Top Mill" on the site of the present New North Cemetery. Smock mills are built to withstand strong winds in exposed locations. They have a fixed-body containing machinery and a cap that turns to face the sails into the wind.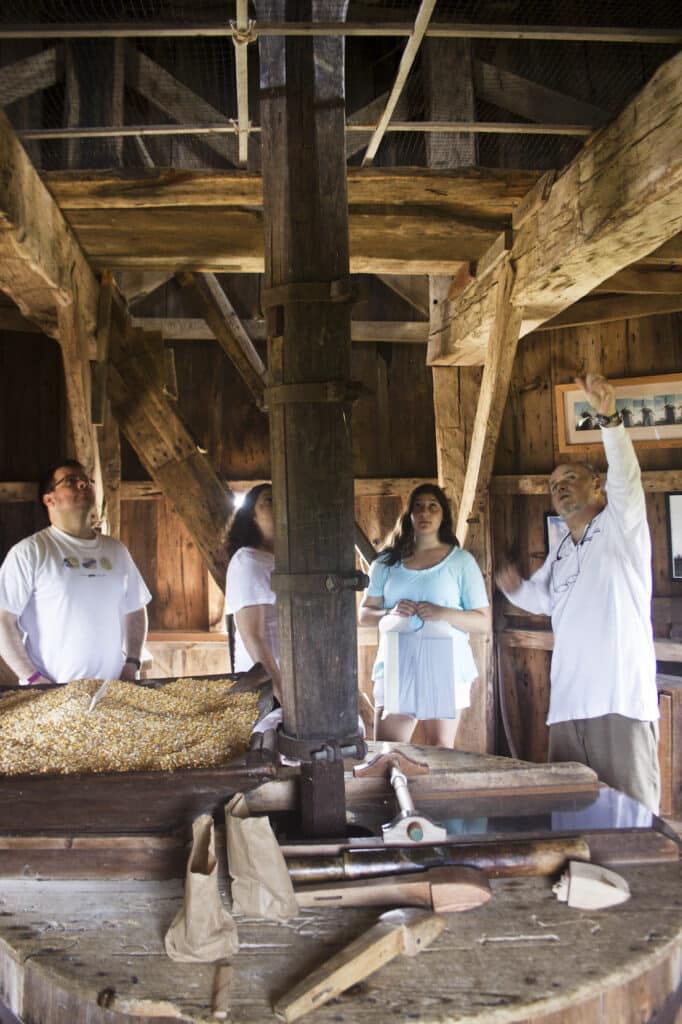 During both the Revolutionary War and the War of 1812, the vanes on the mills on the Popsquatchet Hills were turned in one direction or another to warn Nantucketers at sea of British privateers maneuvering nearby. A local legend has it that during the Revolution a cannonball shot from a man-of-war passed through the mill and landed within a foot of the miller.
The Old Mill was sold for twenty dollars in 1828 to Jared Gardner in deplorable condition for use as "firewood." But instead of dismantling it, Gardner, who was a carpenter by trade, restored the mill to working condition capable of grinding corn.
The mill was sold once again in 1866 to John Francis Sylvia, who operated it for many years with his assistant Peter Hoy, until it fell into disuse in 1892. When the mill appeared on the auction block in 1897, the Nantucket Historical Association, found just a few years prior, was able to secure the mill with a successful bid of $885. Believed to be the oldest American windmill in continuous operation, the Old Mill was designated an American Society of Mechanical Engineers (ASME) Historic Mechanical Engineering Landmark in 1992.
During the program on October 22, attendees can participate in familyfriendly activities exploring the history and operation of the mill, including demonstrations and artifact tables. Crafts featuring the mill and utilizing corn byproducts will also be offered. Members of the Wampanoag tribe are returning to Nantucket to participate in this celebration and share several native traditions around harvest. Locally owned Snick Snack food truck will be selling concessions, including special cornmeal-based nibbles just for the program.
"The NHA is thrilled to offer this festive and educational program to the public, providing an opportunity to learn about the history of the Old Mill, observe how it was and is operated, and become acquainted with how different Nantucket communities recognized harvest season. We warmly invite all from the community to join the NHA in celebrating the 125th anniversary year of this iconic island site!" says Jocelyn Wong, NHA Community Outreach Coordinator.