This Saturday, August 12, thousands will gather at Jetties Beach for the annual Boston Pops on Nantucket concert, a benefit for Nantucket Cottage Hospital.  Tickets have been sold out for days, but if you have yours then you are probably in the midst of planning transportation, food & beverages, and who is going to stand in the general admissions line.  Here are ten tips for how to prepare for Pops on Nantucket at Jetties Beach.
Gates open at 4:30 pm, but concertgoers can join the general admissions line as early as 7:30 am — and some do! If you are going solo or with just one or two others, standing in line may not be necessary.  But if you are the advance person or team for a larger group, you should plan on going early and standing in line. Most years, if you are in line by 2:30 pm, you can still get a good spot on the beach for a group, but there are no guarantees.
Many of the roads leading to Jetties Beach will be closed or made one-way for Saturday, so do not count on driving to the concert and parking.  Your best bets are to ride a bike (bicycle racks will be available at Bathing Beach Road and Hulbert Avenue) or walking in from town.  NRTA's Jetties Beach bus service is suspended for the day (and evening) of Saturday, August 12. The rest of the NRTA Nantucket Wave buses will be running as scheduled, so concertgoers could drive to an NRTA park-n-ride lot, take the bus into town, and walk to the concert from there.
Take care of your advance team: it's hot and boring waiting in line for hours, so make sure they are hydrated and fed and that they know you appreciate their effort.
The Jetties concession will be closed during the Boston Pops on Nantucket concert, so you must bring with you all food and drink for your group.  DO NOT bring glassware or glass containers to the beach! It's a long afternoon and evening, even if you aren't the one waiting in line, so don't underestimate your need for sustenance.  You cannot cook at the beach.  Sandwiches, salads that won't perish in heat, and other picnic foods are best.  Many island eateries offer takeout foods that are perfect for Pops, just call ahead cause they'll be extra busy on Saturday. Remember water or other beverages to stay hydrated. There's no prize for best picnic at this Nantucket event, so keep it simple.
Please keep our island beaches clean and bring trash bags to dispose of your garbage after the concert: there will be dumpsters on the way out where you can throw your trash bags.
Bring your camera and enter your photos in our annual Nantucket Photo Contest.  There's usually a beautiful sunset to photograph, the setup for the concert is dramatic and beautiful, and you'll be treated to some of the best fireworks of the year at the end.  And don't forget all the potential for fun and funny shots while concertgoers dance to the Beach Boys.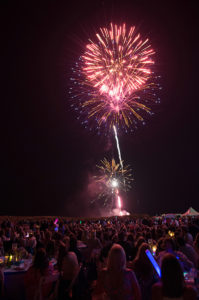 You're on the beach in the sand, so dress comfortably.  This is not the sort of Nantucket event where you want to dress up.  And bring jackets or sweaters: no matter how warm the weather is during the day, it's likely to be chilly by the time the concert is over and you'll still have to get to your transportation home.
Getting some merchandise to remember the evening  Ts, sweats, hoodies, hats on sale now at the Founders Building, 10 Vesper Lane and at Pops
Brush up on lyrics to the Beach Boys hits. Everyone on the beach sings along, and you don't want to be the one making up lyrics as you go.
Bring a little cash to buy some merchandise to remember the evening.  Ts, sweats, hoodies, hats will be sold (and are on sale now at the Founders Building, 10 Vesper Lane, Nantucket).  All proceeds benefit Nantucket Cottage Hospital, as does the concert tickets.
If you tweet or use Instagram, here's the hashtag for the evening: #POPSonACK