Some years we have no trouble thinking of things that make us thankful; 2016, though, is a bit of a challenge.  But after pondering for a few extra minutes, we came up with five we'd like to share:
1. We're thankful for being able to give back to island kids at The Atheneum's Cold Turkey Plunge.  Even those of us who have not yet braved the chilly water at Children's Beach on Thanksgiving morning can donate to this annual fundraiser for The Nantucket Atheneum's Weezie Library for Children. (TIP: Arrive no later than 9:30am so you don't miss the fun!)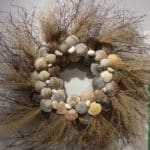 2. We're thankful for being able to enjoy the Festival of Wreaths, open in the NHA's Whaling Museum.  This gorgeous display of dozens of hand-decorated wreaths is also a chance to give back to the NHA: each wreath is part of a silent auction.  Stop by any day except Thanksgiving day.  Winning bids are announced on Sunday afternoon.  You could go home with a beautiful holiday decoration made here on the island.  (TIP: if you stop by Wednesday or Friday or Saturday, you might want to also come by on Sunday before 1pm to make sure you have not been outbid.)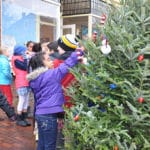 3. We're thankful that the Nantucket Island Chamber of Commerce (with the Nantucket DPW doing the installation) puts in all the effort to make sure downtown streets are lined with Christmas Trees and that they give us all a chance to decorate one.  Chamber members string the lights, and leading up to the Illumination, you'll see island children, grownups, and teams of both busy adorning the trees with handmade and often meaningful decorations.
4. We're thankful for the bounty of our island we get to savor for our Thanksgiving dinners in the form of fresh cranberries from Nantucket bogs and fresh, sweet Nantucket bay scallops.  YUM!
5. We're thankful for the talented residents of Nantucket Island who take the time to offer us two fantastic  productions that will put smiles on our faces over Thanksgiving (and beyond).  The Theatre Workshop production is one of our favorites: the very funny A CHRISTMAS STORY.  And at White Heron Theatre you can't help but laugh at the edgy SANTALAND DIARIES. (TIP: Get your tickets online to insure a seat, and The White Heron Theatre is offering special islander discounts on Thursdays.)