When we think of Thanksgiving, Christmas, Hanukkah, and New Year's, what often comes to mind is foods we've enjoyed preparing and sharing. Traditional recipes come to mind first: what mom made all those years ago. But we also love to try new recipes that might be good enough to add to the ones we will pass along to our children.
Here are a couple of favorites from island chefs and mixologists that you might like to test on your guests this holiday season.
Holiday Baked Brie
1 sheet frozen puff pastry, thawed as package directs
Glaze: 1 slightly beaten egg
1 round of brie cheese (about 14 oz) in a round box
1/3 cup of dried fruit in small dice
1/4 cup apricot or other jam or preserves
Accompaniments: bread or crackers or fruit
Have a baking sheet ready.
Unfold pastry on a lightly floured surface. With a lightly floured rolling pin, roll into a 14" square. Cut a 8.5"square from the corner, trim to round off corners. Using top of cheese box as a guide, cut a circle out of remaining pastry. Brush square and circle with glaze. ☺Save remaining glaze and, if decorating, remaining pieces of pastry.
Cut brie in half horizontally. Remove top half, sprinkle fruit bits evenly over bottom half and replace top, pressing down gently. Spread preserves on top of the brie and flip, preserve-side down onto center of pastry square.
Starting at one rounded corner, bring pastry up over cheese. Place pastry circle glaze-side down on top. Press gently to adhere to pastry brought up sides.
Place circle-side down on baking sheet. Brush top and sides of pastry with glaze. Decorate with pastry cut-outs from scraps, if desired. Let glaze set, then cover with plastic wrap and refrigerate up to 3 days.
To Bake: preheat ove to 400F. Bake brie directly out of refrigerator for 25 minutes or until pastry is golden brown. If pastry browns too quickly, cover loosely with foil and continue baking. Cool on baking sheet 10 minutes before transferring to a serving platter. Cool 20 min. to 1 hour longer before serving to keep the cheese from oozing out when cut. Serves 12.
— recipe by Magee Detmer, Nantucket Bake Shop
17.5 Old South Road, 508-228-2797
This holiday cocktail was designed by Anna Worgess of Proprietors:
2oz. Four Roses Yellow Label Bourbon
(or a mild rye whiskey would work here!)
1oz. Cardamaro
1oz. Nocello Walnut liqueur
3-4 dashes Fee Brothers' Orange Bitters
Pour all ingredients into a stirring vessel of choice; stir to combine flavors and put a slight chill on beverage. Strain into martini or coupe glass. Garnish with a burnt orange rind (important to add this acid!)
Easily batched for larger groups and then simply stirred to chill to order.
— Proprietors bar & table, 9 India Street, 508-228-7477
Neil's Cranberry Macadamia Nut Tart
3 ½ cups lightly packed brown sugar
1 lb pound butter @ room temp
4 eggs
1 tablespoon lemon juice
2 tablespoons vanilla
2 tablespoons corn syrup
2 cups dried cranberries
2 cups toasted macadamia nuts
Pre Heat oven to 350. Toast and cool nuts. In a stand mixer with paddle attachment cream butter and sugar until light and yellow color then:
Add one egg at a time while mixing. Add vanilla, corn syrup, lemon juice separately, one at a time. Add cranberries. Add nuts.
Mix until combined place mix into pre baked pie shells. Place in oven @ 350 for approximately 45 minutes, will yield two or three tarts depending on the size of shell. Serve warm or cold with vanilla ice cream. ☺
— recipe by Executive Chef Neil Patrick Hudson, Bartlett's Farm
Bartlett Farm Road, 508-228-9403
Pumpkin Cheesecake with Candied Ginger Crust
& Handmade Toasted Marshmallow Top
(Caramel Baby Apple is optional)
Spring form pan – preheat oven to 350 – prepare hot water bath w 1/2″ water. Butter the entire pan bottom and sides. In a Cuisinart blend:
2 cups gingersnap cookie
1 cup almonds or pecans
1/4 cup brown sugar
2 tablespoons chopped crystallized ginger
Then pour in 1/4 cup (1/2 stick) melted butter and pulse. Pour into bottom of buttered spring form and push down evenly. Bake for 10-15 min remove and let cool.
4 8-ounce packages cream cheese, room temperature
2 cups sugar
Beat until light and fluffy then add:
1.5 cups baked pumpkin* or 1 15-ounce can pure pumpkin
Add 5 eggs ONE AT a time until mixed in
thne together add in:
3 tablespoons all purpose flour
1.5 tsp pumpkin spice **
2 tablespoons vanilla extract
Pour on top of crust place in hot water bath and in oven for 1 hour 20 min – sides should be set – middle should still have a little jiggle!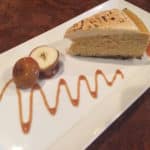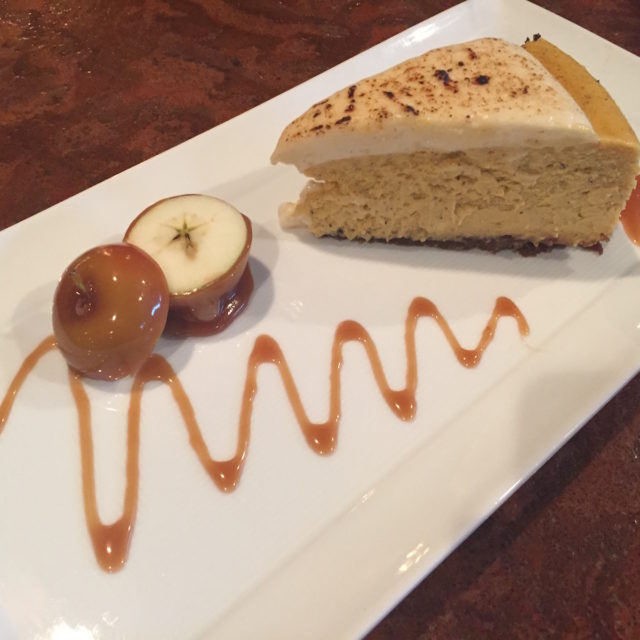 Hand made Marshmallow top –
Pan of boiling water place a bowl with 5 egg whites and 1/2 c sugar – whisk over the boiling water for 4-5 min until hot and frothy – all white – then beat in 1/2 tsp corn starch and 1 tsp vanilla w electric mixer until forms still peaks. Either smooth over top of cooled cake w spatula OR pipe on from pastry bag
Toast with a brulee torch right before serving. Can be served or without a caramel lady apple — any recipe for caramel apples online will do – make extras for the kids!
*One small baking pumpkins OR 1 can of pumpkin puree (NOT pre spiced!) If roasting – oven at 400 – 1/2 the pumpkins – olive oil and roast for 45 min or until nice and soft 🙂 Scoop it all out and puree in a blender of food processor – need 1.5 cups total
**Make the 5 spice mix with 1 tsp Cinnamon, 1/2 tsp ground ginger, 1/2 tsp allspice, 1/2 tsp nutmeg, 1/4 tsp ground clove (this is all you need for great pumpkin pies as well!
— recipe by Gabrielle Gould, Atlas, 130 Pleasant Street, 508-825-5495