It never fails: no matter how hard we try, we always find ourselves with Christmas gifts to find for at least 3 or 4 people just a few days before the holiday.  This year we thought we'd share our tips for last-minute gift buying on Nantucket…
Best gift for your husband (or wife):  A fishing trip with a 6-pack of Shark Tracker from Cisco Brewers.  Find the charter of your choice at Nantucket.net's On the Waterfront page.

Best gift to pamper your wife (or husband):  A day of relaxation that can begin with a massage from Glen Weimer Holistic Bodywork followed by a day at R.J. Miller or Sisters' Spa.  Then you can both enjoy an evening out.

Best romantic gift for a couple:  A sunset sail on Endeavor followed by a gift certificate to Dune or Topper's or Fifty-Six Union.  Choose the perfect restaurant at Nantucket.net's Fine Dining section.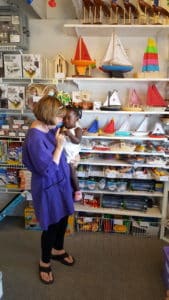 Best gift for a child:  Anything from the Toy Boat is sure to please the little ones in your life.  We love their classic handmade toys.  Especially the wooden whale on wheels and their colorful handmade Rainbow Fleet!

Best gift for grandparents who live Off:  A commuter book for the Hyline so they come to visit more often!

Best fun gift for your girlfriends: Some time with each other… try lunch out at Centre Street Bistro followed by a ladies' shopping trip at Milly & Grace.  Get gift cards and wrap them up with a note promising to take a day off to enjoy the day together.

Best gift for readers:  Mitchell's Book Corner on Main Street has two floors of books for all ages.  You might even score a signed copy.  Just take care not to get lost in the stacks yourself…

Best gift for friends who love to escape:  Give the gift of an evening away from Nantucket without leaving.  Both Theatre Workshop of Nantucket and the White Heron Theatre sell passes for their performances.  If movies are more to their liking, then a membership to The Dreamland is the perfect gift.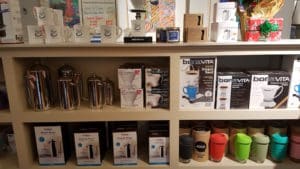 Best gifts for the coffee lovers in your life:  Stop by Nantucket Coffee Roasters on India Street for mugs, French presses, and coffee beans freshly roasted right here on Nantucket.  If they're fully equipped, you can opt for a gift card so they can keep the caffeine coming during their downtown travels.
Best stocking gifts:  Bookworks on Broad Street is our first choice for finding stocking gifts.  It's a treasure trove of fun and unusual gifts perfect for stuffing stockings.