Siasconset is the village at the east end of Nantucket that is known for rose-covered cottages, historic charm, the dramatic 'Sconset bluff and Sankaty Lighthouse, and beautiful views of the Atlantic (some say clear to Spain).
"Siasconset" is an Algonquian term for "place of great bones."
Si from missi, meaning "great;" ascon from askon, meaning "horn or bone." During the 1700s and 1800s, settlers used 'Sconset was a fishing village. In the late 1800s, Siasconset underwent a transformation into a summer destination that was popular with actors from New York on summer break from theatre.
Today, this village has a mix of historic homes and modern mansions. There's Larson Park, a gorgeous public beach with surf, a playground for children, Claudette's for breakfast and lunch, and the Sconset Market for baked goods, beverages, and provisions. If you like exploring Nantucket Island's natural beauty, Ruddick Commons has 45-acres with walking trails open from dawn to dusk.
Siasconset is a lovely place to visit, and you don't need a car to get there!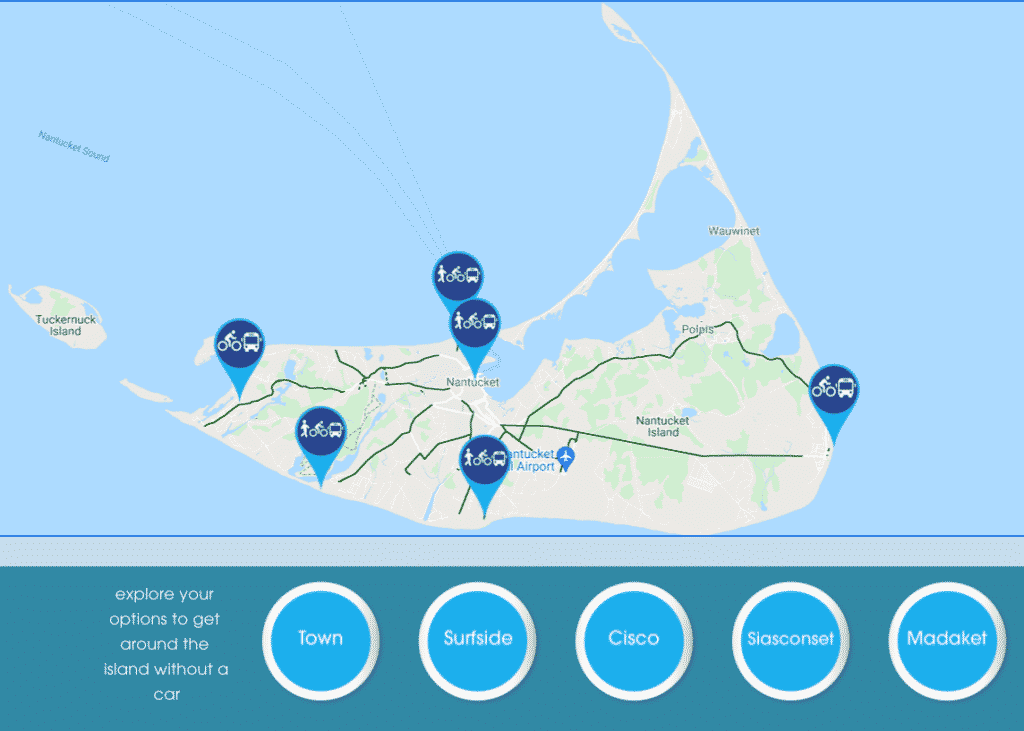 The WAVE bus offers two routes that service this area, departing from downtown (Greenhound Building) every hour. The trip takes approximately 30 minutes (and what a view along the way). $3 per person cash is collected upon entering the bus.
Depending on which bike path you take – Milestone Rotary or Polpis Road – it is a 10- to 12-mile bike ride between town and the village. Each offers stunning views of Nantucket's diverse ecological splendor. Rent a bike in town, have it delivered to you, or rent one on the way. MoreNantucket.com has an audio tour you can listen to before you start your ride or during it.
Once you arrive in Siasconset, the village streets are ideal for strolling. You can enjoy beautifully maintained gardens, historic structures, dramatic views. From the rotary in the center of the village of Sconset, you can see the 'Sconset pump, walk the public footpath along the bluffs known as the "Cliff Walk," and visit the famous Sankaty Lighthouse. The beach is easily accessible—just a 5-minute walk from the rotary that takes you under a ninety-foot-long footbridge. As you cross under the bridge, look up at the sundial.
Check out MoreNantucket.com for more ideas about getting to Siasconset and other areas of Nantucket Island without a car.