Early morning on Nantucket offers special pleasures: the charm of Main Street without cars…a walk along the wharves while it's quiet enough to hear the water lapping against the yachts…coffee and croissant at Brant Point Lighthouse while the sun rises over the Harbor…beachcombing along Sconset Beach before all the sand dollars wash back out with the tide… a bike ride without dodging traffic… After you enjoy early morning on Nantucket, you can go out for breakfast. Here are five of our favorites—all of them offer takeout, so you can take your breakfast with you on an island exploration.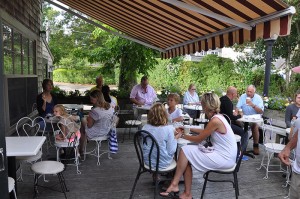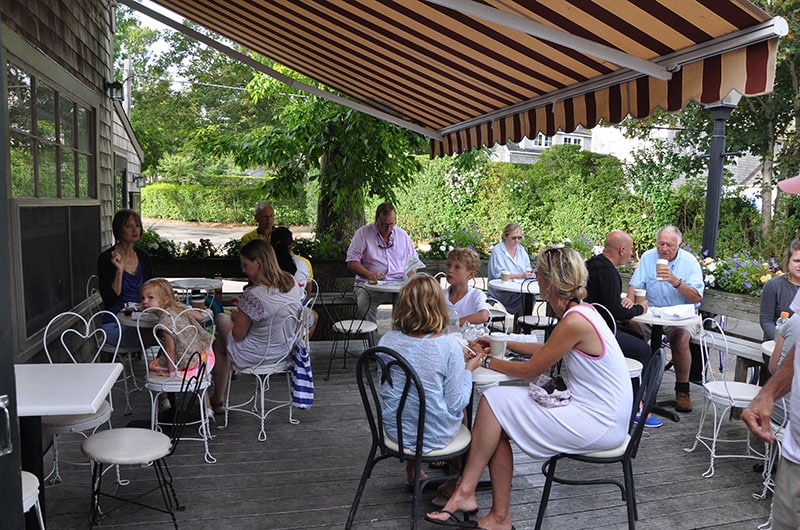 You can drive, bike, or take The Wave shuttle the 7.5 miles to Siasconset, a quiet village on the southeastern curve of the island, where you'll find a beautiful streets, historic homes, another pristine island beach, the amazing Cliff Walk, and Claudette's for breakfast. We love stopping by to enjoy an iced coffee and a cinnamon twist on their shady patio, but the best option is to breakfast on one of their freshly made sandwiches with crisp fresh veggies and a secret sauce that are served all day (not just at lunchtime). Try their Seafood Salad Sandwich or their Turkey Salad. They even have gluten-free bread. Time it right, and after breakfast, you can take the Glorious Sconset Walking Tour that departs at 10:45am from the Sconset Rotary bulletin board.
Claudette's, Post Office Square, Sconset, 508-257-6622
Open daily 8 am to 3 pm, Breakfast from 8 to 11 am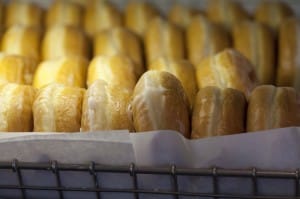 For more than 35 years, Nantucket Bake Shop has been baking superb hearth breads, including the original recipe Nantucket Portuguese Bread. Head over when they open at 6:30 am, and your bread will still be warm! Their freshly baked scones, croissants, and muffins pair deliciously with their freshly brewed coffee. Like a little something sweet for breakfast? Owner Jay Detmer is up all night making dozens of donuts — you've got to try their Boston Cream! Need breakfast for a group? Then it's Magee Detmer's Fruit Tart you want to bring home.
Nantucket Bake Shop, 17-1/2 Old South Road, 508-228-2797,
Open Mon-Sat. from 6:30 am • NantucketBakeShop.com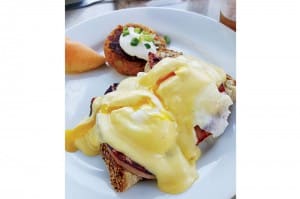 Back to downtown Nantucket and over to Centre Street you'll find Centre Street Bistro, a quaint downtown nook where you can relax and enjoy a leisurely weekend breakfast. On Saturday and Sunday mornings all year long, you can tuck into some of the island's classiest breakfast food. The Scrambled Egg Breakfast, served with sliced tomatoes and herb goat cheese toast drizzled with basil infused oil is delicious, but if they are offering Eggs Benedict as the morning special, don't hesitate to order it—they make some of the best benedict on the island!

Centre Street Bistro, 29 Centre Street, 508-228-8470
Weekend breakfast 8 am to 1 pm • nantucketbistro.com
Just a few steps past the Centre Street Bistro patio, is Nantucket's newest takeout spot: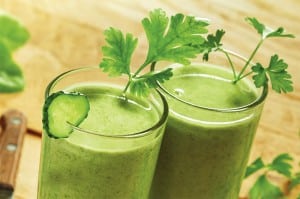 Lemon Press. Devoted to healthy foods and with a passion for green practices, they specialize in cold pressed juices, smoothies, tonics, raw bowls, salads, and open faced sandwiches. Try their savory Loaded Quinoa Bowl with cucumber, tomato, red onion, feta, and mint dressed with olive oil, red wine vinegar, and lemon. Or indulge in a Nutty Bowl, with acai, peanut butter, banana, almond milk, granola, strawberries, & local honey… YUM!
Lemon Press , 29 Centre Street, 508-228-3800
Open daily from 7 am • lemonpressnantucket.com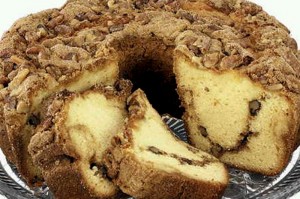 Lemon press is located where The Bean, Nantucket's original coffeehouse first opened. This spring, The Bean moved around the corner to spacious new digs at 4 India Street. Now, in addition to their freshly roasted coffees—hot and iced—you can order a bagel plain or with smoked salmon & cream cheese, pastries, a yogurt parfait, croissants, muffins, and an egg and cheese sandwich (plain, with sausage, or with bacon). They also offer a variety of hearty salads and sandwiches. You can enjoy your breakfast at a cafe table while you check your email, or sit on a bench in the pocket park just outside. And now you can order online at thebeantakeout.com with pickup orders ready in just 15 minutes!
The Bean, 4 India Street, 508-228-6215
Open from 6 am daily, nantucketcoffee.com and thebeantakeout.com
For more ideas on where to have breakfast on Nantucket Island, see http://yesterdaysisland.com/0827201512-where-to-start-your-day-on-nantucket/