Nantucketers have always embraced Halloween as a favorite holiday.  By the end of October, the island is again the small town we love, and Halloween offers the perfect excuse to party with friends and neighbors.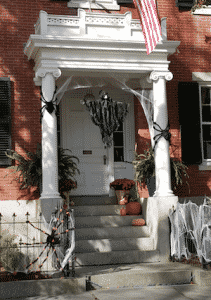 The fun starts early on October 31. From 10 am to 12 noon, the Early Childhood Center is hosting a free "Teeny Tiny Halloween" for newborns through 5 year-olds (older siblings can come, too), at 56 Centre Street.  Costumes are encouraged–but nothing too scary for the tots, please.
From 12 noon to 2 pm, the annual Boo Bash — a Halloween Skate Party hosted by the Nantucket Skating Club  — will be held at Nantucket Ice, 1 Backus Lane. Costumes are encouraged here, too, while you have fun with a haunted house and games with prizes. Admission is $15 or $40 for a family of three or more for skating and games.
At 4 pm on Halloween, Main Street closes to traffic so that witches and warlocks, ghouls and ghosts, cartoon characters and superheroes can gather for some downtown hauntings, tricks, and treats.  Live music is often a part of the fun, and many Main Street businesses take time to dress up, decorate, and hand out candy. Stop by Nantucket Preservation Trust at 55 Main Street during the Main Street festivities for a candy bar and a list of "haunted" historic spots on Nantucket that you can visit… if you dare!

While you're downtown, head over to Bookworks, newly reopened at 25 Broad Street, for a Halloween Costume Contest  from 4 to 6 pm. At 4:30 pm, there will be family costume judging on the lawn of the Methodist Church at 2 Centre Street, and at 5 pm the annual Halloween Parade will march up Main Street.
A Boowery Bash featuring live music by the Ethan Parker Band will be held from 4:30 to 7 pm at Cisco Brewers, 5 Bartlett Farm Road. The band merges "Tennessee folk" with "jazzy beach vibes of the band's roots in the Caribbean." You don't need a car to get there: shuttle service out to Cisco Brewers is available from downtown (outside of Visitor Services, 21 Federal Street), on the half hour.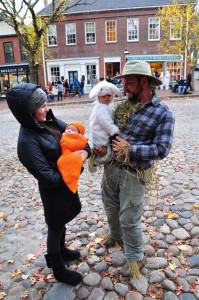 Head back to town to end the evening with a Nantucket Ghost Walk that departs at 7pm (so be there at least 10 minutes early) from the corner of Main & Centre sts. This Nantucket Ghost walk features 5 of the island's most famous haunted locations. Led by the original guide, it is one mile long and lasts 80 minutes. No reservations necessary, the tour is $20 for Adults, $15 Seniors & Teens, and $5 for Kids age 7-12 (cash only).
End your All Hallows Eve with some fun at Fifty-Six Union, where costumes are encouraged during dinner service from 5:30 pm, and you never know who might be serving you.  Afterward, head over to The Rose & Crown on South Water Street, where you can join the other costumed revelers dancing to tunes spun by DJ Brian till after midnight.