Nantucket sunsets are truly something to behold and Madaket is one of the best places to watch them. And you don't need a car to get to Madaket or to get around this picturesque village once you arrive!
Located on the west end of our island about six miles from town, Madaket is also known for it soft sand beaches, strong surf, fishing for striped bass, bluefish, and bonito, walking trails through conservation land, and Millie's Restaurant. Madaket neighborhoods have a laid-back vibe: this village was the home of locally famous Madaket Millie and internationally known Mr. (Fred) Rogers.
The miles of walking trails that criss-cross the west end of Nantucket are managed and maintained by the Nantucket Conservation Foundation, the Linda Loring Nature Foundation, and the Nantucket Land Bank. There's hilly terrain, coastal maritime shrublands, sandplain grasslands and heathlands, pitch pine woodlands, and wetlands. These habitats are inhabited by rare plants and endangered birds. Long Pond is particularly good for bird-watching.
From Hither Creek to Smith's Point, the pristine beaches of Madaket are perfect for walking, swimming, surfcasting, and picnics (bring your own or get takeout from Millie's). The walk down to the beach can be steep and the currents there strong.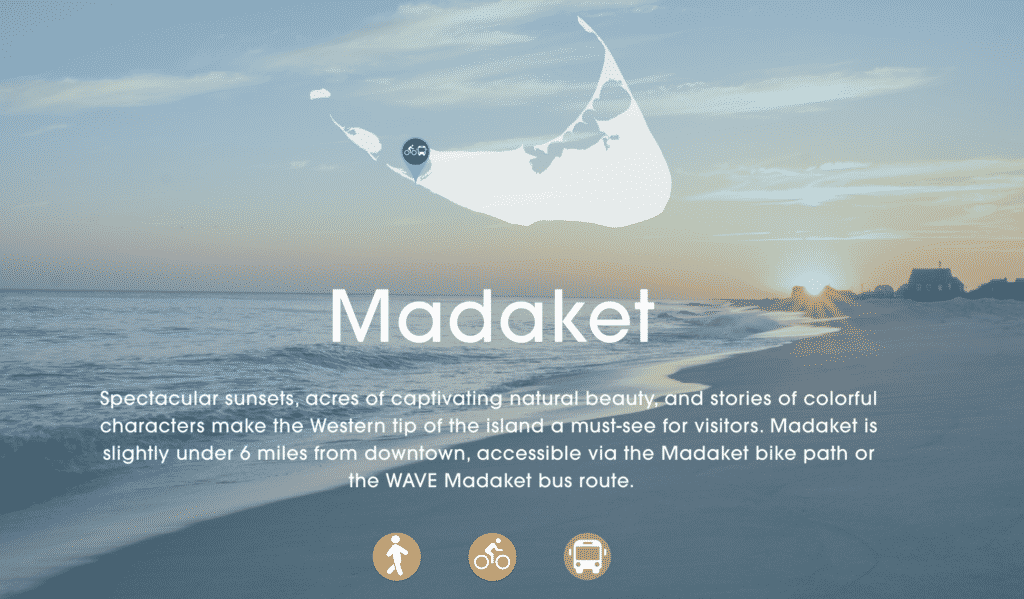 There is very little parking for people visiting Madaket, so the best ways to reach this village are by bike and by NRTA Shuttle. MoreNantucket.com is a wonderful resource for traveling to Madaket without a car. There are bike paths the entire scenic 6-mile ride that lead you past ponds and stretches of conservation lands.
If the bike ride is a bit long for you, Nantucket's NRTA Wave Shuttle is an ideal alternative. Their Madaket Route fare is just $3 each way. NRTA buses have bicycle racks, so once you arrive in Madaket you can bike through the village to see all the sights.
And whether you walk, bike, or take the bus, don't forget your camera!