With the exception of a bottle of extraordinary burgundy that Wine Fest Founder Denis Toner shared with me one February evening at Fifty-Six Union, the joys of wine are lost on me. Given the choice, I'll take whiskey over wine every time.
There, I said it.
This week on Nantucket, with the annual Wine Festival in full swing, a confession like this could be deemed traitorous. But I can't fake it any longer, and I've recently discovered that I am not alone. So here are my top three ideas on where a whiskey drinker can come out of the cellar and enjoy Nantucket Island during Wine Festival weekend.
Brant Point Grill is in the heart of the action during Wine Fest, but they also offer a selection of nine different premium whiskeys and have nearly as many bourbons in their repertoire that are perfect served neat. If you prefer yours in a cocktail, then it's hard to find anything better than their Barrel Aged Manhattan that is mixed and aged in an oak barrel with medium char and emerges smoother than the newly mixed version, with a tinge of smokiness.
I was a whiskey virgin before Orla Murphy-LaScola introduced me years ago to the variety she and Chef Michael LaScola offered at American Seasons. Now co-owners of The Proprietors bar & table on India Street, Orla has brought to this new location a superb selection of 21 imported and 15 American whiskeys. Cocktails of choice for whiskey drinkers here are the No. 3: "Calming, Bright, Serendipitous" and the No. 5: "Clean, Sparkling, and Quixotic."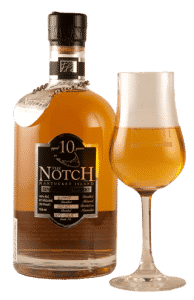 For a heady mix of music and spirits, head out to the open air bar at Cisco Brewers on Bartlett Farm Road for a glass of award-winning Notch by master distiller Randy Hudson of Triple Eight. The Notch (10-year-old and 12-year-old) has been racking up accolades including a Gold Medal, Double Gold, and Best in Category from the American Distilling Institute, a Double Gold Medal at the San Francisco World Spirit Competition, and American Single Malt Distillery of the year by the Berlin International Spirits Competition — and those are just from 2015 (so far)!
So forget red and white, and savor the golden nectar.