Organizers of the first Nantucket Music Festival last summer knew their idea of a two-day, live music celebration for visitors and residents of the historic resort destination had enormous potential. But, nothing could prepare them for the overwhelmingly positive response they received from sponsors and the performing arts community. The inaugural festival featured a vibrant and eclectic mix of musical performers on two stages at the island's Tom Nevers Field, August 2nd and 3rd, 2014. In addition, more than 30 sponsors signed on to sample their products and services, entertain customers and tie their brands to the event, all of which taxed the staff and resources of the first-year organizing committee.
NMF founder and seasonal resident Cynthia Dareshori said she and her team were amazed at the response, but they weren't prepared for such an outpouring of support. "We found ourselves at a caliber of sponsorship most events of this kind don't achieve in five or ten years, if ever," she said, "and yet we were still working out the kinks of a massive, first-year undertaking. The supporters were so quick to come aboard, so completely bought-in to our mission, we frankly were a little overwhelmed and had to turn down additional sponsor partners." Dareshori said after a thorough review of last year's festival, she made the decision to step back and rescale the event based on feedback from attendees, Nantucket Island officials and the community as well as suggestions from NMF sponsors. "From the very beginning, our vision for the Nantucket Music Festival was this bigger-than-life, live music showcase staged at one of the most naturally picturesque locations in the world, and we accomplished that," she said. "Our next evolutionary step is to properly scale the event to the needs of the island community and our sponsors so that we'll have a durable, workable model that can endure for years to come."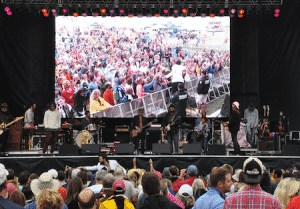 With that goal in mind, Dareshori announced plans for the NMF to return in 2016. "We succeeded in delivering a live, world-class musical experience with no incidents, minimal complaints and property impact," she said. "Most of our food and merchandise vendors have already expressed an interest in returning next year, as have our musical artists, and our wonderful sponsors are planning even more engaging experiences for our attendees." Dareshori also reported the Festival's non-profit Celebrate Music Foundation donated almost $10,000 to the Nantucket Community Music Center and that a beneficiary will be named for 2016.
Nantucket Music Festival launched in 2014 for the enjoyment of popular music by visitors and residents alike on Nantucket Island, the well-known resort community located 25 miles at sea off the coast of Cape Cod, Massachusetts. The festival features popular bands and musicians in many musical styles including folk, rock, country, blues, jazz, soft reggae, singer-songwriter and others. Net proceeds from the 2014 Nantucket Music Festival benefited the Nantucket Community Music Center through the non-profit Celebrate Music Foundation, Inc.
For more, visit Nantucketmusicfestival.com, find the Festival on Facebook at https:// www.facebook.com/Nantucketmusicmestival or on Twitter @ACKMusicfest.