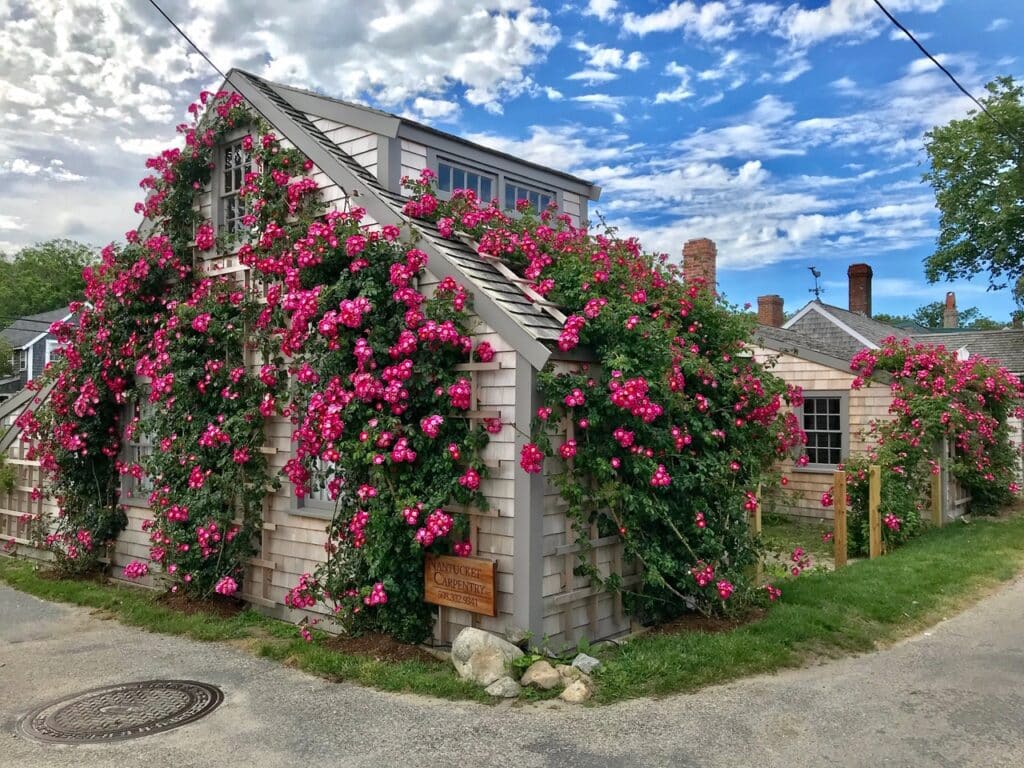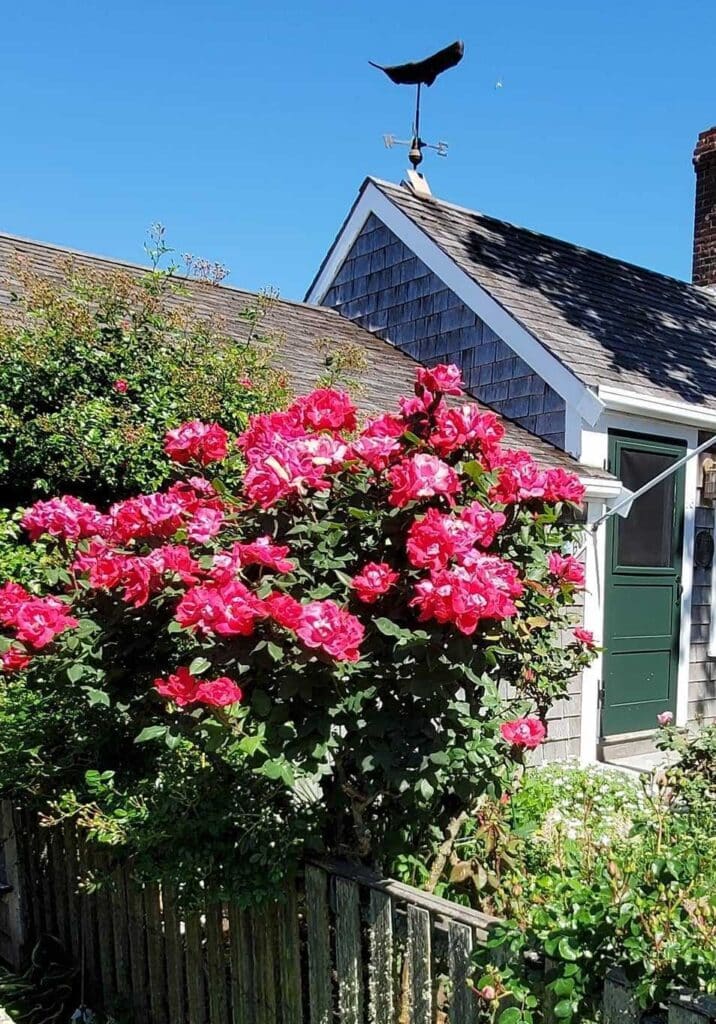 The village of Siasconset is unlike any other part of Nantucket. Smaller than Nantucket Town, it has a sort of fairytale poetry that can't be found anywhere else on this island. And in early July, it's all about the roses.  Draped across fences and over roofs, the bright blossoms nod in the summer breeze, their sweet scent blending with the crisp salt breezes from the Atlantic, just steps away.
To enjoy 'Sconset you have to get there first.  While driving is an option, what if your family is staying all the way in Madaket and you don't have a vehicle?  Don't lose hope!  The Nantucket Regional Transit Authority (N.R.T.A.) runs buses that can take you to 'Sconset from nearly anywhere on this island.  To reach this destination from town, take either the Milestone or the Polpis route from the Greenhound bus station, diagonally across from the Artists Association's Cecelia Joyce & Seward Johnson Gallery. For rate information and more complete directional info regarding the NRTA routes, visit nrtawave.com.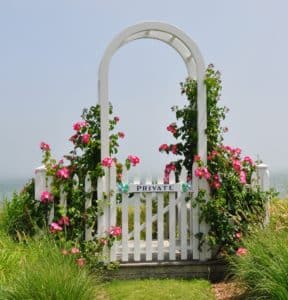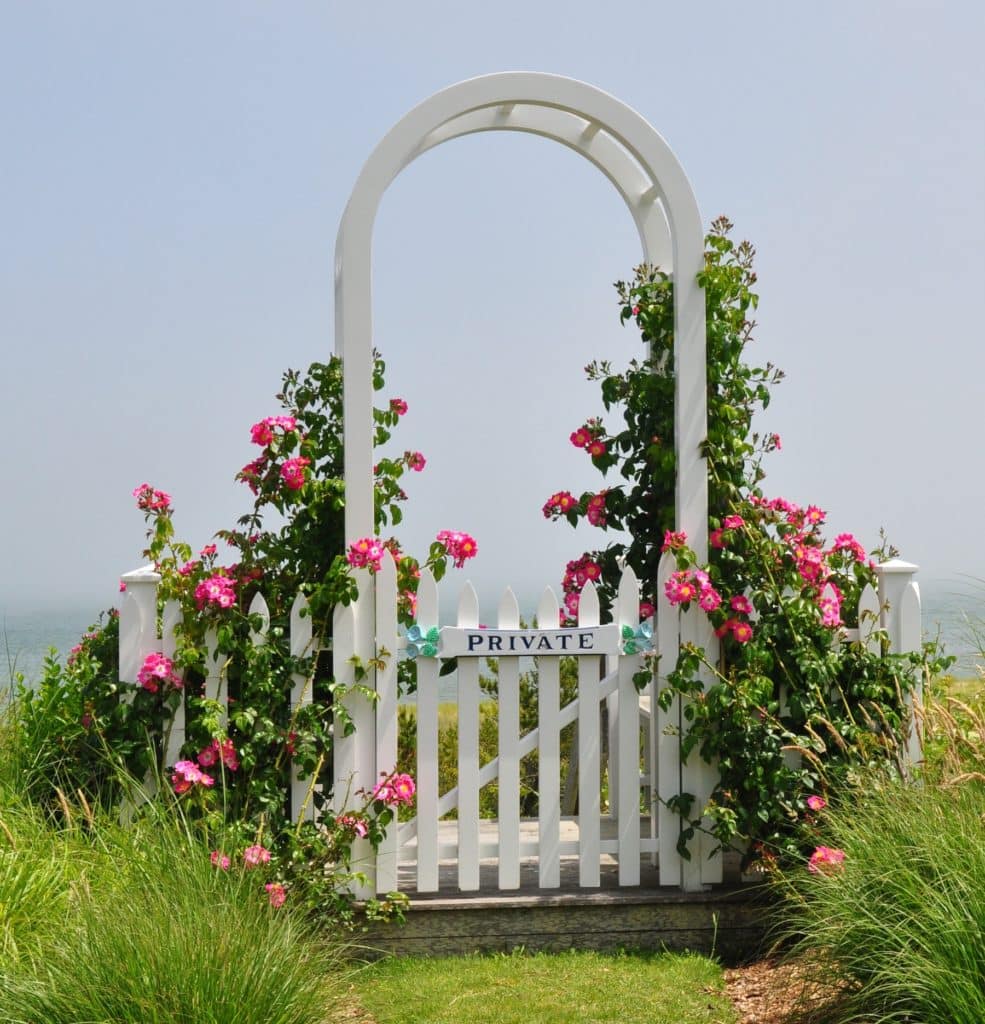 If biking is your preferred means of transportation, there are five different bicycle rental shops where you can rent bikes.   Remember to stay on the bike path as much as possible and follow the rules of the road! Pack water and a lunch so you can picnic when you arrive at your destination.
A visit to 'Sconset's beach, with its wide expanse of sand and unbeatable scenery is a must-do.  To get there, stroll down Elbow Lane where you'll encounter a rustic footbridge.  Look to your right and you'll see a sundial gracing the side of the large gray-shingled house.  From here, it's but a few steps down before your destination is straight ahead.  The beach's width means that it's just right for a game of Frisbee, hackysack, or wiffle ball.  It's also a prime picnicking locale, so unpack your sandwiches and have lunch on the beach.  Be aware that this beach can have heavy surf — so, it's best that young children not swim here.  But then what can young children do?  They can always go a ways down the road with their parents to the playground.  Meanwhile, the rest of you can get a taste of the Atlantic Ocean!  Take a swim, bodysurf, or try your hand at boogie boarding.  Just remember to wear sunscreen and be safe in the water.  It's an excellent idea to review beach safety with each other, too. Remember to rate your experience on our Sconset Beach section.
Next, visit the Siasconset Market for a sugary treat!  The store, located at 4 Main Street, makes the most amazing oatmeal cookies and legendary blueberry muffins. Take a seat on one of the convenient benches right outside the Market's door, and eat the whole thing as a family! Or walk a block toward New Street and relax at Pump Square?  Here you'll find the historic 'Sconset Pump and plenty of benches situated around a cobblestoned circle, the ideal place to unwind and enjoy the outdoors.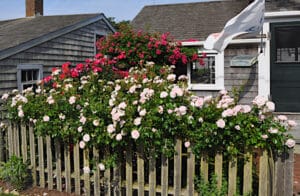 The best way to appreciate 'Sconset's proximity to the ocean is to take a walk on the path that runs along the bluff.  In the same spirit of subtlety that makes 'Sconset so endearing, the path doesn't immediately make itself clear.  In fact, it's downright elusive.  So finding this walkway is all a matter of knowing where to look.  From Main Street go to Broadway Street.  From Broadway, turn onto Front Street (the road covered in shells).  When you come to the second light post on the road, turn right onto the asphalt and continue along.  When you reach a sign that says, "footpath only, no bikes," follow the sign's enigmatic instructions: take the dirt path to the left in the direction that the sign's arrow is pointing, not the brick path leading down to the beach.  Don't be mislead by the fact that this walk takes you through people's backyards…you're not trespassing as long as you stay on the path!  The stroll is about half a mile each way and the path is very uneven, so watch your step, but it's well worth it!  There are fun little messages along the path.  In addition to allowing you to see the beautiful sights overlooking the ocean, the walk lets you have an excitingly eccentric and somewhat voyeuristic experience.
If you're up for another walk once you get back to Main Street, head down Baxter Road to see the stately Sankaty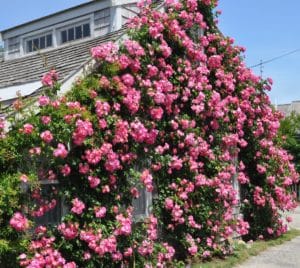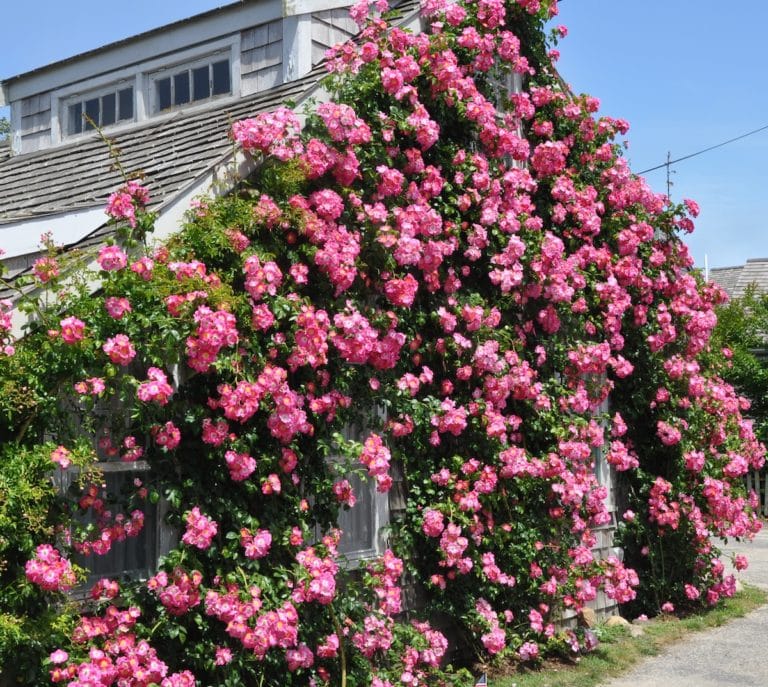 Lighthouse.  Built in 1851, the Lighthouse has been standing in the same location for 156 years and will be moved inland this fall.  Learn more dramatic details and see this beacon in its momentous location.
Once you've kindled an appetite from all that walking, stop by the Sconset Cafe for casual fine dining!  If your children are older and enjoy fine dining with parents, dinner at The Chanticleer can be a special treat.  You would do well to make reservations in advance at either restaurant.
You can end your day in 'Sconset with a movie in the historic Sconset Casino (this is not the kind that offers gambling). Movies coming up include Jaws, Godzilla vs Kong, Raya & the Last Dragon, In the Heights, Jurassic Park, Cruella, and A Quiet Place 2. Check current movie times and prices.