The Nantucket Historical Association (NHA) has aquired two significant paintings that capture iconic Nantucket landscapes—Sankaty Light by William Ferdinand Macy and Siasconset Beach by George Inness. These acquisitions were made possible through the generous support of the Friends of the Nantucket Historical Association.
Sankaty Light, by William Ferdinand Macy (1845-1913), depicts a beautiful scene of Sankaty Lighthouse perched upon the bluff. "This painting is important because it captures the rural and natural atmosphere that made the island appealing to holidaymakers after the end of island whaling," notes Michael Harrison, Obed Macy Director of Research & Collections. The work is notable for its enormous scale, measuring at a show-stopping 38 1/4 by 72 3/8 inches. The painting is unusually large for Macy, qualifying it as one of his all-time masterworks. It is an exciting piece that could be used to interpret many stories, and it complements the Sankaty Lighthouse journals the NHA already owns.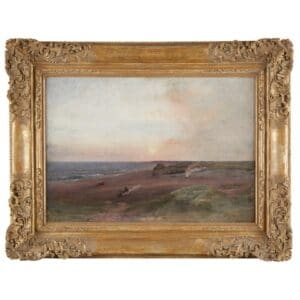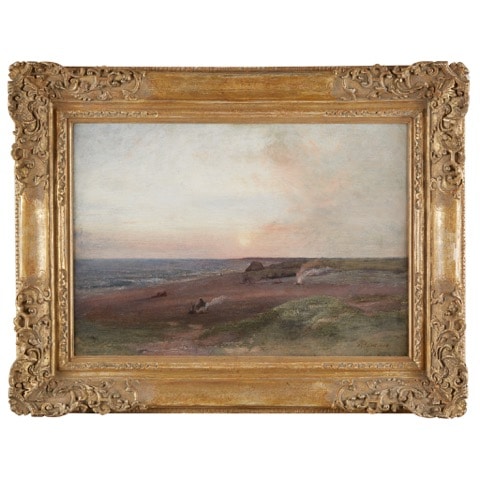 Siasconset Beach, by George Inness (1825-1894), depicts another majestic seaside landscape. This painting is one of only six known Nantucket paintings by this artist, who made four trips to the island between 1879 and 1892. The NHA is thrilled to now own two of the six, the other being Back of Nichols' Barn, 'Sconset, which were both painted during his 1883 visit. Siasconset Beach documents the strong impression Nantucket's landscape and light made on the artist, as he wrote to his wife, "I have just been out to see the setting of the sun, strolling up the road and studying the solemn tones of the passing daylight. There is something peculiarly impressive in the effects of the far-stretching distance, the weather-worn gray of the buildings, and the general sense of solitariness which quite suits my present mood. I find more and more to interest me, and shall no doubt find my stay here profitable." Inness does a spectacular job of conveying these words in this specific work of art.
The acquisition of these two outstanding paintings caps off an extraordinary year of new acquisitions from the Friends of the Nantucket Historical Association. "Thanks to the Friends of the NHA, we have significantly added to our ability to further our mission of telling the important stories which make Nantucket such a special place," says Patricia Anathan, chair of the Collections Committee. "We look forward to showcasing these wonderful objects for all to enjoy and appreciate."