The 47th Annual Sand Sculpture and Sandcastle Contest will be held this Saturday, July 30, from 12 noon to 4 pm.   Sponsored by the Nantucket Island School of Design and the Arts (NISDA), the contest is open to all and will take place at Jetties Beach, east of the jetty.  Because space is limited, pre-registration is essential: plots will quickly be claimed!
Be creative is the overreaching goal of this contest, although you may use hand tools and aids such as bucket and forms to build.  The emphasis is on building and decorating with Nantucket nature, shells, etc. hand-made ornaments and decorations indigenous to the island.  The word "sculpture" in the title of the event suggests that this festival has evolved giving participants the freedom to creature virtually anything out of Nantucket's golden sand.  Organizers stress that participants must remember to avoid using non-beach friendly objects to protect our fragile ecosystem.
Kathy Kelm, Director of NISDA, got the idea for the contest as she gathered with group of friends on the beach to have a picnic and to build sandcastles.  Kelm was a part of the Rhode Island School of Design when she founded NISDA.  Over the decades the event has taken on "its own energy" Kathy explained in a prior interview.  "People come from all walks of life to be a part of this event.  It is mysterious and magical what they can create and what they create is amazing; they are like artists at their studio."  Some participants entered every summer: it was the highlight of their time on Nantucket Island.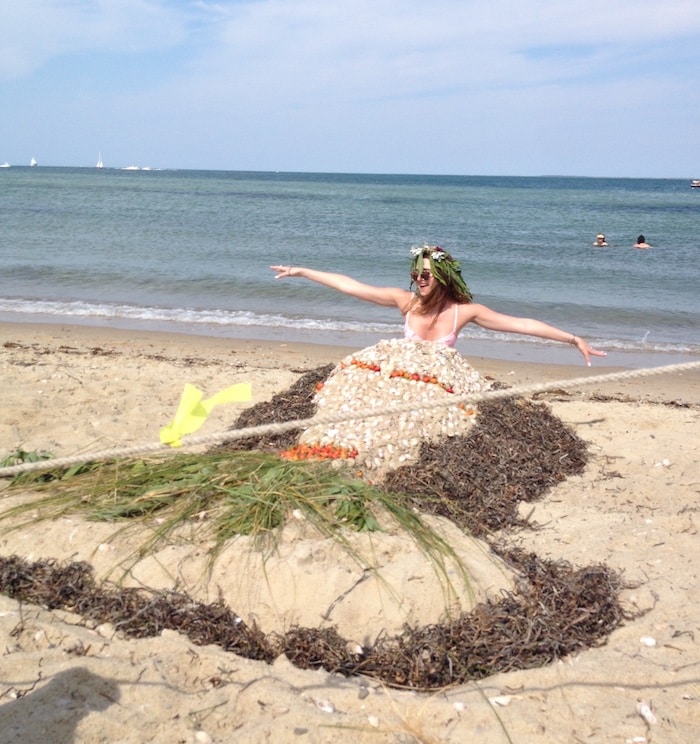 Ribbons will be given in each of four categories: Family, Youth 9+, Teen 13+, and Adult Teams.  The age group of the team is that of its oldest member. A Family Team consists mainly of children, with one or two accompanying adults, older siblings, grandparents, etc.  A Family Team that has all adults, a majority of adults or adults and teens is considered an Adult Team. Do encourage your children's castle building, but if you are not registered, please remember no hands-on building!
Awards will be based on creativity, concept, and design.  Judges are island professional artists, visiting artists and educators, lecturers, staff, and faculty from NISDA.  Spectators may cast a vote for People's Choice at the registration table prior to 3:30 pm.
Applications to participate and entry fees can be submitted in advance to July 28 at NISDA.org or in person at the Chamber of Commerce, upstairs at Zero Main Street.  Registration on-site the day of the event is contingent on available space.
Even if you are not participating in the contest, a visit to Jetties Beach to watch the sculpting in action or to view the finished products is well worth the trip.  Rain date is July 31: if you are uncertain about the weather on Saturday, call 508-325-6659 between 11 am and 12 noon.