Guest blog by Johnny Greene, President/CEO of ETS International
Whether you're looking for a fun-filled family retreat, or a romantic weekend away,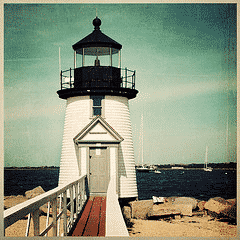 Nantucket Island is the perfect destination. Settled in 1641, Nantucket is wrought with New England history. The Island has been cited a National Historic Landmark District, and is said to be the "finest surviving architectural and environmental example of a late 18th and early 19th-century New England seaport town."
With 81 miles of coastline, Nantucket Island is the beach-lovers dream. Enjoy an afternoon of surfing or sunning, or even a relaxing, casual stroll on one of the many trails around the island. If you plan to visit before the summer months arrive, have no fear. Plenty of indoor activities are also available, especially for those seeking romance.
For Wine Lovers
Wine connoisseurs will be delighted with the Nantucket Vineyard. Established in 1981 by Dean and Melissa Long, Nantucket Vineyard once had the distinction of being America's only outdoor brewery. There's a certain ambiance at Nantucket Vineyard that we can only assume is a product of the owners themselves; a group of close-knit friends who care a great deal about what they do, and each other. With wine tastings, tours, and even live music, it's the perfect addition to your weekend getaway.
Stay a While
On Nantucket, you'll certainly have no shortage of options for places to rest your head and rejuvenate between daily adventures on the island. Set in the heart of Nantucket's Historic District, the Brass Lantern Inn is just a short walk from an array of restaurants, shops, and even the ferry terminal. With casual elegance and the comfort of home, you're sure to love the beautiful Greek Revival design of this inn. Enjoy The Brass Lantern's fresh baked pastries and homemade granola with your morning coffee before setting out to relish the rest of your day.
If you prefer something with a bit of privacy, consider renting this gorgeous Nantucket beach house. You and your loved one can wake to the sunrise over the ocean, stroll the sandy beach during the day, and enjoy all the comforts of home. You'll be just moments away from everything this gorgeous island has to offer.
Candlelit Dinners for Two
For a romantic dinner, you'll be pleased with the stunning view of Nantucket Bay from Topper's.  Revered as one of the nation's most acclaimed restaurants, and a favorite on Nantucket, Topper's offers its guests a delectable selection of seasonally inspired dishes, and fresh island cuisine.
Brant Point Grill is another favorite of locals and visitors alike. Renowned for the fresh seafood, the restaurant fills quickly with diners ready to enjoy some of the island's best fish, shrimp, and lobster. Steak lovers will also find delicious cuts of meat on the menu. In the warmer months, the deck is open for dining, but winter visitors can also enjoy a stunning view of the harbor from the warmth of the dining room.
Arrive in Style
Unless you're an exemplary Olympic swimmer, you'll more than likely be taking a ferry to the island for your weekend getaway, but that definitely doesn't mean you'll have to be without transportation during your trip. With the luxury of a chauffeured Nantucket vehicle, you and your love can relax and enjoy each other's company while traveling to your destination.
We provide several different vehicles from which to choose, from luxury sedans to stretch limousines. If you prefer a casual, laid-back evening, one of our chauffeured SUVs might be the perfect choice. In addition to impressing your special someone, you can also enjoy the practical aspects of car service. You won't have to worry about navigating the island, or even finding parking. Simply enjoy every moment of your special time together, and allow someone else to do the work for you.