The Nantucket Historical Association (NHA) will be hosting two of their most popular holiday events this November and December, they announced this week. Due to special guidance due to the pandemic, the festivals will be different from those previously held. The NHA has reimagined its plans slightly to adhere to safety protocols and allow for more viewing time for visitors.
In early November, the 22nd annual Festival of Wreaths will kick-off the NHA's holiday offerings, featuring an array of wreaths beautifully crafted by the community. Visitors may bid on their favorite wreaths in an auction to benefit the NHA's year-round outreach efforts. For 2020, the festival will open a week early on Monday, November 9 and will continue through Monday, November 23. Hosting the festival this year for two weeks instead of the typical five days will permit additional viewing time. Wreaths will be on view in the McCausland Gallery at the Whaling Museum, but all bidding will be held online, with QR codes posted next to each wreath for safe and touch-free bidding. So this year, remember to bring your cell phone when you visit the festival.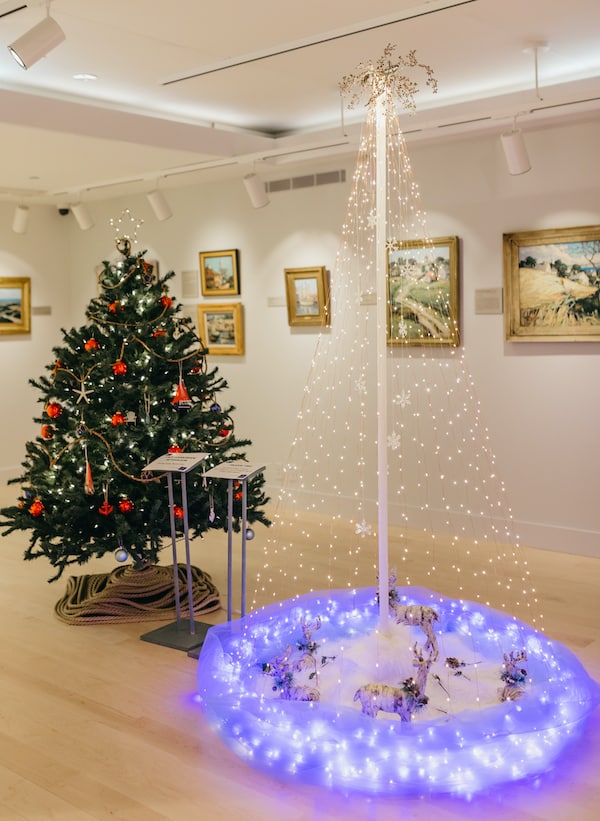 The 27th annual Festival of Trees, which transforms the Whaling Museum into a festive winter wonderland, will also open earlier for 2020. The display will open on Friday, November 27, and will run through the end of December to allow for more viewing time and for visitors to enjoy during the extended Stroll week. Neither festival will begin with a preview party due to pandemic guidelines and safety regulations.
Anyone interested in creating a wreath to donate to the NHA for the Festival of Wreaths must register in advance (October) by emailing Stacey Stuart at sstuart@nha.org Wreaths must be completed and delivered to the NHA by November 2. Those interested in participating in the Festival of Trees by decorating one should also email Stacey Stuart, and do it soon, as demand for trees sometimes outpaces the supply!
Both of these festival offerings will be free to the island's year-round community, thanks to the generous support of the Festival of Wreaths and Festival of Trees lead sponsor, Marine Home Center. The NHA is extremely grateful for the involvement and support of the many individuals and organizations that contribute to the success of these holiday traditions, including Lauren and Neil Marttila, 2020 chairs of the Festival of Wreaths and Festival of Trees.
"It is an honor to chair the 2020 Festival of Trees and Festival of Wreaths, which are extremely special island traditions," says Neil Marttila, co-chair for this year's events with his wife, Lauren Marttila. "It is a joy to see the creativity of our island come to life through the wreaths and trees – and we are especially thrilled the Nantucket Historical Association can continue these traditions this year – we all need a little extra joy in 2020."
The NHA's mission is to preserve and interpret the history of Nantucket through its programs, collections, and properties, to promote the island's significance and foster an appreciation of it among all audiences. For more information about each holiday offering and other programs and events at the Nantucket Historical Association, visit NHA.org or call 508-228-1894.