Four fun annual fall festivals and events are happening this weekend on Nantucket Island.
For the third year on Nantucket Island, Sustainable Nantucket is hosting it's popular NantucketGrown™ Food Festival.  Four days of food, fun and education surrounding what is fresh, local and sustainable, the festival began Thursday with a four-course NantucketGrown™ Dinner prepared by Chef Greg Margolis at Nantucket Culinary.
The fun continues tonight with a Farm to Table Tasting where Nantucket chefs will be paired with local and regional farms to highlight the bounty of the season.  Held in the Nantucket Yacht Club, this is your chance to taste the delectable dishes that expert chefs create from the freshest of the fall harvest.
Saturday brings a scallop shucking demonstration, a honey tasting, a farm-to-table picnic lunch at the beautiful Walter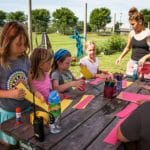 F. Ballinger Educational Community Farm on Hummock Pond Road, and a Cocktail Creations workshop. The day ends with a visit from Chef Bun Lai, Chef/Owner of Miya's Sushi in New Haven, CT, the first sustainable sushi restaurant in the world, who will screen his documentary short, Blind Sushi, followed by a discussion and a tasting of sustainable sushi.
This Nantucket festival ends on Sunday, October 14 with free family fun at 9:30am in the Joyce N. Furman Youth Garden on First Way, and a Bloody Mary Brunch featuringNantucketGrown™ ingredients, a bloody Mary bar, sparkling wine, oysters and a coffee tasting.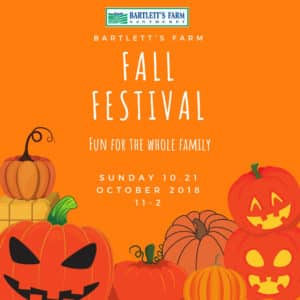 At 11 am on Sunday, October 14, all are invited out to Bartlett's Farm for their Fall Festival. The fun starts with  pumpkin carving in Bartlett's Garden Center until 12pm whose pumpkins can then be entered the Jack-O-Lantern Contest! Prizes (and bragging rights) will be awarded for kids level and adult level pumpkins! Kim Botelho, Director of Education at Maria Mitchell Association, will be painting faces from 11-2 and accepting donations for MMA.  Hay rides,  games, and great food complete the family fun for all ages.
Also on Saturday, starting at 11 am, is the Nantucket Historical Association's 19th annual Harvest Fair.  Held at the Old Mill, this is an afternoon of activities celebrating the history of Nantucket harvests. Highlights of this event include tours of the Old Mill, old-fashioned games, and autumn crafts. Seasonal refreshments of apple cider, apples, and cornbread will be served. This outdoor event will be held Rain or shine.
Sunday night, The
Proprietors bar & table
are hosting their annual HOGtoberfest, a thoughtfully prepared multi course dinner, encompassing nose-to-tail preparations from locally raised small farm animals. Wine, beer, and cocktail pairings are included. Bring your appetite and celebrate humanely farmed product. Reservations are available at 508-228-7477.