Tickets for The Dreamland's Drive-In Theatre for films showing through the end of July, 2021, will go on sale at 12 noon on Monday, May 17 via The Dreamland's website. Tickets may sell out quickly, so don't wait to purchase yours!
Beginning with Steven Spielberg's classic adaptation of Peter Benchley's novel JAWS on Wednesday, May 26, this season at the Dreamland Drive-In will expand upon the success of its sold-out 2020 inaugural season. JAWS was the first title played in the new Dreamland on South Water Street in 2012 and was the inaugural feature at the Drive-In last year.
After receiving unprecedented support from the Nantucket community to build the drive-in at the Town's athletics facility at 7 Nobadeer Farm Road, The Dreamland sold every single available ticket between its opening day July 1 through Labor Day. This year, The Dreamland will repeat the seven days a week schedule during July and August, with screenings Wednesday through Saturday in June, after Labor Day, and through early October. Per agreement with the Town of Nantucket, the drive-in will wrap up its second season just after Columbus Day.
"We are so grateful to all our patrons and donors, the Nantucket Select Board and our partners at the Town of Nantucket," said Dreamland Executive Director Alicia Carney. "This drive-in would not have been possible without the significant efforts and contributions of so many in our community. We hope to build on these partnerships and successes of 2020 and make this year's experience even better than last."
A spring 2020 Go Fund Me campaign raised more than $180,000 from more than 500 donors to support the endeavor. These funds went toward the purchase of equipment and building the needed facilities. A significant portion of the funds raised (approximately $70,000) was used to purchase a Christie CP2220 DCP capable projector, which allows The Dreamland a great deal of flexibility in the titles it shows at the site. Additionally, the well-constructed and hurricane-reinforced wooden screen cost more than $60,000 to build. The remainder of the donated funds went toward the season-long rental of portable bathrooms, construction of the projection booth, and other related start-up costs.
During 2020, the drive-in operated with a 39-car capacity due to COVID-19 related restrictions and regulations, but the 2021 season has been approved for up to 60 vehicles, though Dreamland staff expect to begin at a lower level to ensure adequate distancing. Because the State of Massachusetts rescinded its COVID-19 regulations pertaining to drive-ins, theatre-goers will once again be permitted to sit outside their vehicles (within their purchased spaces) during films.
Tickets to attend the Dreamland Drive-In will be $40 per vehicle/$35 for Dreamland members. Patrons are asked to limit the number of persons to the legal capacity (number of seat belts) of the ticketed vehicle. All tickets must be purchased on The Dreamland's website. For all sold-out screenings, The Dreamland will continue the practice of offering a rush line 15 minutes prior to the start of each film. Staff greet patrons at the entrance, so an insider tip is to arrive at 8:15pm if you'd like to join the rush line. If you are successful in purchasing a ticket from the rush line, you'll be directed where to go
For the summer season, weather permitting, gates will open to patrons at 8pm with all films beginning at approximately 8:30pm. Dreamland staff will direct patrons to specific spaces based on their arrival times and type of vehicle.
Using radio transmission technology, the drive-in utilizes no amplified sound, but rather patrons' car radios and small transistor radios, which The Dreamland offers for sale at every screening.
Currently, there are no plans to incorporate food trucks on the site, but The Dreamland does plan to significantly expand concession offerings during the opening weeks of operation. More details will be released as they become available.
In observance of local COVID-19 protocols, all visitors to the Dreamland Drive-In are asked to maintain appropriate social distancing from those not in your party and to wear masks when visiting the concessions stand and restrooms.
Due to major studio and distributor restrictions related to first run (new) films, the Dreamland Drive-In will largely offer well-known, classic films that are perfect to enjoy outdoors with your friends and family. The Dreamland's indoor facility at 17 South Water Street in downtown Nantucket will continue to offer most first-run offerings from Hollywood in both the Main and Studio theaters, along with a wide variety of independent films, exciting live (socially distanced) public events, and family theater with the Dreamland Stage Company, as well as private rentals and events.
In the event of severe weather, screenings will be cancelled and tickets refunded; otherwise, the Dreamland Drive-In will proceed rain or shine.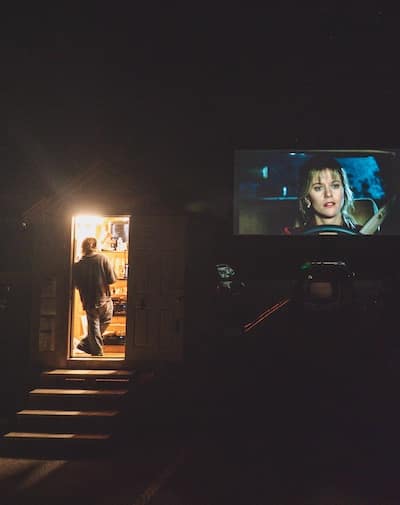 The full drive-in movie schedule for end of May, June, and July 2021:
Wednesday, May 26: JAWS
Thursday, May 27: TWISTER
Friday, May 28: THE BREAKFAST CLUB
Saturday, May 29: NCTV Presents: LUNAFEST
Wednesday, June 2: STAND BY ME
Thursday, June 3: JAWS
Friday, June 4: FAMILY VACATION
Saturday, June 5: ONE CRAZY SUMMER
Wednesday, June 9: E.T.
Thursday, June 10: CADDYSHACK
Friday, June 11: THE SECRET LIFE OF PETS
Saturday, June 12: THE HANGOVER
Wednesday, June 16: TWISTER
Thursday, June 17: NFF
Friday, June 18: NFF
Saturday, June 19: NFF
Wednesday, June 23: ONE CRAZY SUMMER
Thursday, June 24: NFF
Friday, June 25: NFF
Saturday, June 26: NFF
Sunday, June 27: NFF
Wednesday, June 30: THE LEGO MOVIE
Thursday, July 1: FIELD OF DREAMS
Friday, July 2: PINK FLOYD: THE WALL
Saturday, July 3: JAWS
Sunday, July 4: THE SHINING
Monday, July 5: THE GOONIES
Tuesday, July 6: MAMA MIA
Wednesday, July 7: CADDYSHACK
Thursday, July 8: REAR WINDOW
Friday, July 9: JOHN SHEA'S GREY LADY
Saturday, July 10: No Movie
Sunday, July 11: BREAKFAST AT TIFFANY'S
Monday, July 12: E.T.
Tuesday, July 13: PSYCHO
Wednesday, July 14: DIRTY DANCING
Thursday, July 15: JAWS
Friday, July 16: BACK TO THE FUTURE I
Saturday, July 17: THE SHINING
Sunday, July 18: GREASE
Monday, July 19: TROLLS: WORLD TOUR
Tuesday, July 20: ANCHORMAN
Wednesday, July 21: THE PERFECT STORM
Thursday, July 22: TWISTER
Friday, July 23: BACK TO THE FUTURE II
Saturday, July 24: ONE CRAZY SUMMER
Sunday, July 25: JAWS
Monday, July 26: SHREK (2001)
Tuesday, July 27: THE BAND: THE LAST WALTZ
Wednesday, July 28: THE BIRDS
Thursday, July 29: WONDER WOMAN (2017)
Friday, July 30: CADDYSHACK
Saturday, July 31: THE GOONIES
A registered 501(c)(3) nonprofit organization, the Dreamland builds community on Nantucket year-round by bringing people together to share experiences through art, culture, film, and learning. For more information about The Dreamland and how to become a member, visit Nantucketdreamland.org