The Nantucket Historical Association and Theatre Workshop of Nantucket present the Twelfth Annual production of Orson Welles' Moby Dick Rehearsed. Written by Orson Welles in 1950, this play within a play is both a celebration of the stage and a testimony of the enduring legacy of Herman Melville's masterpiece of American literature.
In 1955, Welles produced and starred in a short-lived London production of "Moby-Dick Rehearsed," which came to Broadway in 1966 starring Rod Steiger. It was an ideal play for Welles to adapt, with its epic themes, allusions to Shakespeare and the pivotal role of Ahab and its echoes of Lear, a part that Welles never played.
The premise of Moby Dick Rehearsed is that a company of actors, expecting to rehearse Shakespeare's King Lear, are asked by their director to do an impromptu staging of an adaptation he's written of Melvilles' Moby Dick.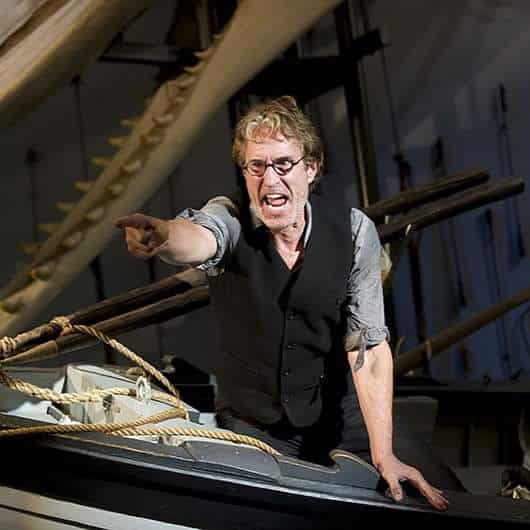 The TWN and NHA collaboration is directed by and features Emmy Award winning actor and TWN Artistic Director Emeritus, John Shea as Ahab. John's co-stars are a loyal cast of twelve actors from the Theatre Workshop's resident company who perform under the skeleton of the fifty foot sperm whale in the Whaling Museum's legendary Gosnell Hall.
John Shea has personal links to the sperm whale skeleton that hangs in the museum. He was one of twenty men from Siasconset who pushed that same whale off the beach in Codfish Park in late December 1997. The men all cheered this rescue.
Sadly, the whale was found dead the next day on Low Beach. Its remains were preserved and the new whaling museum designed to accommodate it. Now its skeleton educates and delights visitors to the Whaling Museum year round and continues to inspire our theatrical production.
Moby Dick Rehearsed has become a much loved island tradition.
Three Nights only: August 28, 29, and 30. Tickets at the NHA website or at the door for $30.