The 46th Annual Nantucket Community Daffodil Flower Show, sponsored by the Nantucket Garden Club and approved by The American Daffodil Society, will be held on Saturday, April 23, 2022 from 2 pm to 5 pm and on Sunday, April 24 from 10 am to 4 pm at Bartlett's Ocean View Farm, 33 Bartlett Farm Road. On Saturday, April 23 free shuttle busses to and from the show will be offered, departing from Washington Street across from The Greenhound building from 2 pm and continuing all afternoon. The last bus will return to Town from the farm at 5:00 pm. No shuttle busses are offered on Sunday. Admission to the flower show is free, but donations will be accepted toward the Garden Club's Island Daffodil Planting Fund.
The entire Nantucket community is encouraged to enter the arrangement, horticulture, and photography sections of the show. A complete Daffodil Flower Show Schedule of the flower arrangement, horticulture and photography entry classes and entry instructions is available at the Nantucket Garden Club website. Entry cards and printed show schedules will be available at island florists and garden centers in early April. All horticulture and floral exhibitors must bring their entries to Bartlett's Farm between Noon and 6 pm on Friday, April 22 or between 7 and 9:30 am on Saturday, April 23. Children and first-time exhibitors are encouraged to enter on Friday afternoon, when members of the Garden Club and experts from the American Daffodil Society will be available to answer questions and assist with entry paperwork. Photography entries must be received no later than Wednesday, April 20, 2022 and should be dropped off or mailed to Patricia Halsted at 14 Lyon Street, Nantucket MA 02554.
Daffodil enthusiasts who wish to participate are encouraged to visit the American Daffodil Society web site called DaffSeek, where there is a database with thousands of daffodil photos to assist with the identification of entries. Last fall the Nantucket Garden Club, with the assistance of the Annie Webber and CPS middle school students, classified and distributed daffodil bulbs to Nantucket students to plant and enter in the 2022 show. All Nantucket youth are encouraged to enter their daffodils, flower arrangements, and photographs.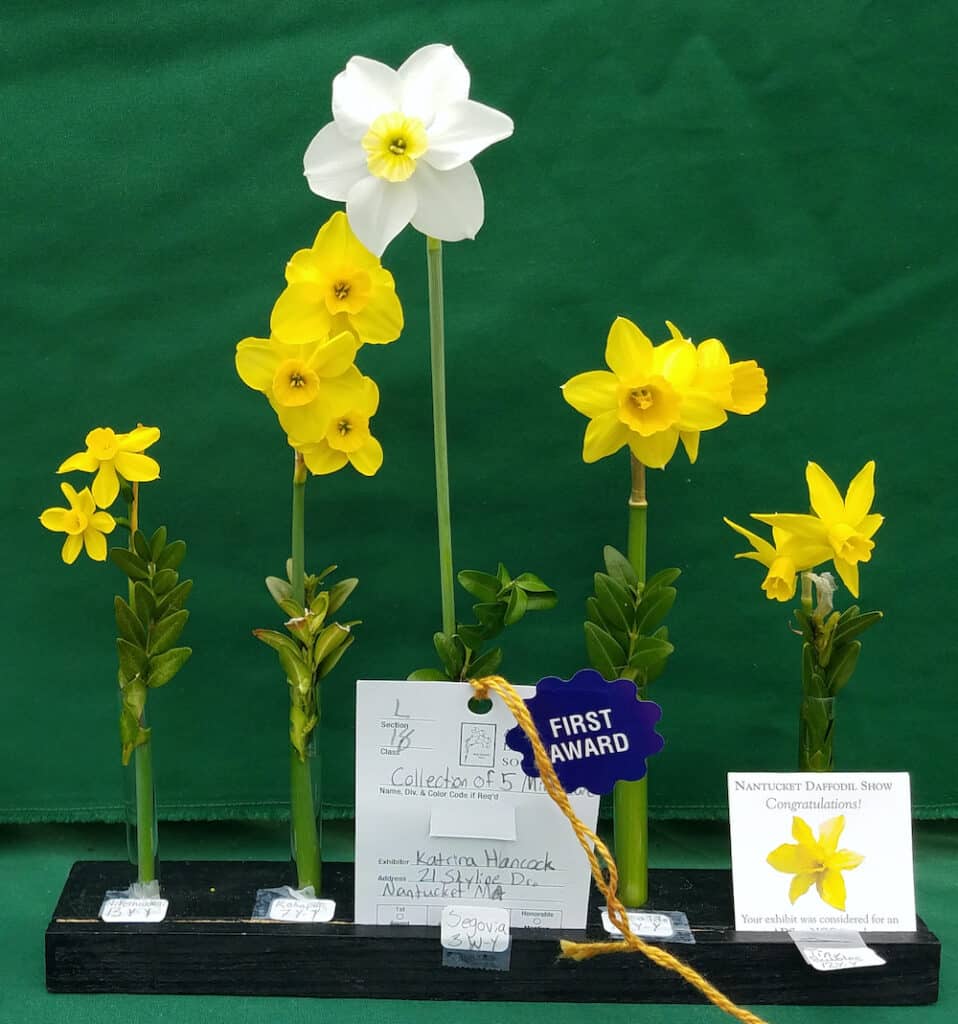 The artistic theme for this year's show is "Island Treasures," and chairs are Robin Youngman, Ruth Plandowski, and Martha Polachi.
The titles for arrangement entries are:
"Madaket Sunset" – Mass Arrangement
"Nantucket Blues" – Men's Arrangement
"Light up your Lighthouse" – Small Arrangement
"Take it or Leave it" – Miniature Arrangement
"Surf's Up at Cisco" – Youth: middle & high school
"What's your Nantucket Treasure?" – Youth Arrangement: pre-school & elementary
"Nantucket Sleigh Ride" – Family & Group Arrangement
In addition to the flower arrangements and daffodil horticulture sections of the show, there will be a special section for Photography entries of daffodils in a landscape, a daffodil portrait, daffodils as a still life, and pets with daffodils. Photography Entry Classes are for Adult (Amateur or Professional) and Youth from the High School-Middle School and Lower Schools. Complete rules are found in the Flower Show Schedule.