by Suzanne Daub
I looked out over Nantucket's Madaket Beach one recent sunny Saturday morning and saw two people moving purposefully up and down the beach. I thought these early risers might be vacationers staking out a prime plot of sand for the day or perhaps beachcombing for shells and sand dollars. But as they came closer to the parking area where I stood, I saw that instead of swimsuits they wore long pants and gloves. Instead of beach towels they carried large trash bags. Their neon t-shirts were emblazoned with Clean Team, marking them as members of a very dedicated group of volunteers who help keep our pristine island clear of trash.
The man behind this effort is William Connell. Every June for more than 50 years, this California resident has traveled east to the summer home he loves on Nantucket Island. "I love the independent spirit here, the architecture, the history, the theatre… what really brings me back are the friendships we've made with people from Nantucket. There's a commonality of spirit among those who are here," he explained.
Connell speaks of Nantucket with passion, and it is that passion that led him to form The Nantucket Clean Team. Passion and a dare.
"It drove me to distraction to see all the trash on the roadsides here, so I made a habit of stopping and picking up the big things—it was a visual-aesthetic thing for me (I still do it). A Nantucket neighbor of mine in 2003 wrote a letter about me to the Inky, about me picking up the trash, and in it he wrote that 'we all owe Bill a great vote of thanks.'
"But what the neighbor who wrote that did not know is that another neighbor of mine also saw me [picking up trash] and HE said to me 'I see you out picking up things all the time. It's great, but its meaningless and inefficient. It's meaningless unless you leverage yourself: you'll never clean this place up. You've done Milestone Road, but what have you done for Sconset Road?'
"It was mean, but he was right — it was like a dare. I knew what he was saying…Nantucket is under siege…I needed to be organized… so he's really the father of The Clean Team.
"I wrote back to the Inky referencing the other letter, and they published my letter. In it I asked for people to join me. I put in my email and phone number, and a handful of people, maybe ten, wrote and called. Two were Grant Sanders and Dr. Sarah Oktay. I said to them 'let's meet at 8am on Saturday at the corner of Nobadeer Farm Road and Milestone,' which was a hotbed of mess. Grant went toward Sconset; Sarah went toward Old South Road; and I headed back toward town along Milestone. We met in an hour and had so much stuff! We stashed our bags along the route, and I picked them up and took the bags to the landfill."
Now, 15 years later, there are more than 400 volunteers on The Nantucket Clean Team email list, and every Saturday (rain or shine)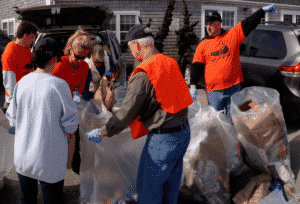 from the end of April through October a few dozen of them gather at a location Bill chooses. "I look at the map and pick a spot that we radiate around. I mix it up so we alternate among beaches, roadsides, parking lots… and now we also have volunteers in town. The town volunteers meet at The Handlebar Cafe. Jason Bridges coordinates in town and graciously allows us to store the supplies for town at The Handlebar. We average 10 people in town every Saturday and 25 out of town."
There is a structure to the one hour a week that The Clean Team works. Bags, gloves, and pickers are supplied so volunteers never have to touch the trash. Connell makes assignments within the chose out-of-town area. "I scatter people… we have a leapfrog system," Connell explained, "those who have arrived in cars I send a distance away from the meeting point. We never do this in one big group so that we cover a linear space by dividing it up into rough segments… then you grab your bag and go… NO FRATERNIZING… We want you to collect, not chat," Bill chuckled, "some of our volunteers have been asked if they are on work-release."
"Then at 9 am sharp, the DPW shows up and they weigh our catch-of-the-day and pick it up and take it to the landfill. Every year we pick up six tons of trash! It's a great cooperation between private citizens and the town."
Bill emphasized how much fun his volunteers have during these weekly one-hour cleanups. "Some mornings are exquisitely beautiful and calm with the sunshine and the waves! And it's terrific exercise. Volunteers bring their guests, their kids, their grandkids, "it's like a treasure hunt," said Bill, "and the kids are good: they're closer to the ground."
Several of the regular volunteers agree wholeheartedly with Connell that this Saturday morning cleanup is more than just a chore. "It's gratifying," commented Annie, who compared it to an archaelogical dig. "It makes you feel good doing it; it's good for the community; and it's great exercise," added Rob, "and it's just an hour a week." Libby added "Bill really is the glue that holds all of us together. His weekly emails are great fun. He calls the people who can't make it out here every week but who clean up around their neighborhoods 'add-junks'," she laughed and added "Be careful if you're driving behind him 'cause he still stops to pick up trash along the roads."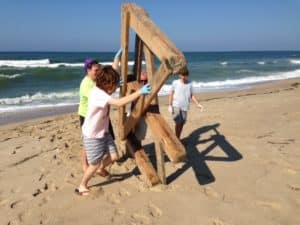 Most of what The Nantucket Clean Team picks up are small items: straws, coffee cups, pull tops, beer cans, and many plastic water bottles. Last summer they found a 35-pound metal pole with a handsome metal placard from New Brunswick, Canada that had floated to Sconset Beach. "The ocean brings a lot of trash to us…one of the most difficult clean-ups was in 'Sconset… On the road that passes The Summer House down toward the old Navy Base there was a wooden boat that had been destroyed in a storm and the debris was very, very heavy. It was difficult to haul it all up to where the DPW could pick it up. That one day we did work more than one hour."
Sometimes they find treasure: a winning scratch ticket ($2), a $50 bill, coins, and "one morning a little girl helping came to me and said 'Mr. Clean, I have something for you.' I opened her hand, and there was a bleached and crumbled but intact 10 dollar bill." Wallets, credit cards, and drivers licenses found by members of The Clean Team are turned over to the Nantucket Police Department.
"There's a depth of emotion that people show for this place. You can see it in locals and in summer people… take the Conservation Foundation: the people who created that, who recognized that this place has to be preserved. So many families were so generous, giving land… People help each other here, and there is tremendous pride in the people who are part of Nantucket. that is part of what lead to the clean up."
The Nantucket Clean team occasionally receives donations: "Donations would not be deductible and they will be put to good use," but, said Connell, "we'd rather have donations of time. With another person or two, we could do so much more! Come when you can — that's our motto — we'd be thrilled to see you!"
To join the Nantucket Clean Team, visit their Facebook page.