We're all trying our best to stay busy these days, especially when current events can render relaxation hard to reach. People and businesses alike are quickly learning to swerve and adjust to the needs of their neighbors, and in many ways Nantucket seems smaller than ever.
Our own Cisco Brewers, Nantucket Vineyard, and 888 Distillery is no exception, keeping their fans and followers happy with their long line of delicious drinks, stylish merchandise, and even live-streamed performances from the brewery.  One thing we're very excited about is one of the newest additions to their family: Willa Vodka.
Retailing for just $20, Willa Vodka is distilled from 100% organic Italian wheat combined with the pristine waters of the Nantucket aquifer for a natural, healthier, and lighter premium craft vodka.
Willa, a name that originated in Germany, symbolizes protection. For every bottle of Willa Vodka sold on Nantucket, 888 Distillery and Nantucket Craft Cocktails will donate a portion of the proceeds to ACK Saves – a community initiative created by year-round and seasonal residents of the island. Their mission is to serve the immediate and urgent financial needs of residents left adrift in the wake of COVID19 and stay-at-home orders. To learn more, visit ACKSAVES.ORG.
For now, Willa can only be purchased at the distillery, but the team at Cisco is making it easy. They're offering curbside pick up for all of their products, and hope to have home delivery up and running in the next two weeks.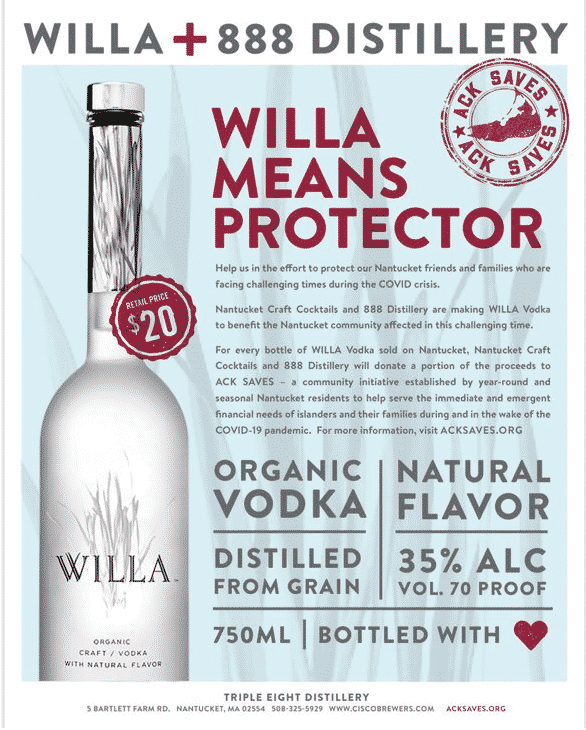 Willa Vodka brings a clean, crisp sip in your favorite cocktails or all by itself. For something fruity and enigmatic, try the Cos-Lo-Politan. Mix 3 parts Willa Vodka with 1 part cranberry juice, 3/4 part lime juice, 1/4 part orange juice, and 1 bar spoon of light simple syrup. Shake it up and strain over ice then garnish with fresh mint. The dog days of summer call for the refreshing Rattlesnake. Pour 1.5 ounces Willa Vodka in a glass and top with Steigl Grapefruit Radler. It's citrusy, modern, and rebellious.
Call the brewery today at 508-325-5929 to arrange curbside pick up and taste it for yourself, and be sure to shop online for all your apparel and merchandise need to get yourself ready for the summer season.
— Carl Oscar Olson