We've reached that point in January when we daydream of summer on Nantucket Island: beach fun, sunshine, warm weather, barbecues, sailing, and other island fun. But there's a certain population that is doing more than just daydreaming of summer. Parents are carefully researching options for summer camps for kids on Nantucket and adding reminders to their calendars when registration begins (consider setting an alarm: the camps fill quickly).
There's much more for children to do during summer vacation than just go to the beach—several island organizations offer programs to engage your children in activities that are educational and fun. Here is a sampling of classes and workshops that kids can attend for a few days, a full week, or most of the summer. All of these options divide kids into several age groups so they can enjoy age-appropriate activities alongside peers. These programs always fill quickly, and some begin in early June, so be prepared to register your children soon. And remember that 2022 pandemic precautions might require that camps alter their programs if deemed necessary.
Nantucket Community School offers several summer camps for kids. ACKventure Full-Day is offered Monday-Friday from 9 am to 4 pm for children entering Kindergarten through 5th grade. Campers explore the wonders Nantucket has to offer, from our beautiful beachfronts to the picturesque moors. Participants take full advantage of our Nantucket Public Schools locations in the afternoons: the indoor pool, gymnasiums, fields, auditorium, and library. They also offer a half-day camp for children age 3years-6months to 5-years-old called Jr. ACKventure. This camp programs for younger kids run Monday-Friday from 9 am to 1 pm.
ACKventure Sports Camps offered by Nantucket Community School cater to ages 7 to 18. Morning programs run from 9 am to 12 noon with an afternoon option for ages 7-11 on-site at the Nantucket Public School's main campus. Our team of coaches are highly trained athletes who look to bring new and unique ways to teach each specific sport. We offer a diverse amount of programs including basketball, gymnastics, yoga, speed & conditioning and more.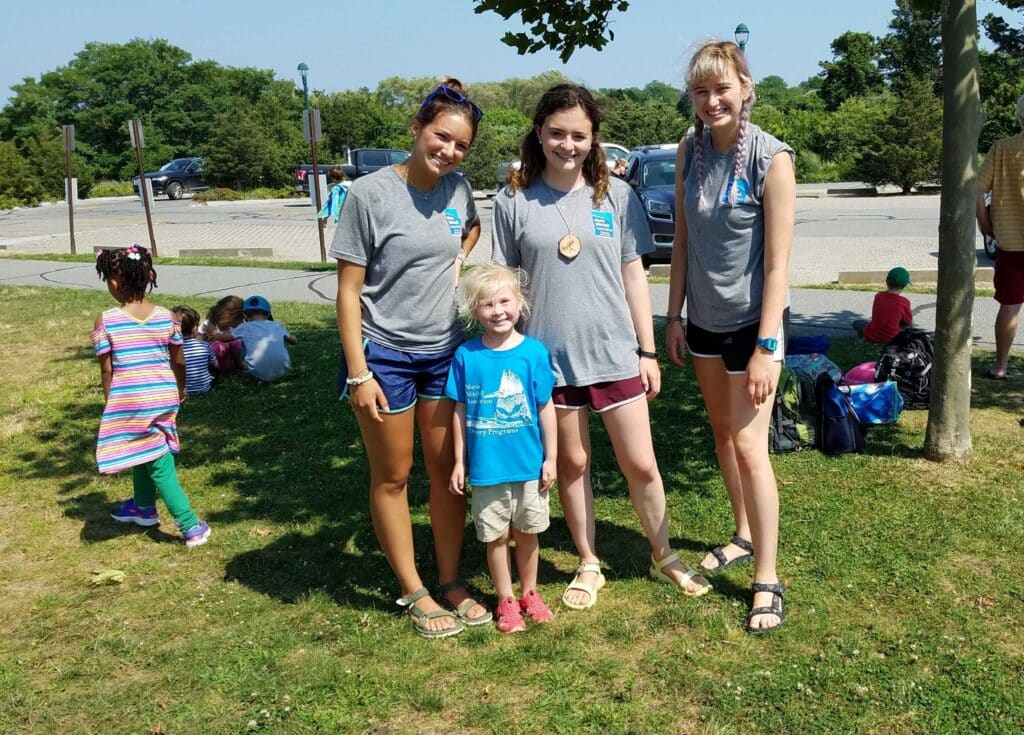 Maria Mitchell's Discovery Camp Programs are designed to allow kids from age 5 to 16 to experience the outdoors in a variety of age-appropriate ways, combining fun with science. From beach exploration, snorkeling, discovery hikes, wetland studies, survival skill instruction, animal programs, island history, kayaking, games, and more. For ages 13-16, the Teen Naturalist Leadership Program is a partial day program from 1:15 to 4:15 pm that offers the opportunity to work with other island organizations and take part in rewarding projects that benefit our island and community. Activities may include invasive plant removal, garden maintenance or vegetable harvesting, making upcycled bags for the food bank, and more.
From June 27 through August 19, the Nantucket Boys & Girls Club holds summer camp for kids from second grade through eighth grade, with a few spots available for first-graders. Registration opens at 8 am on February 1, 2022. NBGC campers are divided into groups based on grade level and assigned 2-3 counselors. Weekly activities depend on grade level and include: surf lessons, tennis lessons, trips to town, all day beach trips, water games, arts & crafts, basketball, soccer, yoga, dodgeball, and more! Weekly field trip schedule is emailed to parents. Current Covid guidelines at the NBGC include: masks worn at all times inside, masks do not have to be worn outside, all staff are fully vaccinated, air purifiers in every room.
Artists Association of Nantucket will be offering a variety of class/camp options for children ages 4 to 14, starting July 5 and continuing through August 26. The camps run Monday through Friday, with options in both the morning and the afternoon. They do not offer full day camps, but families may sign up for both options and pick up their children after the morning session to have lunch or go for a walk in the nearby State Forest and then bring them back to the VAC for the afternoon session. Classes offered will be announced closer to the registration date of June 6. Staff expects the 2022 offerings to include Exploring Art, Clay Sculpture, Multi-Media Workshops, and Wheelthrowing.
A new option for 2022 is Camp Lighthouse, an active, play-based summer camp serving children ages 4 to 12 with weekly sessions from June 20 to August 26. They offer a wide range of activities to meet all ages and interests. Each week, children can look forward to Field Trips, Capture the Flag, Slime Time, Splatter Paint, Gaga, Horticulture and Fort Building. Campers enjoy tie-dyeing their camper t-shirts on Tie-Dye Tuesday and showcasing their special skills on Talent Show Thursday. We end the week by coming together as a whole camp for a day of play on Field Day Friday. Registration for this Nantucket Lighthouse School camp is open now.
Murray Camp is one of several private summer camps on Nantucket Island. This camp enrolls kids ages 4 to 12, and registration opens on February 1, 2022. Since educator Mary Murray founded the camp in 1989, Murray Camp staff has strongly believed in the many benefits of "fun" and responsibly strive to enrich campers with experiences that provide just that!
Dreamland, White Heron Theatre, and Theatre Workshop of Nantucket also offer summer programs for children. Watch their websites for details on dates, age ranges, and how to register. The Dreamland Stage Company summer program for children has learning and performance opportunities in three age levels: ages 4 to 8, ages 8 to 18, and ages 14 to 21. Each group will include a performance. Like the summer camps, these theater programs fill quickly, so visit their pages frequently for updates and registration dates and details.