By now we are all used to postponements and cancellations of our favorite island events, but these six Nantucket organizations are taking new approaches, keeping the interest alive with galas and events that are streamed, held online, offered on the radio, or shown on television. Many of them are combinations of live and recorded segments.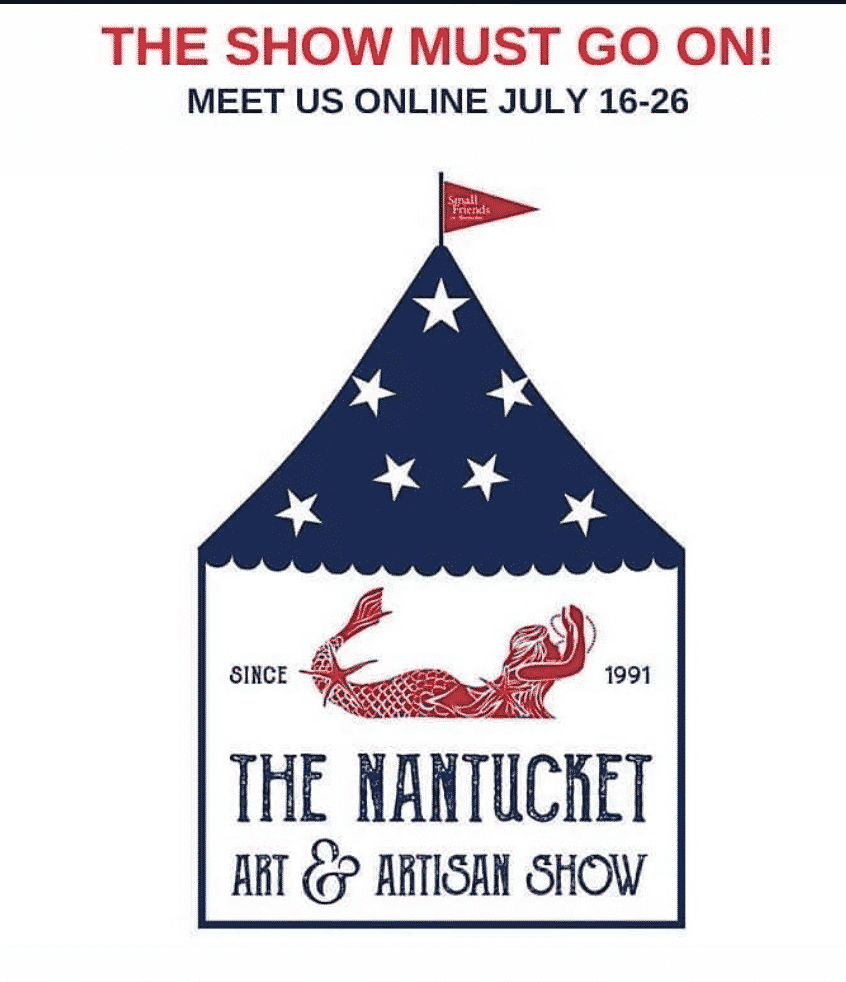 This week–till Sunday, July 26–Small Friends on Nantucket continues their annual Nantucket Art & Artisan Show. Now in its 29th year, this premier art show features local and nationally recognized artisans who offer both traditional and modern-day techniques and a variety of mediums: pottery, glass, textiles, folk art, photography, jewelry, sculpture, furniture, & more. You can Shop the Show for just a few more days, so check it out NOW at http://www.nantucketartandartisanshow.org/shop-the-show/
After you shop the Art & Artisan Show, tune into cheerful tunes and inspiring messages from Broadway, Hollywood, and local actors at the Theatre Workshop of Nantucket's live telethon fundraiser ON WITH THE SHOW. At 6 pm on Sunday, July 26, you can view on NCTV, Channel 18 or NCTV's Website Listen on WNCK 89.5 or WNCK's Website. You can stream it live from here.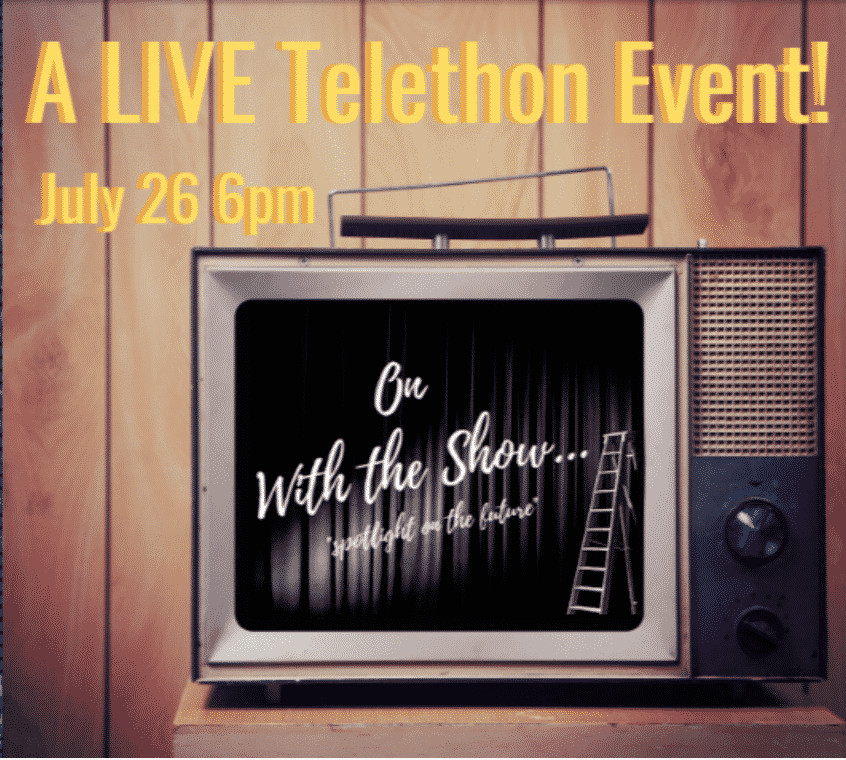 The telethon will feature appearances and performances and messages of inspiration from Sharon Stone, Allison Janney, Lea Thompson, Gary Oldman, Sam Rockwell, Peri Gilpin, John Shea, Kim Zimmer, Robert Newman, Rob McClure, Nick Adams, Liz Callaway, Heidi Blinkenstaff, Ron Bohmer, Sandra Joseph, Jennifer Hemphill, John Hemphill, Mollie Vogt-Welch, Dee Roscioli–many of whom have performed on Nantucket!
Local talent appearing includes Libby Veilleux, Cate Oberly, Skyler Wright, Phaedra Plank, Tessa Whelden, Pat Moran, Tyler Bellmon, Roxy York, Roan LaScola, John Vento, Avery Moore, Susan Lucier, Kevin Flynn, Jane Condon, Sarah Fraunfelder, Vanessa Calantropo, Donald Dallaire, Anna Houghton, Hannah Bonnett, Hannah Jo Weisberg, Brooke Sweeney, Liz Eardi, Melissa Brausch, Tyler Sodoma, Ryan Borgo, Natalie Irlmeier, Blake Sauceda, John Schartz, William Tipton, Colleen OBrien, Shawnee Fierros Casas Richberg, Kaela Dawn, Hannah Breshears, Onedreya Seahorn, and Johannah Johnson. The Cobbletones will perform, and the cast of Moby-Dick Rehearsed will appear.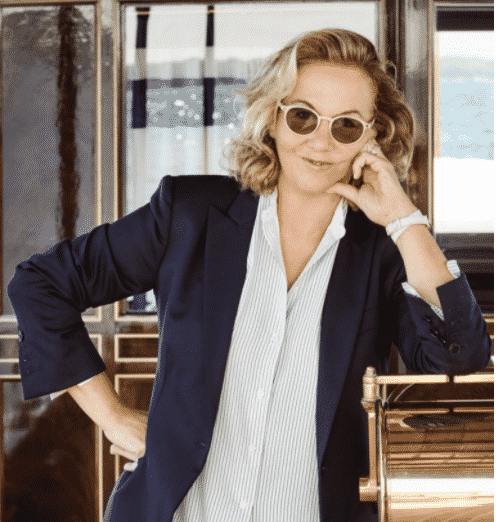 Thursday, July 30, the Nantucket Historical Association will begin its Nantucket by Design 2020 with a virtual Design Luncheon at noon and a Summer Antiques Show Virtual Preview Party at 6 pm. Join your friends via Zoom to enjoy a live presentation with the 2020 special keynote speaker Alessandra Branca as you have lunch. Vivacious and talented, Branca is a world-renowned designer who will discuss how she creates "Sanctuary" in her designs. Branca's interiors are anchored by classical details, rich colors, patterns, and textures, paired with antique and custom furnishings, modern and European art, and distinctive accessories. Her talk will be followed by live Q&A.
The NHA is partnering with The Nantucket Summer Antiques Show on an online platform. All ticket purchasers will get the exclusive first look at the collections of 32 dealers and can hear an opening talk live via Zoom with renowned interior designer Alex Papachristidis, who will discuss how to incorporate antiques into modern interiors with a Q&A to follow.
Bright and early on August 1, Baskets & Bubbly begins with bidding from 8am. This fundraiser for the Nantucket Lightship Basket Museum will auction off beautiful baskets (including a stunning miniature by Nap Plank), exclusive excursions (golf at the private Sankaty Golf Club, anyone?), as well as art, jewelry, and crafts by local makers. Bidding ends at 8pm on August 9. You can see a preview of the auction at https://www.32auctions.com/organizations/64500/auctions/81967?t=all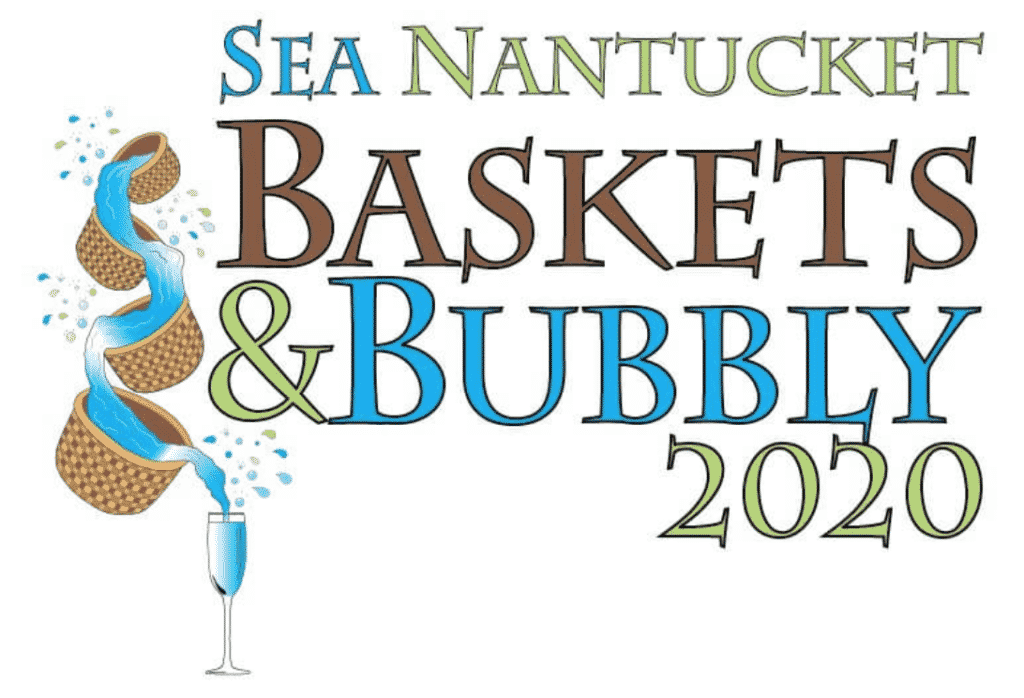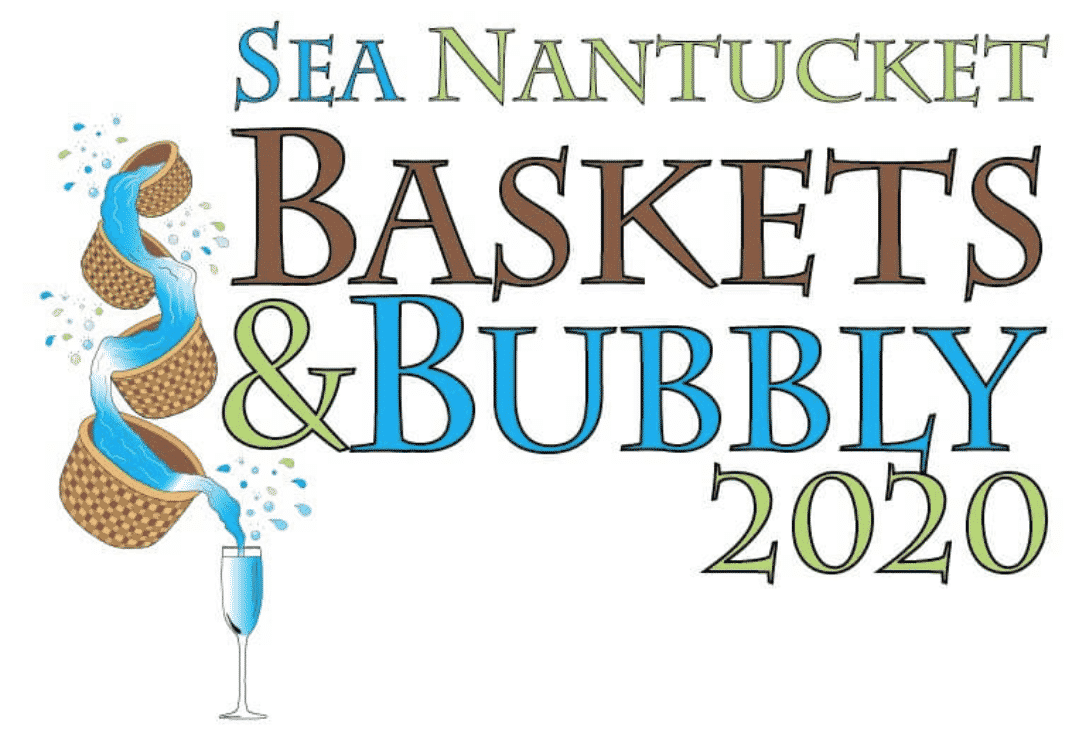 The Baskets & Bubbly event is a top fundraiser for this island museum that is dedicated to preserving Nantucket's rich history of basket making, supporting scholarship of this art form, and encouraging and mentoring new generations of lightship basket makers. All proceeds raised will go a long way in helping the museum promote the awareness and appreciation of lightship baskets and their makers.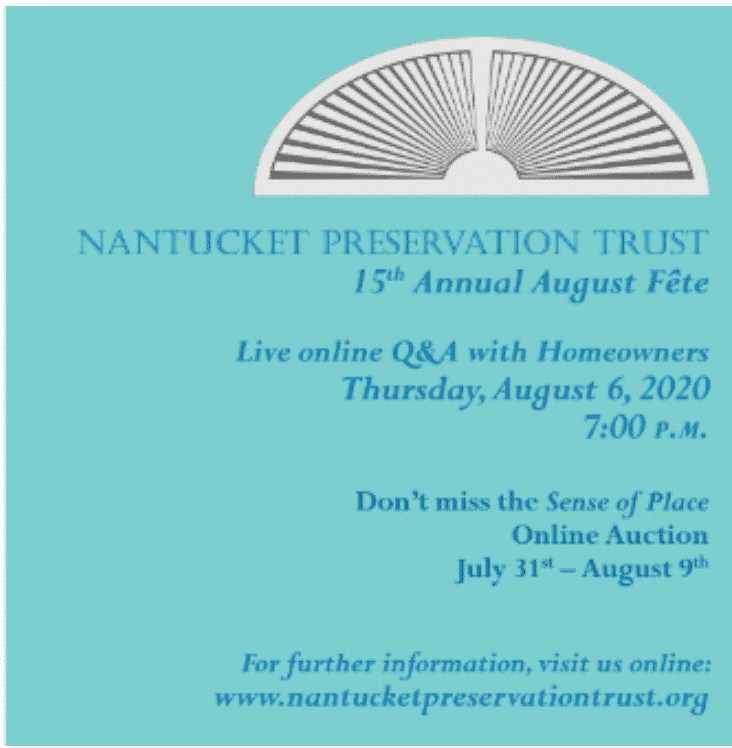 Every year, the Nantucket Preservation Trust (NPT) looks forward to its annual August Fête as a celebration of NPT's work and our community of supporters. Considering the current COVID-19 situation, with the health of our supporters, volunteers, and staff as the utmost importance, the August Fête Steering Committee has decided to hold the virtual gathering There's No Place Like Home on Thursday, August 6 at 7 pm.
The event will feature prerecorded house tours of properties that have previously won a Preservation Award from NPT, or properties that are protected by a preservation easement, a legal restriction that protects historic elements of a property in perpetuity. There will also be live Q&A sessions with homeowners as well as architects, builders, and landscapers who have worked on the properties. "The homes showcased in this year's Fete are preservation role models, and we can't wait to share them with our supporters," says NPT Executive Director Mary Bergman. Tickets are available now on the NPT website.
For two decades, Boston Pops on Nantucket has been the island's biggest event, drawing an audience of thousands to Jetties Beach for a fun evening, fabulous concert, and fantastic fireworks. This beach concert has also helped to support the good work of Nantucket Cottage Hospital and its vital role in the health of our island. COVID-19 has changed the concert plans for 2020, but you can still help the heroes of the hospital by donating and watching at 7 pm on August 8th this year's BOSTON POPS FOR NANTUCKET.
Watch for free on local Nantucket Community Television Comcast Channel 18
Stream for free on NCTV18's Website
Listen for free on 97.7 ACK-FM
This free celebratory broadcast of the Boston Pops for Nantucket will feature previous musical performances by the Boston Pops Esplanade Orchestra as well as a newly created virtual piece and a pre-recorded fireworks display. The 45-minute show will also feature Nantucket musicians and special video messages honoring the heroes among us. At 7:45 p.m., everyone will step outside wherever they are and "Clap for the Carers."
Your support of the Boston Pops for Nantucket is critical to meeting their goal of $2.8 million for the hospital operations. Donations will allow our hospital staff to continue to care for our community during the coronavirus pandemic and to ensure that Nantucket Island emerges from this crisis stronger than ever.