Nantucket welcomed the holiday season the Friday after Thanksgiving with the annual Chamber of Commerce Tree Lighting, and the festivities continue this weekend with the 45th Annual Christmas Stroll on November 30, December 1, and 2.
With so much happening on the island this weekend, you'll want to make sure you know where to be and when so you don't miss any of the fun.  Here is our list of favorite Stroll Weekend events and activities…
Friday, November 30:
Start at 10:30am with a Fifty Shades of Fabulous walking tour led by the 3-time runner-up in the Nantucket History Quiz Bowl. This 3/4-mile tour tells the dynamic story of "the most important small town in American History." Meet the guide at Federal & India streets: $20, $15 for 65+ and teens (+13) $5 for age 7-12. Cash Only
Visit the Benefit Art Show in Quidley Gallery, 26 Main Street between 10 am and 5 pm.  This very special silent auction benefits both the Marla Ceely Lamb Fund and Palliative & Supportive Care of Nantucket.
Stop by the Annual Christmas Craft Show upstairs at 11 Centre Street.  This show features dozens of local artisans and artists. It continues through Saturday, December 1, but if you go on Friday between 1 and 7pm, you'll have the best selection to purchase these one-of-a-kind items before they sell out.
See the interiors of seven beautifully decorated island homes at the Friends of Nantucket Public Schools 36th Annual Holiday House Tour. Tickets are $50 and are available at the houses along the tour:  90 Main Street, 91 Main Street, 96 Main Street, 99 Main Street, 1 Pleasant Street, Greater Light at 8 Howard Street, and 34 Liberty Street. End your tour at a reception in the Nantucket Whaling Museum, where you can see the Festival of Trees display, hear caroling, and enjoy refreshments.  Proceeds benefit Nantucket Public Schools.
Saturday, December 1:
Start strolling early at St. Paul's Christmas Market, open 9:30am to 3pm at 16 Fair Street.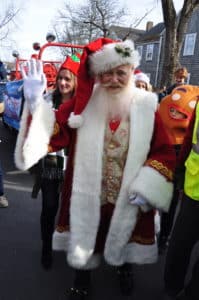 The congregation is selling great gifts, antiques, Christmas decorations, seasonal décor, fresh greens & wreaths, baked goods, handcrafted items, silent auction. And from 11 to 2:30, you can choose from chowder, chili, vegetarian soup, quiche, hot dogs, salad, and dessert for lunch.
Main Street is where you want to be from 11 am till 12:30 or so.  The Chamber of Commerce, which presents Nantucket's Christmas Stroll, has organized live entertainment on a stage in the center of Main Street starting at 11 am.  There's a Talking Tree at the top of Main Street and most shops are offering refreshment.  At 11:45 am Nantucket's Town Crier rings in Stroll and leads the crowd to meet Santa Claus, who then rides through town to the Jared Coffin House to meet with children.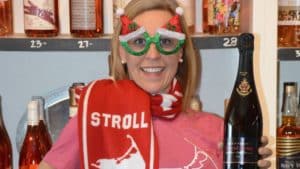 Epernay Wine & Spirits at 1 North Beach Street is hosting free tastings throughout Stroll Weekend.  Saturday's tastings are a Tuck Beckstoffer Wine Tasting from noon to 2pm and a "Sparkling Bright Volage Night" from 3 to 5pm. If you timing doesn't work for these, then stop by Sunday, December 2 for two more tastings at Epernay.
Books by Nantucket authors are favorite gifts for many, and today you can buy books by Nathaniel Philbrick, Nancy Thayer, Elin Hilderbrand, and many others at Mitchell's Book Corner and get them personalized by the authors! Stroll Saturday booksignings start begin at 10am and continue with a new author every hour with a short break between 3 and 4pm. Nat Philbrick will be signing books at Mitchells from 2 to 3pm, and Elin Hilderbrand will autograph your editions at this iconic Main Street bookstore from 4 to 5 pm.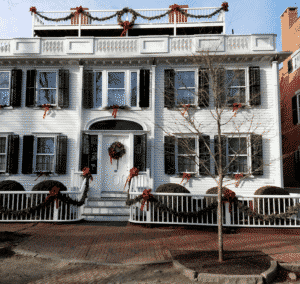 Sunday, December 2:
From 11 am to 4 pm, you can tour the Hadwen House at 96 Main Street, Thomas Macy House at 99 Main Street, and Greater Light at 8 Howard Street — all adorned festively for the holiday season. Admission is $20 ($5 for island residents). Tickets include admission to the Festival of Trees.
Enjoy a special Stroll Brunch at The Nantucket Hotel.  From 11am to 2pm, you can enjoy fabulous foods, listen to live holiday music, and relax and stay warm by their glowing fire pits. Stroll Brunch Reservations suggested: Book your table at breezenantucket.com, or call them at 508-228-4730, or e-mail them at fb@thenantuckethotel.com.
Don't miss the musical version of the holiday classic "Miracle on 34th Street," presented by the Theatre Workshop of Nantucket in Bennett Hall, 62 Centre Street. Today's show is a matinee at 3 pm. You'll want to reserve your tickets in advance at the Theatre Workshop website or by calling 508-228-4305.
You can enjoy a double shot of theatre by going to see White Heron Theatre's production of "A Nantucket Christmas Carol" at 7:30pm on Sunday.  Tickets at WhiteHeronTheatre.org or by calling 508-825-5268.
Check our online calendar at Nantucket.net for a complete list of events, and check out ChristmasStroll.com for some great photos of Nantucket Christmas Strolls past.