A stunning display of flowers during the annual Nantucket Daffodil Festival is the Nantucket Community Daffodil Flower Show, sponsored by the Nantucket Garden Club and approved by The American Daffodil Society. For 2023, the Daffodil Show will be held on Saturday, April 29 from 2 pm to 5 pm and on Sunday, April 30 from 10 am to 4 pm at Bartlett's Ocean View Farm, 33 Bartlett Farm Road. On Saturday, April 29 only there will be free shuttle buses to the show from Washington Street, across from The Greenhound building starting at 2 pm and continuing all afternoon. The last bus returning from the show will depart the farm at 5 pm. Admission to the flower show is free, but donations will be accepted toward the Garden Club's Island Daffodil Planting Fund.
The entire Nantucket Island community is encouraged to enter the arrangement, horticulture, and photography sections of the show. All daffodil growers on Nantucket can enter the 47th Annual Daffodil Show. A complete Daffodil Flower Show Schedule of the flower arrangement, horticulture and photography entry classes and entry instructions is available now at nantucketgardenclub.org. Entry cards and printed show schedules will be available at island florists and garden centers starting in early April.
On Saturday, April 22 at 1 pm at the Hayloft at Bartlett's Farm, a free workshop on how
easy and fun it is to stage and enter a daffodil in the Flower Show will be held. Mary Malavase, Garden Club
member and accredited American Daffodil Society judge, will host the workshop. To register send an email to ruthplan@gmail.com. Anyone can enter the show: it's fun!
The American Daffodil Society has a web site where there is a database with thousands of daffodil
photos to assist all exhibitors with the identification of their entries. Last fall, the Nantucket Garden
Club with the assistance of the Annie Webber, and Intermediate school students classified and
distributed daffodil bulbs to Nantucket students to plant and enter in the show. All youth of the island
are encouraged to enter their daffodils, flower arrangements and photographs.
All horticulture and floral exhibitors must bring their entries to Bartlett's Farm either on Friday, April 28 between 12 noon and 6 pm or on Saturday, April 29 between 7 and 9:30 am. Children and first-time exhibitors are encouraged to enter on Friday afternoon, when members of the Garden Club and experts from the American Daffodil Society will be available to answer questions and assist with entries. Photography entries must be dropped off or mailed to Heidi Drew at 82 Easton Street, Nantucket MA 02554. Photography entries must be received no later than Wednesday, April 26, 2023.
This year's show, chaired by Robin Youngman and Ruth Plandowski, has an artistic theme of "Seas of Daffodils."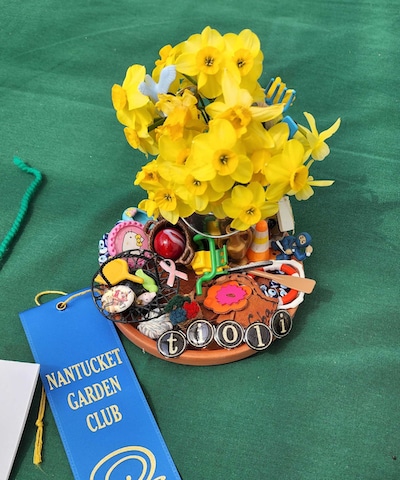 Titles for 2023 arrangement entries are:
"Drifting Along"
Mass Arrangement
A mass arrangement incorporating driftwood with a profusion of flowers of various forms and sizes (not to exceed 30 inches in height, width, or depth)
"Catch of the Day"
A design including fishing related items and daffodils (not to exceed 30 inches in height, width, and depth including accessories)
"Sconset Sunrise"
Small Arrangement (not to exceed 14 inches in any direction)
"Little Necks"
Miniature Arrangement (not to exceed 8 inches in any direction)
"Sandcastle by the Shore"
Youth Arrangement – middle & high school students (not to exceed 30 inches in any direction)
"Shell Shack"
Youth Arrangement pre-school & elementary (not to exceed 30 inches in any direction)
"Daffodil Dinghy"
Open to School Age children + their families (not to exceed 30 inches in any direction)
In addition to the flower arrangements and daffodil horticulture sections of the show, there will be a
special section for photography entries of daffodils in a landscape, a daffodil portrait, daffodils as a
still life, and pets with daffodils. The four Photography Entry Classes are for Adult, either Amateur or
Professional, and Youth from the High School-Middle School or from Lower Schools. Complete rules are
found in the Flower Show Schedule.