Pandemic restrictions on in-person gatherings have caused the cancellation of the 2021 Nantucket Daffodil Festival events, but COVID-19 can't stop the tens of thousands of daffodils here from blooming. With the cheery yellow, white, and orange flowers adding pops of color to nearly every street on The Gray Lady, we encourage all on-island and off to participate in the 2021 Virtual Daffodil Festival by sharing photos of your daffodils, daffy apparel, daffy pets, and more.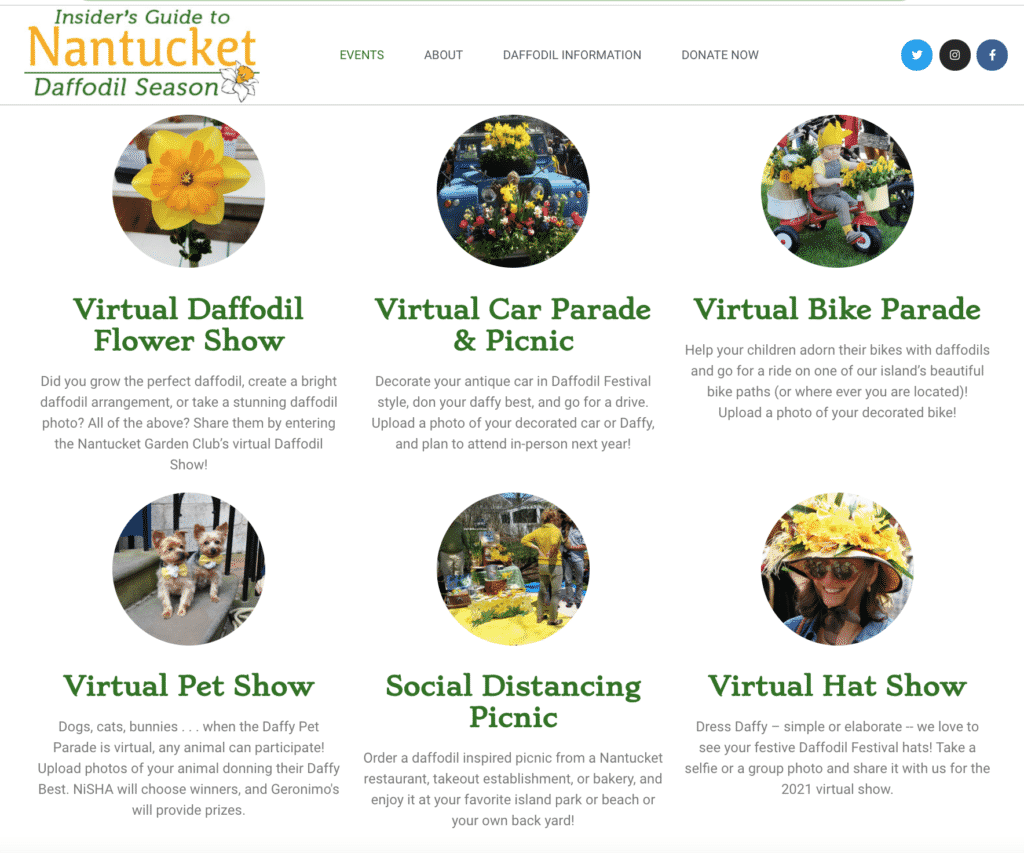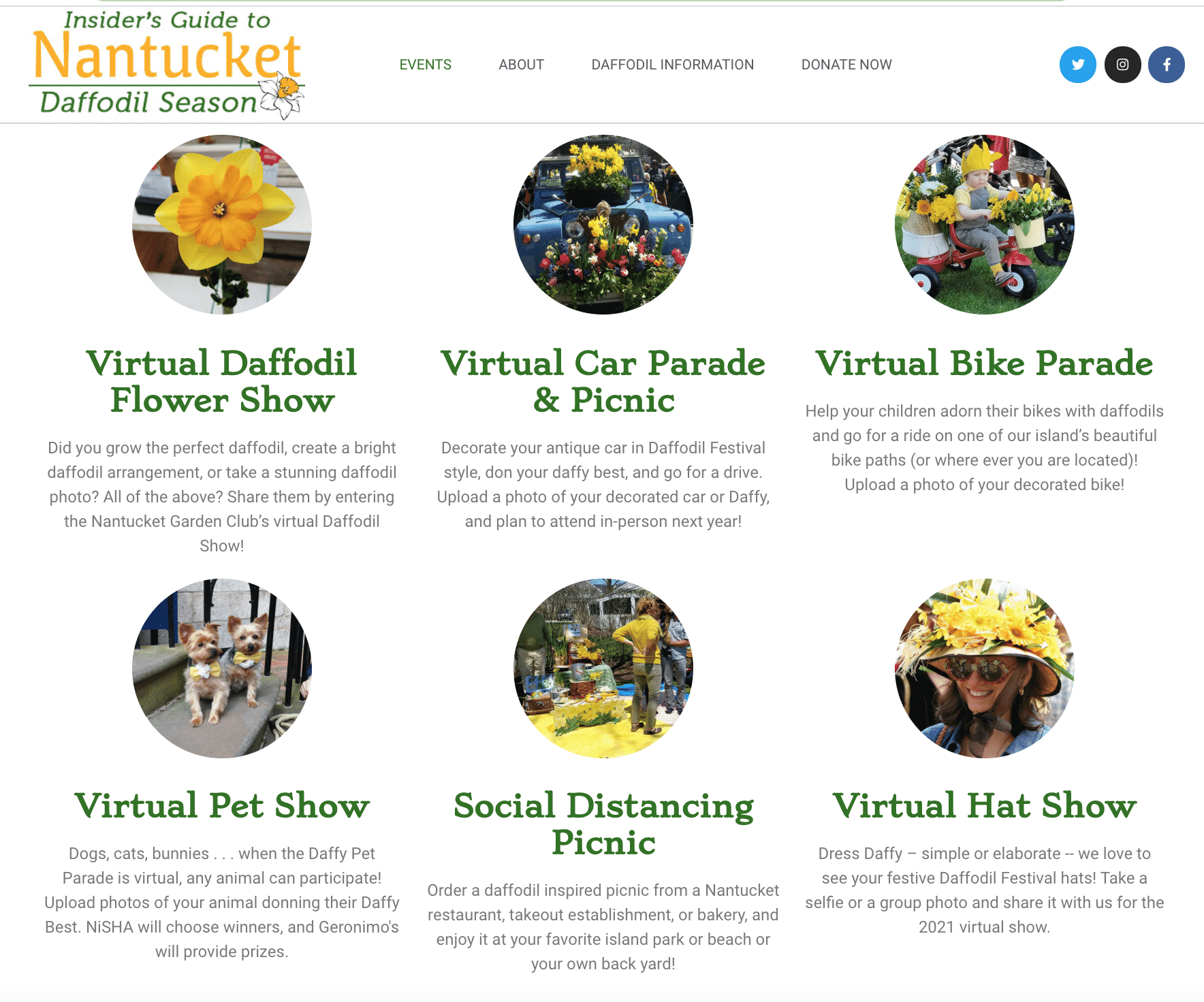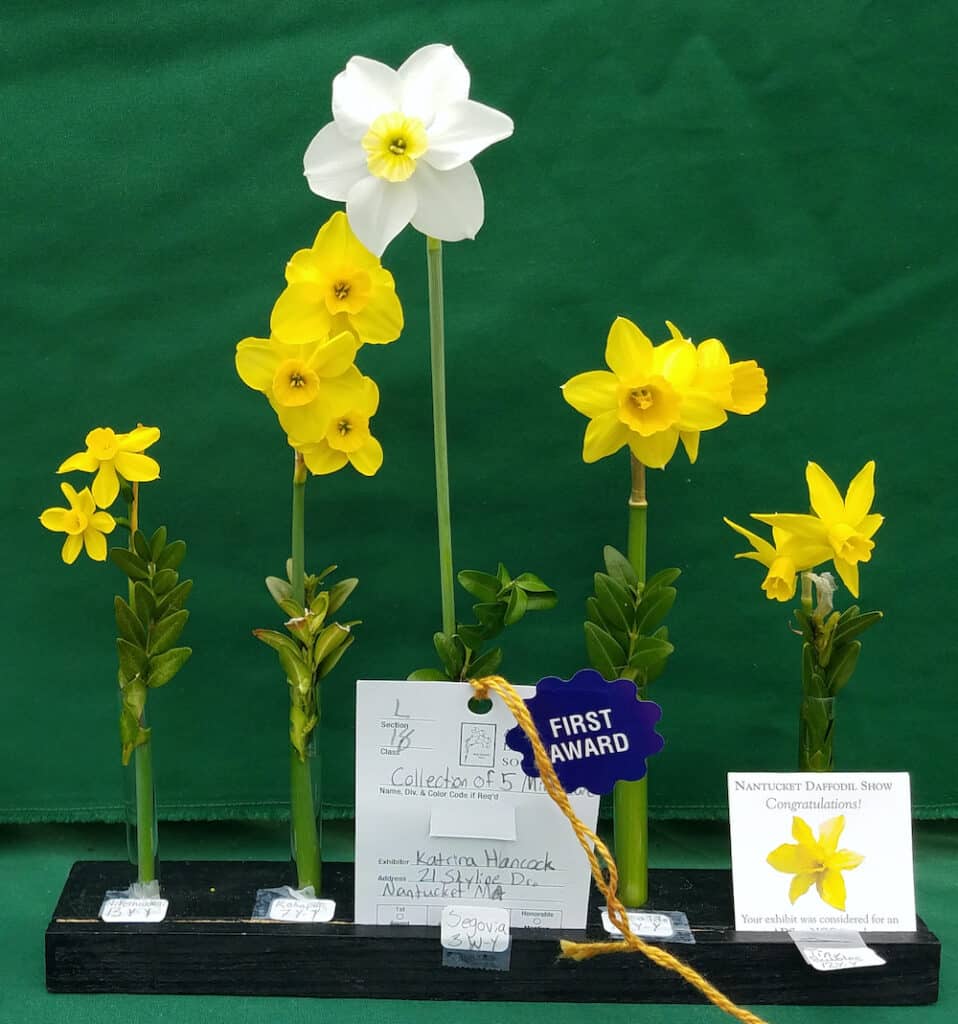 Add your daffs to the 2021 Virtual Daffodil Show. Did you grow the perfect daffodil, create a bright daffodil arrangement, or take a stunning photograph of a daffodil? All of the above? Share them all by entering your photos in the Nantucket Garden Club's virtual Daffodil Show! There are categories for adults and for youth: something for every age group. And this year, with the show being virtual, you can enter your flowers from anywhere in the world. NO GREEN THUMB? NO MATTER! You can still VOTE for your favorites in the People's Choice voting!
Join the 2021 Daffy Car Show with your antique car or motorbike. In 1978 just 19 cars participated in the "First Annual Nantucket Garden Club Vintage Motor Car Outing." By 1981, more than 35 antique vehicles were showcased, and just 2 years later, 80 cars were registered and 40 more crashed the party. With no parade or picnic this year, the Chamber invites you to decorate your antique cars for Daffy, maybe drive around in a solo "parade," take a picture, and share it online.
Bring your pet to NiSHA's 2021 Virtual Pet Show! Submit photos of your pets–dogs, cats, lizards, rabbits, guinea pigs: any pet you have–adorned with daffodils to be entered into the following categories: Most Daffy, Most Creative, and Most Candid. There will also be a prize for Audience Favorite. The Nantucket Island Safe Harbor for Animals (NiSHA) will choose the winners, and thanks to our friends at Geronimo's for providing so many fabulous prizes! The NiSHA Team looks forward to seeing what you all come up with!
Another favorite Daffy festivity organized and presented by the Nantucket Island Chamber of Commerce is the annual Daffy Hat Parade. Even with the in-person festival cancelled for 2021, you can still dress Daffy with a special hat, jacket, parasol, boa, or a complete Daffy outfit, then take a selfie or a group photo, and upload it here to share.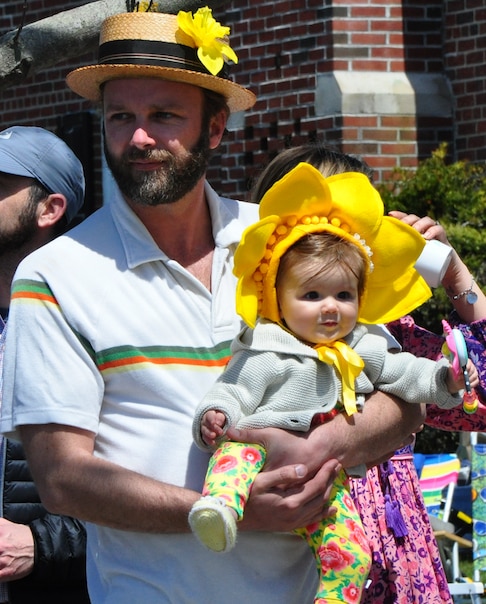 If you'd rather watch the virtual Daffodil Festival fun and learn about these stunning spring flowers, this website has articles by members of the Nantucket Garden Club that will tell you how to plant, nurture, and identify daffodils. There's an article with recipes for a Daffodil Festival picnic, and one about the planting of millions of daffodil bulbs across our island. There's even a section that shares two years of images from the Nantucket Historical Association's Flower Power parties: see if you can find your photo.
Whether you live on Nantucket, are visiting for the spring Daffodil Season, or you only hope to someday travel to our island, you can be a part of the 2021 Virtual Daffodil Festival.