by Katherine Brooks
Maria Mitchell Association
Among the historic gray-shingled houses of Vestal Street and hidden in the gardens of the Maria Mitchell Association's Hinchman House Natural Science Museum, sits a whale skull found thirty years ago at Cisco Beach.  The bone belongs to a right whale: an endangered species with an Atlantic population of around 500.  Whales, bones and all, are symbolic of Nantucket's whaling history and current conservation efforts.
Between 1750 and 1850, the global oil business was booming and Nantucket was the leader in whaling.  Most whaling ships from Nantucket hunted the sperm whale, which at around 32,000 pounds could strike a whaling ship, sending it and its passengers to the bottom of the ocean.  The events aboard the whaleship Essex led Herman Melville to write Moby Dick – a story based on the eighty-foot whale that sank one of Nantucket's finest ships.  The bones and pieces of history left behind are reminders of the island's past and highlight the incredible history and commerce of Nantucket Island.  Learning about the past can help us understand the present and prepare for the future.
The Maria Mitchell Association has a permit that allows them to collect both hard (bones) and soft (carcasses) for learning purposes, without this permit it is illegal to sell or possess marine mammal bones.  The Hinchman House Natural Science Museum has a collection of more than fifty whalebones found along the beaches of Nantucket.  The Maria Mitchell Association uses them to introduce and educate visitors about our underwater neighbors.
The whalebone in the garden and the various skulls, jawbones, and vertebrae in the museum collection are representative of the common marine mammal species seen off Nantucket shores.  Some of the most common species are gray seals, harbor seals, right whales, humpback whales, sperm whales, pilot whales, minke whales, Atlantic white-side dolphins, bottlenose dolphins, and common dolphins.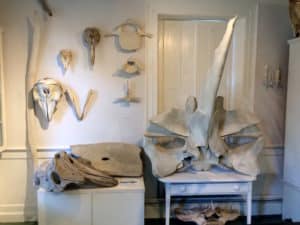 In 1972, Congress passed the Marine Mammal Protection Act (MMPA), which protects all marine mammals.  The MMPA was passed because many marine species, like the right whales, were (and still are) in danger of extinction or depletion because of human activities.  To help keep the populations at bay, the act prohibits the "take" of marine mammals in U.S. waters and by U.S. citizens (with a few exceptions).  The MMPA was a proactive step in the conservation of marine mammals on a national level, but there are current efforts at a local level happening today.
"Today, the global transition from whaling to whale watching is nearly complete, and Nantucket, once a hub of American whaling, stands at the center of a thriving ecotourism devoted to seeing and experiencing whales in all of their majesty and wonder," stated Wayne Pacelle, President & CEO, The Humane Society of the United States
There is an opportunity for us to celebrate our relationship with history as well as our future.  The initial application for Nantucket as a Whale Heritage Site was accepted and will include Nantucket Island, Tuckernuck Island, and Muskeget Island of Massachusetts and will extend three nautical miles offshore.  Accepted as a Whale Heritage Site (WHS), the WHS status will provide further protection on top of Congress' MMPA.  Nantucket's non-profits continue to celebrate the coexistence between humans and cetaceans and encourage social and economic sustainability, research and education, and awareness.
Measures are being taken to protect these species.  Marine mammals are important to both our past and future. Dr. Tracey Romano, Vice President of Biological Research & Chief Scientist at Mystic Aquarium in Connecticut, will be speaking at the Maria Mitchell Association's Summer Science Speaker Series about beluga whales, the Arctic, and climate change.  Like the island's focus, Dr. Romano values the relationship between humans, whales, and the environment.  Dr. Romano's work is a true testament of how interconnected and interdependent our ecosystems are.  Listen to her speak about her research on Wednesday, September 14 at 33 Washington Street, or visit the Hinchman House to learn more about whales and local marine mammals.
The MMA was founded in 1902 to preserve the legacy of Maria Mitchell and to promote her belief in learning-by-doing. An astronomer and natural scientist, as well as an educator, Maria Mitchell shot to worldwide fame when she discovered a comet in 1847. For her discovery, she was awarded a gold medal from the King of Denmark – the first American and first woman to receive the honor. She served as the Professor of Astronomy and Mathematics at Vassar College from 1865 until 1888. Today, the MMA operates two observatories, a natural science museum, an aquarium, and the birthplace of Maria Mitchell. The MMA conducts scientific research, leads classes and workshops for people of all ages year-round, and welcomes thousands of visitors to its museums and observatories. For details, visit www.mariamitchell.org.