Let's face it: Dad doesn't need another tie.  He doesn't want another tie.  He doesn't even wear ties.  All he wants is nice weather, good company, and he wants to hear someone say, "you're right, Dad," but let's not push it. We know that you want to give him that and possibly a little something to unwrap as well. Here are our picks for Father's Day on Nantucket…
Gifts of Time & Experiences…Insider Tips
If your family includes a member with four legs, have everyone take the dog for a morning run at Sanford Farm followed by an early breakfast at the Downyflake at 18 Sparks Avenue, where Dad and the family can enjoy Benedict Sunday (different and delicious versions of Eggs Benedict).
No dog, but Dad likes a good hike? Reserve a spot with Nantucket Walkabout and show your father a part of the island he's probably never seen. This Sunday at 8 am, Peter Brace will lead his group on the Smooth Hummocks trail, which he describes as "Nantucket's version of the Midwest's prairies complete with rare wildflowers and grasses…" Brace also books private hikes: 508-422-7466
Too much exercise? Book a trip on the Minke with Shearwater Excursions. From 8:30 to 9:30 am, you can ride with Dad around the harbor before the hustle & bustle of the day begins and learn about the history of whaling. Coffee is included! 508-228-7037
Let Dad sleep in and head out to Cisco Brewers for an afternoon of local beer and live music. At press time, Timbukblues are the local band scheduled to play from 3:30 pm on Father's Day. Go out there a little early and partake of the 167 Rawbar's fresh oysters, clams, and shrimp.
If you are looking for a relaxed evening, order lobsters cooked and cracked from Souza's Seafood, Glidden's Island Seafoods, or Bartlett's Farm, and drive to a beach with the family. All you need to add is a blanket and some beach chairs. If you father has trouble with climbing over dunes or the wooden staircases leading to so many island beaches, try Jetties Beach or Sconset Beach. Both have parking areas with relatively flat beach access.
Set sail on a sunset cruise aboard the Endeavor on Father's Day. This certified vessel by the US Coast Guard is the longest operating sailing charter on Nantucket. Watching the sun dip down into the island's pristine waters from a sailboat is an amazing sight. 508-228-5585
Gift You Can Wrap…Staff Picks:
For Dads not lucky enough to live here, an ideal gift is a commuter book for the Hy-Line fast ferry. Tickets to visit his son or daughter and grandchildren any time is sure to put a smile on your Dad's face.
Give your father the casual look that says NANTUCKET without actually having the name blazed across his shirt. Nobby Clothes Shop on Main Street has a series of Nantucket belts with island silhouettes, Nantucket burgees, and more, both in D-ring and buckle styles, and each is under $45.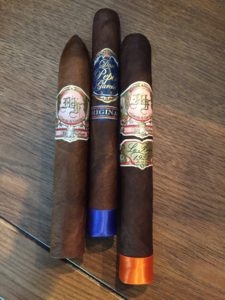 For a gift that goes up in smoke, but very fine smoke, stop by the Gray Lady Smoke Shop. Hand rolled in Nicaragua by father-and-son duo Jose and Jaime Garcia, My Father cigars are among the best.  Gray Lady Smoke Shop has a special award-winning My Father's Day bundle for just $45 that features the Don Pepin Garcia original (rated 93 points), the My Father No. 2 (rated 94 points), and the My Father 1922 Le Bijou (2015 Cigar of the Year). Sure to please the novice and the aficionado, the bundle also includes a Gray Lady cigar cutter, matches, and a Boveda humidification pack to maintain freshness. Gray Lady Smoke Shop is open weekends for spring, upstairs at 2 Union Street, just steps off Main Street. Stop by Friday or Saturday or call ahead and order your Father's Day bundle: 508-901-9399.
For an experience you can wrap up in a box and give like a gift, buy Dad tickets for dinner and a sail aboard the Tall Ship Lynx on Monday, July 3. After a sail around the harbor with dinner and drinks, 30 passengers will watch the Independence Day fireworks display from the water! For tickets, call Egan Maritime at 508-228-2505.
Or buy Dad a day on the water he can gaze at for life: Nantucket artist G.S. Hill has stunning oils, giclees, and prints for sale at the G.S. Hill Gallery at 40 Straight Wharf. Many depict sailing and iconic Nantucket scenes. You can let Dad choose his favorite at www.gshill.com
From watches to waves…Spider Wright Surf is a new gentlemen's surf shop on Main Street with a fine collection of
apparel. From small gifts to a splurge that will please any Dad, this shop has a wide variety of clothing and accessories. Our picks here are a classic Irish linen shirt or their Loro Piana cotten/cashmere blend jacket. This shop is found by walking through the Trinity Collection, a exceptional watch shop at 50 Main Street. You may find an extra special gift for Dad among their superb selection of timepieces by Franck Muller, Patek Philippe, Rolex, Audemars, and more!
With delicious chocolate covered cranberries, chocolate almond buttercrunch, and whale truffles, there is something that will appeal to the sweet tooth in every Dad at Sweet Inspirations Artisan Chocolates, Zero India Street. Ask about their Father's Day specials. If your Dad will not be with you this Sunday, Sweet Inspirations will ship your gift. Call them at 508-228-5814 or order online at NantucketChocolate.com
If your Dad really DOES want a tie, then Murray's Toggery Shop is where you want to go. They have hundreds in a variety of fabrics, colors, and styles. In addition, Murray's Shop for Men (yup, a whole shop just for Dad) has a selection of fine toiletries to pamper your father, exclusive Nantucket Reds pants, shorts, polos, button-downs, jackets, caps, and more items that make special Father's Day gifts.
And for a place to wear his new tie, buy Dad tickets to the Maria Mitchell Association's annual Red-Tie Soiree on July 9. At this great fundraiser, he'll get to meet National Geographic photographer Michael Melford, enjoy an open bar, savor Spanky's Raw Bar and other exceptional food, and dance to music from the Perry Rossi Band all at Sankaty Head Golf Club. Ticket are on sale at 508-228-9198 or at mariamitchell.org.