As I watch the rain fall today and listen to forecasts for high wind and a Thanksgiving nor'easter, I remember another stormy Thanksgiving on Nantucket 31 years ago.
In 1983, my husband and I were planning a quiet Thanksgiving on Nantucket.  Our families were hundreds of miles away in Pennsylvania, so we both agreed to work extra shifts at the Jared Coffin House to cover for our co-workers who were headed off-island for the holidays.
The morning before Thanksgiving, I was feeling a bit uncomfortable.  I was 8 months pregnant with my first child, and I did not know what to expect.  I called my doctor's office, but he was off-island for the holiday.  The hospital referred me to another island doctor, who agreed to see me.  "Well, looks like I'll be seeing you again in a couple of hours," he told me after the exam.
I headed home to let my husband know I was in labor and to tell Phil Read that not only could I not cover the shifts, but that I would also be missing mine and Jerry would miss his.  The Reads and our co-workers who were still on-island juggled their holiday schedules and doubled up their shifts to accommodate the arrival of our baby girl, born at 2 am Thanksgiving morning.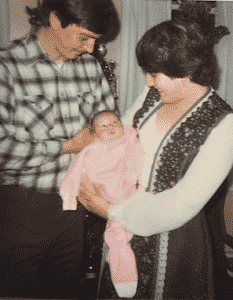 I'm thankful for my daughter Jessica Taryn who was born Thanksgiving Day on Nantucket in a nor'easter like the one we are experiencing now, for all our friends and coworkers who sacrificed their holiday for us, and to Dr. Vorhees and the nurses at Nantucket Cottage Hospital who helped us celebrate.
Happy Thanksgiving!