Mother's Day is right around the corner. If you haven't highlighted, circled, and set yourself a digital calendar reminder for next Sunday, May 9, we recommend doing that right now. We know that shopping for Mom may not always be the easiest mission, so we have put together a list of ten items from Nantucket merchants, chefs, artisans, and artists that we think would make great Mother's Day gifts — whether you are shopping for a new mother, an experienced mom, or a grandmother.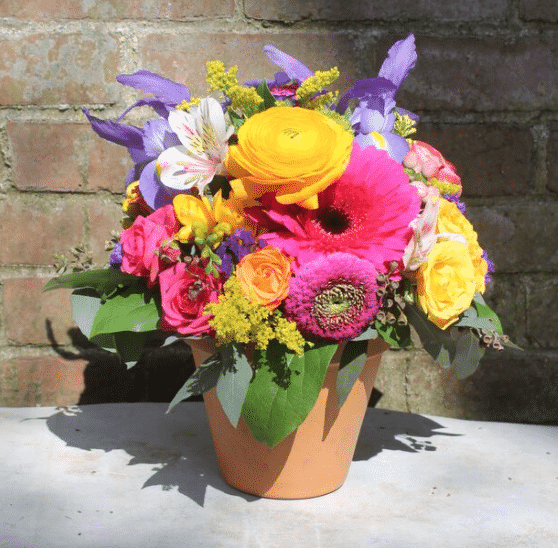 Daffodils are blooming all across Nantucket Island, but if your mother can't wait for hydrangeas, roses, iris, daisies, or other garden delights to bloom, give Flowers on Chestnut a call. This island florist has been adding beauty to Nantucket since 1984. They offer plants, fresh flowers, curated gifts (food, fragrance, and more), and the arrangements their talented staffer create are gorgeous displays of beautiful colors and shapes. You can pick up the flowers your order for your mother or you can arrange for Flowers on Chestnut to deliver them to an island address. Just be sure to call soon — Flowers services are sure to be in high demand for this weekend.
After so many months of staying home, we've all improved our skills in the kitchen. But wouldn't it be nice to give yourself and your mom a night off from kitchen duties? There are not many fine-dining restaurants open for in-person dining on Sundays this early in the season, but you can always wrap up a gift card for a dinner in July. And there are lots of options for take-away. Our choice for Mother's Day 2021 is Bistro at Home. Anyone who remembers dining at Centre Street Bistro will love this reinvention by Chefs Tim and Ruth Pitts. Their menu for Sunday, May 9 will be available on Tuesday, May 4. And for an extra celebratory touch, stop by Epernay Wine & Spirits at 1 North Beach Street for a bottle of champagne, wine, or sake to accompany dinner.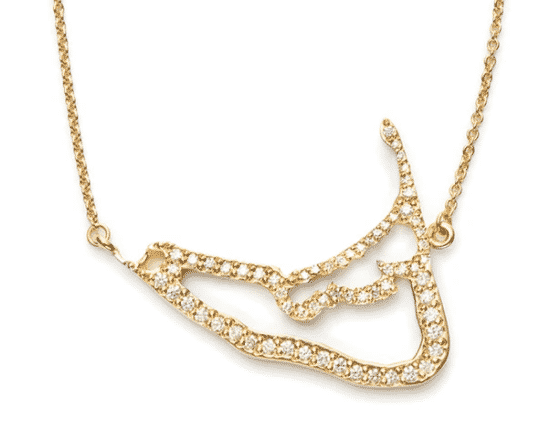 Susan Lister Locke has been drawn to the beauty of the sea and nature. She incorporates the patterns and designs she sees in fine metals and pairs them with vibrant gemstones. If your mother loves Nantucket, consider giving her a Nantucket Map in Diamonds in 18kt gold. This exquisite necklace, the silhouette of Nantucket outlined in diamonds, is available in three sizes. It's perfect for casual or evening wear and will evoke fond memories of our island. Susan Lister Locke's designs also include rings, pins, bracelets, cuffs, charms, earrings, and more. For a gift of timeless beauty, shop on her website.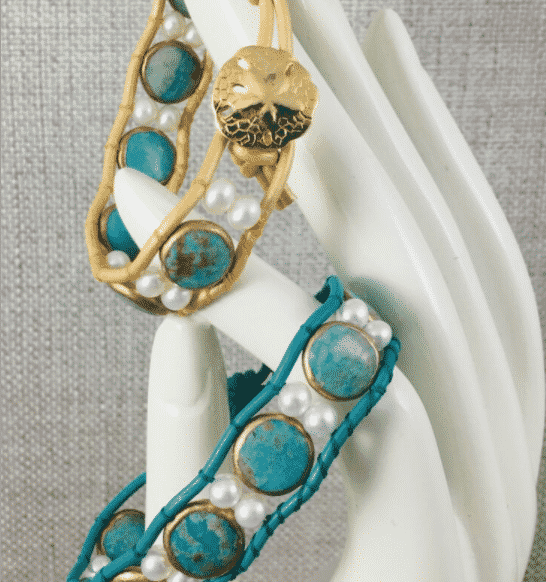 If your mother likes jewelry that shimmers better than jewelry that sparkles, then Nantucket Pearl Company is where you want to shop. Made in the USA from freshwater pearls, many of their designs are one-of-a-kind. Earrings, necklaces, bracelets, and even mask lanyards are available both online and in the G.S. Hill Gallery on Straight Wharf. The Pearl Company's Must-Have Bracelets, truly are something your mother must have–and they come in a variety of colors, so if she has one, perhaps she needs another. There's always something new by the Nantucket Pearl Company: we are particularly fond of their new Limited Edition Turquoise & Pearl Leather Bracelet.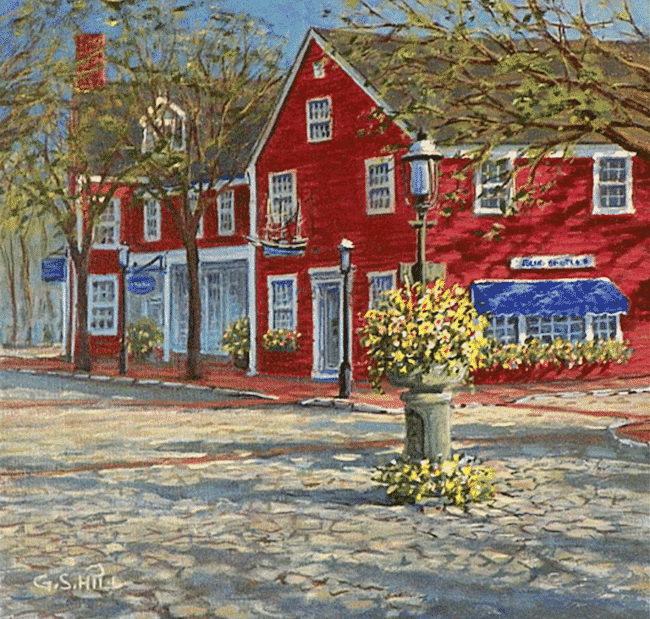 When you stop in at 40 Straight Wharf, not only will you be able to shop for pearls, you will also be surrounded by unique gifts and by stunning original artwork and giclees by Nantucket artist G.S. Hill. Hill has had one-man exhibits in Paris, Tokyo, Sydney, and numerous cities throughout the United States. He is honored to have a collection of his graphite drawings of Nantucket in the permanent collection of the Nantucket Whaling Museum. Although they are in Georgia during the winter months, Greg and his wife Judi are back on-island for the season and ready to help you find the ideal gift for mom.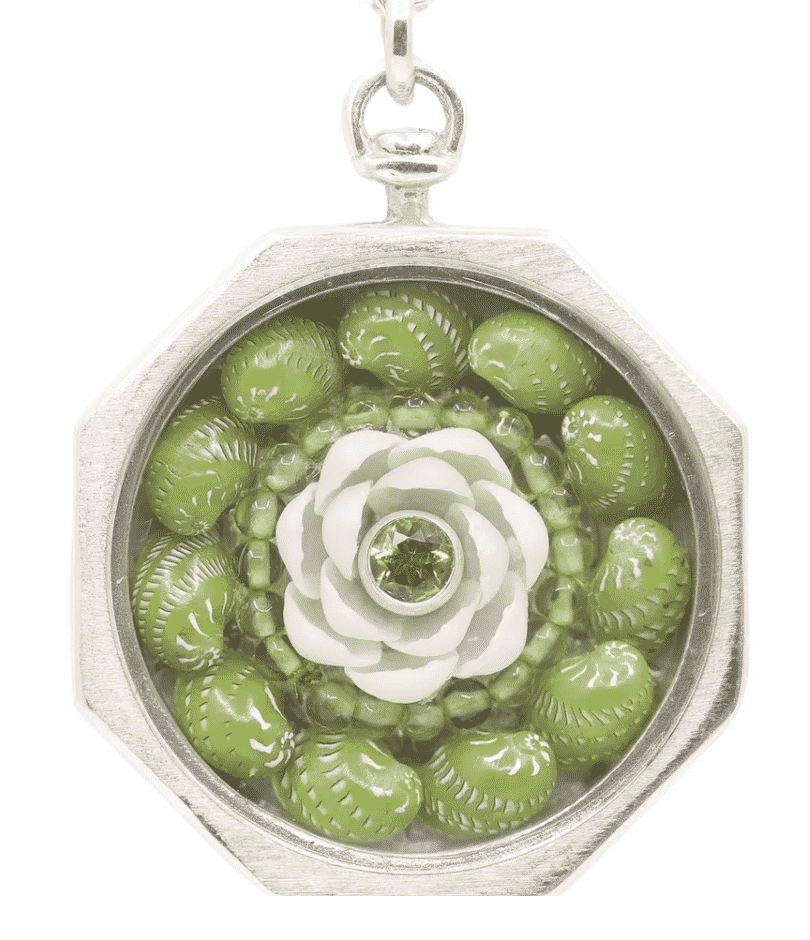 Melissa Dudley combines imagination, beauty, and fine craftsmanship to create evocative jewelry. Her pieces are personalized by what motivates her – direction, antiquity, and connection. She believes personal direction is motivated by an internal compass or a person's feelings. Her jewelry art can initiate emotional connections. Our staff pick from Melissa's selection is one of her hand-designed Sailor's Valentines. Whalemen returning from their long voyages would give them to loved ones whom they hadn't seen for many years. Taking her cue from those historic artifacts, Melissa has reimagined the original sailor's valentines as exquisite pieces of fine jewelry: tiny shells, gold or sterling silver–some even have precious gems. You'll see Melissa at Sustainable's Saturday Markets once the season begins, until then you can shop online.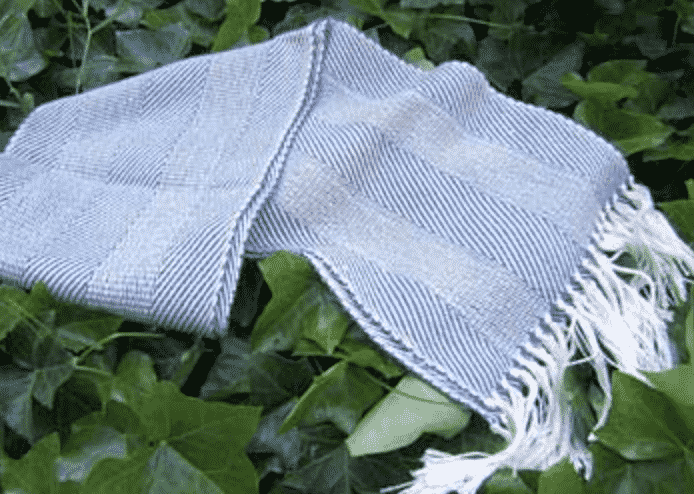 The Handwoven Silk & Alpaca Scarf handwoven by Karin at Island Weaves is 55 inches of soft, warm color to wrap around the one you love, like a warm hug. Karin grew up on the island, and after college started weaving at Nantucket Looms, learning from two internationally-known master weavers. In 2000, she struck out on her own, featuring her own designs of hand-woven items, using high-quality natural fibers. Items from Island Weaves are destined to become family heirlooms. Order online or call 508-221-8343 for an appointment at her weaving studio on Hooper Farm Road.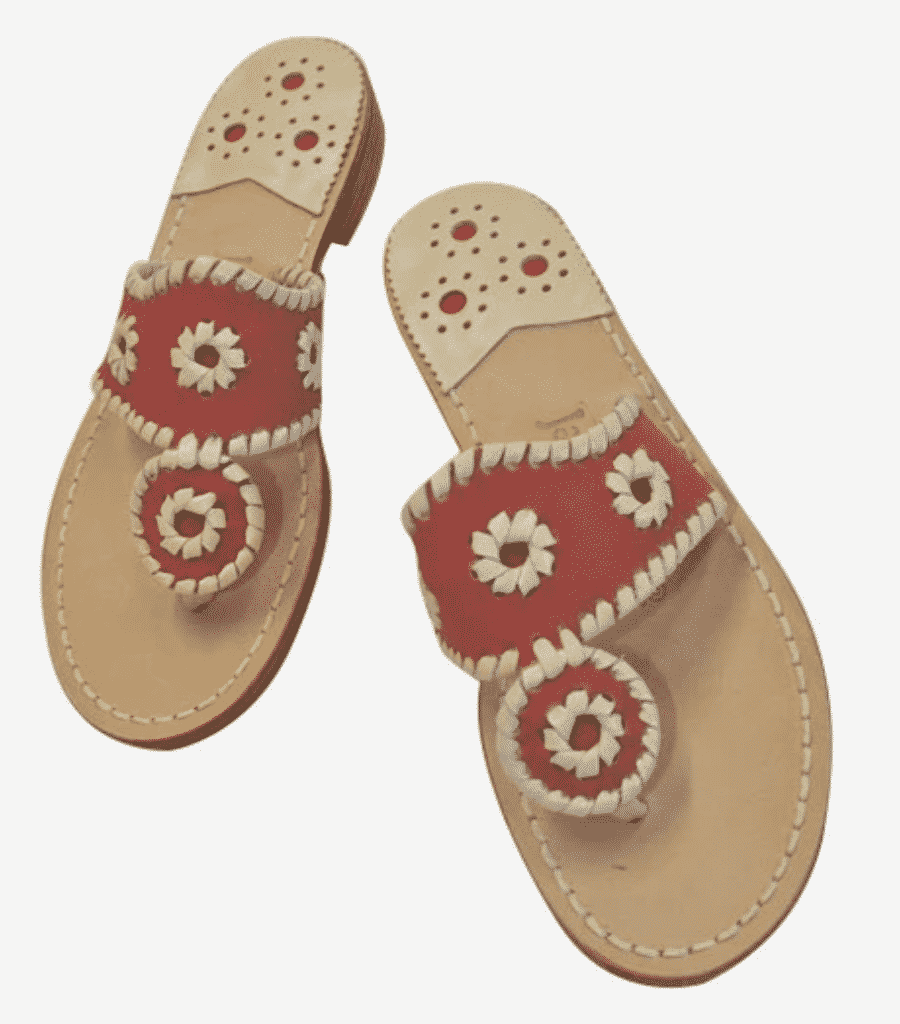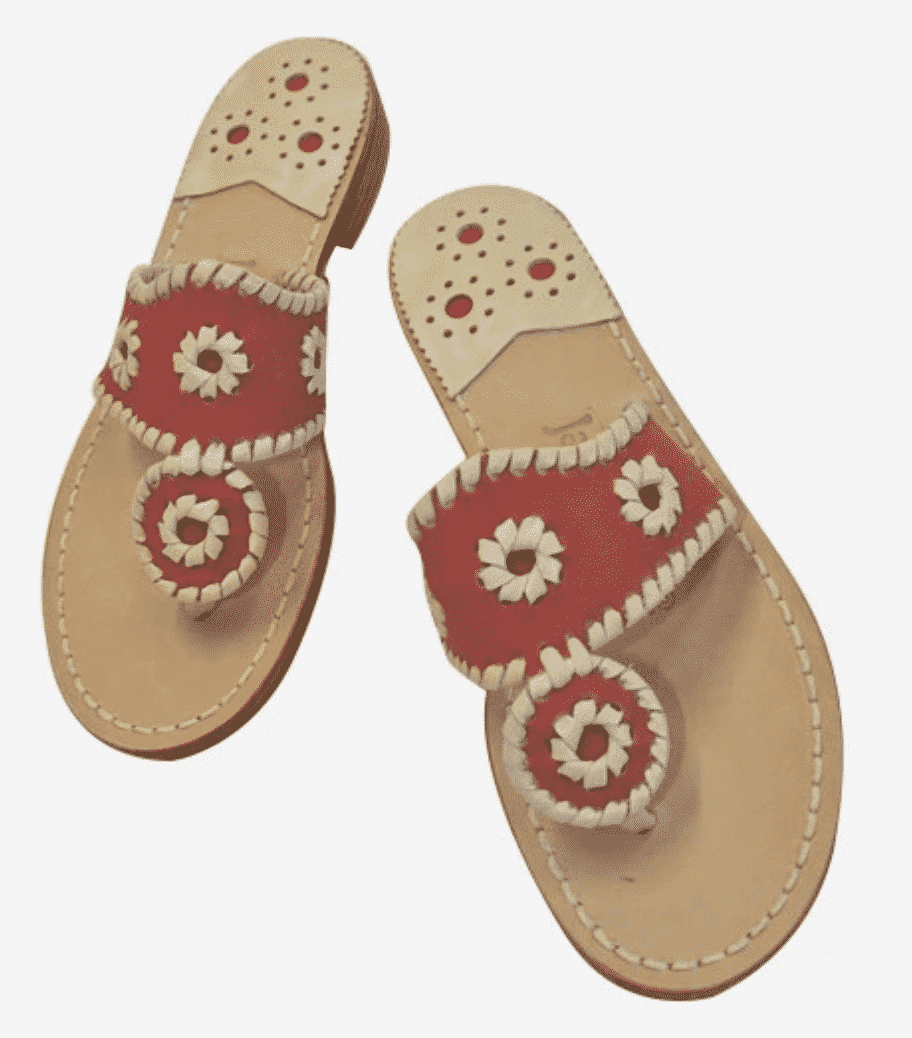 Murray's Toggery is known for their Nantucket Reds Collection™ but do you know just how many items they offer with this iconic Nantucket brand? It was in the 1960s that Philip C. Murray introduced the now iconic Nantucket Reds. They were pants were made of a red canvas fabric meant to fade over time to resemble the color of the sails that dotted the coast of Brittany, France. In 1980, Murray trademark the line, as its popularity had grown ,and it was quickly becoming a symbol of island life. For women, the collection includes pants and shorts, skirts and dresses, shirts and tops, but our favorite Nantucket Red style for women are the sandals by Jack Rogers. This exclusive Jack Rogers Navajo sandal is a Nantucket Reds Collection™ that you will only find at Murray's!Stop by the shop at the top of Main Street, Nantucket, or order a pair online.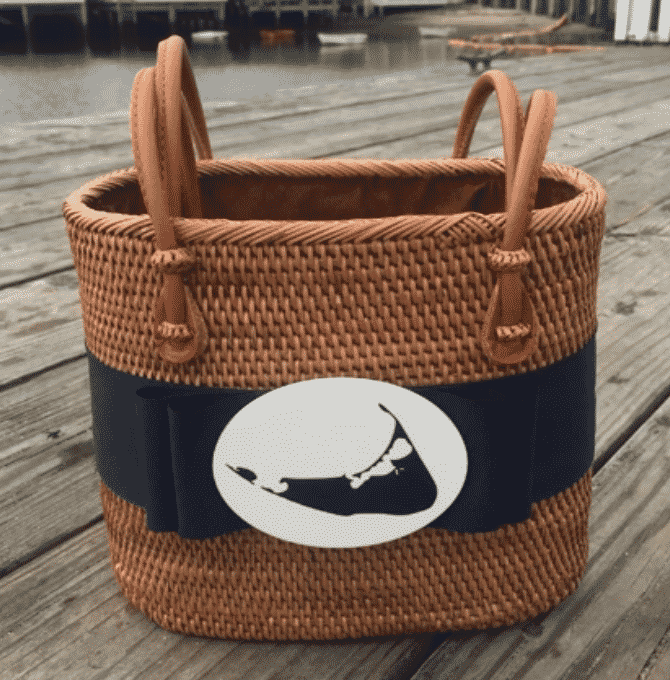 At the bottom of Main Street is a shop that reflects the playful elegance that is Nantucket… a shop where you'll find the perfect something for every mother. Our staff pick for Mother's Day from The Blue Beetle is their Nantucket Oval Basket. This bag is just big enough for everything you need to carry. Can be worn over the shoulder or on the arm. The vinyl Nantucket is the perfect accent to remind you of your favorite place! The inside of the bag features a drawstring closure. This bag has leather handles and features a navy ribbon and a navy island on a white oval. Blue Beetle is open daily at 12 Main Street, and you can order online for shipping to your mothers everywhere.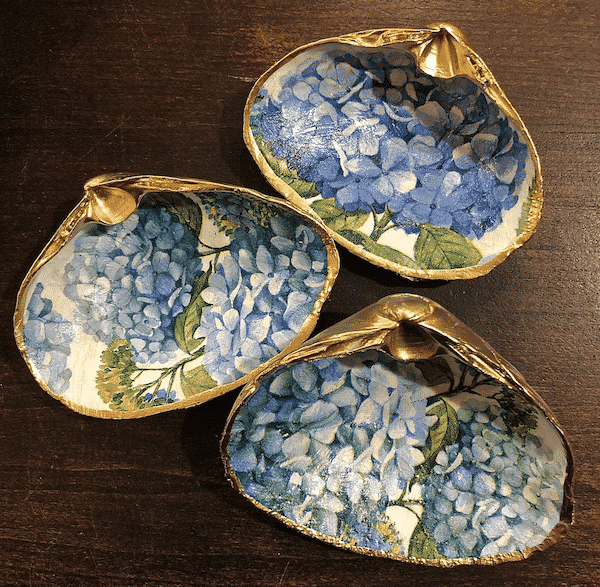 ACK 4170™ has just moved to new digs at 18 Federal Street, and their shop is filled with wonderful gifts for mom. From home goods to jewelry, soaps & candles to totes & Ts, and everything in between, Susan's carefully curated products are items you won't find elsewhere on Nantucket. Our staff pick at ACK 4170 are their handcrafted blue hydrangea clam shells. These genuine shells are trimmed with gold leaf and perfect for your earrings, rings, and small treasures. Because they are handmade, these could sell out, so don't wait to get one. The Blue Hydrangea Surf Shell is available from their website, along with so many other gifts for Mother's Day.
Happy Mother's Day to all moms from The Insider's Guide to Nantucket and Yesterday's Island/Today's Nantucket. You can us our websites to visit Nantucket before & after you visit Nantucket. For more Insider's Tips from Nantucket, visit us online and follow us on Instagram.