by Rebecca Nimerfroh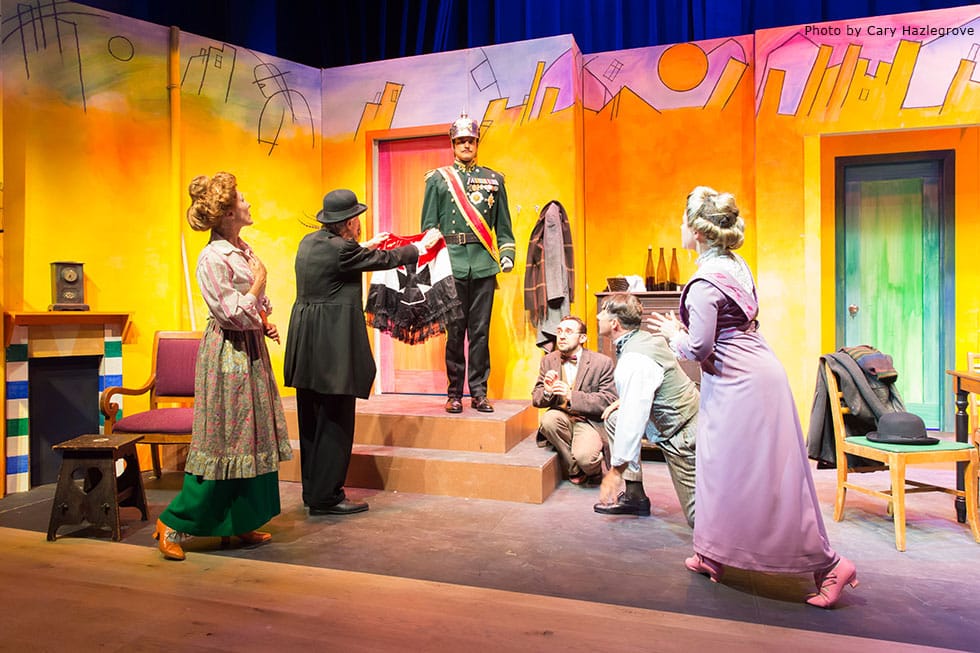 They say any publicity is good publicity, right? In The Underpants, a comedic play written by actor, banjo player, and novelist Steve Martin, adapted from Carl Sternheim's 1910 German farce entitled Die Hose, this statement is truly put to the test. Sheltered wife Louise Maske accidentally drops her underpants in front of a hefty crowd gathered for the King's parade, and although this accident direly humiliates her husband, the buttoned-up and polished Theo Maske, the town's response from this vision is an overwhelming, comedic explosion. So is any publicity good publicity? Well, it surely is when multiple men suddenly become love sick at the very sight of those underpants, and the spend-thrifty couple just so happen to have a room for rent, providing just the right opportunity to gain proximity to this mousey, embarrassed woman. The attention from her suitors, however, is one that she soon relishes, so much so that the entire play could possibly be considered a hilarious soap opera daydream conjured up by a desperate housewife.
Right off the bat, the use of the term "underpants" said with such serious conviction is sure to set off giggles in even the most stone-face audience member, and the repulsed reaction the husband has to this accident is achingly funny. Played excellently by Grant Neale, an established acting veteran of over 200 plays in his career, the actor hits a home run with his portrayal of a stuffy man with a multitude of priorities that involve everything other than loving his newly married wife. Marina Morrissey, who returns to the White Heron Theatre Company for her third season, having previously starred in Family Furniture and Vanya, Sonia and Masha and Spike, plays the unfulfilled counterpart in this relationship convincingly well, and the audience can't help but laugh till they cry as she gets so easily swept off her feet by one particular and dashing stranger, Frank Versati, played with true swagger by Brian Krinsky.
But this character Frank is not alone in his quest for Louise's love. Another suitor, under the false pretense of wanting to rent a room, finds his way into Louise and her husband's home, confessing his love as well, although this time the man is not dashing or robust, but a weak and frail barber, played authentically by Kevin Sebastian. What ensues is a contest over Louise's love as her unknowing and obtuse husband happily counts the money that is handed to him by these two new tenants. Nosey neighbor Gertrude, played by LeeAnne Hutchison, can't help but encourage Louise in behaving badly, nearly writhing in jealousy over her situation, but all of this enthusiasm finds her entangled in the situation in a way she never thought possible.
As an audience member, I so admired not only the written humor but the slapstick comedy as well, directed superbly by Martin Platt. There is hardly a moment that these characters don't writhe and jive or jump from their seats, and it's surely a wild and hilarious ride from start to finish. Don't miss this Steve Martin gem – for it's a kind of comedy that could only really come from the mind of one "wild and crazy guy" and sadly, is only playing until August 17, so get your tickets now at whiteherontheatre.org or call 508-228-2156.