The Nantucket Film Festival (NFF) announced its feature film lineup for June 19-24, 2019. The opening night selection for this year's festival is Universal Pictures' YESTERDAY, written by Oscar nominee Richard Curtis (Four Weddings and a Funeral, Love Actually, and Notting Hill) from a story by Jack Barth and Richard Curtis, and directed by Academy Award® winner Danny Boyle (Slumdog Millionaire, Trainspotting). The film tells the story of Jack Malik (Himesh Patel), a struggling singer-songwriter in a tiny English seaside town who wakes up after a freak accident to discover that The Beatles have never existed, and only he remembers their songs.
Sony Pictures Classics' MAIDEN, directed by Alex Holmes, will close the festival. This immersive documentary recounts the thrilling story of Tracy Edwards, a 24-year-old charter boat cook who became the skipper of the first ever all-female crew to enter the Whitbread Round the World Yacht Race.
The 24th Nantucket Film Festival  celebrates the art of screenwriting and storytelling in cinema.
Magnolia Pictures' THE FAREWELL, written and directed by Lulu Wang, will screen as the festival's Centerpiece film. Starring Awkwafina (Crazy Rich Asians), the comedy follows a Chinese-American woman as she returns to China to say goodbye to her grandmother under the ruse of a family wedding.
For the tenth year in a row, NFF will screen a Disney•Pixar film on opening day. This year the studio will showcase the eagerly anticipated animated feature TOY STORY 4, directed by Josh Cooley, produced by Jonas Rivera and Mark Nielsen, with a screenplay by Stephany Folsom and Andrew Stanton. Woody (Tom Hanks), Buzz Lightyear (Tim Allen), and the whole gang find themselves far from home, discovering new friends—and old ones—on an eye-opening road trip that takes them to unexpected places.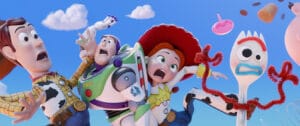 Nearly 50 feature selections have been revealed as part of NFF's 2019 lineup. Among these are several notable award-winning films from Sundance, including Grand Jury Prize winners ONE CHILD NATION, directed by Nanfu Wang and Jialing Zhang, and HONEYLAND, directed by Ljubomir Stefanov and Tamara Kotevska; Directing Award winners AMERICAN FACTORY, directed by Steven Bognar & Julia Reichert, and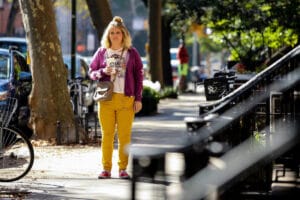 COLD CASE HAMMARSKJÖLD, directed by Mads Brügger; Special Jury Award winners JAWLINE, directed by Liza Mandelup, and MIDNIGHT FAMILY, directed by Luke Lorentzen; and Audience Award winners SEA OF SHADOWS, directed by Richard Ladkani, and BRITTANY RUNS A MARATHON, written and directed by Paul Downs Colaizzo. Also included are Audience Award winners from SXSW: SAINT FRANCES, written by and starring Kelly O'Sullivan and directed by Alex Thompson, and FOR SAMA, directed by Waad al-Kateab and Edward Watts, which will be presented with a special conversation in collaboration with Facing History and Ourselves.
This year's lineup also includes a large number of female filmmakers with narratives featuring strong female leads, including Annabelle Attanasio's MICKEY AND THE BEAR, Claire McCarthy's OPHELIA, Hilary Brougher's SOUTH MOUNTAIN, Chanya Button's VITA & VIRGINIA, and THE FAREWELL. Documentaries helmed by women, in addition to several of the titles noted above, include Cindy Meehl's THE DOG DOC, Jenifer McShane's ERNIE & JOE, Petra Costa's THE EDGE OF DEMOCRACY, and Linda Goldstein Knowlton's WE ARE THE RADICAL MONARCHS.
"We are thrilled to announce the lineup for this year's edition. NFF's 2019 program continues our tradition of diverse and entertaining content for the whole community. From musicals and period dramas to comedies and thought-provoking documentaries, there is a wide range of options for all audiences," said Basil Tsiokos, Film Program Director, Nantucket Film Festival. "This is the moment we look forward to each year, sharing an exciting new slate of films highlighting strong screenwriting and storytelling."
Over the past 23 years the Nantucket Film Festival has mixed highly anticipated awards contenders with the films of talented emerging and established filmmakers. NFF has brought together the film industry's most recognized screenwriters and storytellers, including Oliver Stone, Noah Baumbach, Steve Martin, Judd Apatow, Tom McCarthy, Beau Willimon, Kathryn Bigelow, Sarah Silverman, Alexander Payne, David O. Russell, Diane Keaton, Robert Towne, Glenn Close, and Aaron Sorkin. NFF has also produced the All-Star Comedy Roundtable Presented by Ben Stiller, and the insightful conversation series In Their Shoes…®, which has included Noah Baumbach, Ben Stiller, and Adam Driver with Chris Matthews, Molly Shannon with Michael Ian Black, Tom McCarthy and Bobby Cannavale with Chris Matthews, and Robin Wright and Beau Willimon with Chris Matthews.
Plan your trip to the 24th Nantucket Film Festival at Nantucket.net.