Three-time Academy Award winner and nineteen-time Academy Award Nominee Meryl Streep will appear at a special cabaret to benefit Theatre Workshop of Nantucket on Saturday, July 30 at the Nantucket Hotel and Resort. The evening will pay tribute to TWN's 60 years of performing on the island. "On With The Show – A 60th Anniversary Cabaret," will feature theatre songs and stories starring Streep, John Shea, TWN's Artistic Director Emeritus, and actor/director Joe Grifasi, who will recreate the cabaret group they formed while classmates at Yale.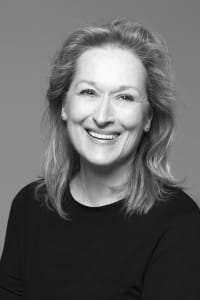 For almost 40 years, Meryl Streep has portrayed an astonishing array of characters in a career that has cut its own unique path from the theater through film and television.
Streep was educated in the New Jersey public school system through high school, graduated cum laude from Vassar College, and received her MFA with honors from Yale University in 1975. She began her professional life on the New York stage, where she quickly established her signature versatility and verve as an actor. Within three years of graduation, she made her Broadway debut, won an Emmy (for Holocaust) and received her first Oscar nomination (for The Deer Hunter). She has won three Academy Awards and in 2015, in a record that is unsurpassed, she earned a 19th Academy Award nomination for her role as The Witch in Into the Woods. Her performance also earned her Golden Globe and Screen Actors Guild Award nominations. She will next be seen in Stephen Frears' Florence Foster Jenkins.
Streep has pursued her interest in the environment through her work with Mothers and Others, a consumer advocacy group that she co-founded in 1989. M&O worked for ten years to promote sustainable agriculture, establish new pesticide regulations, and ensure the availability of organic and sustainably grown local foods.
She is a member of the American Academy of Arts and Letters, and has been accorded a Commandeur de L'Ordre des Arts et des Lettres by the French Government and an honorary César. She received the Lifetime Achievement Award from the American Film Institute, a 2008 honor from the Film Society of Lincoln Center, and the 2010 National Medal of Arts from President Obama. In 2011, Ms. Streep received a Kennedy Center Honor, and in 2014 the Presidential Medal of Freedom. She holds honorary doctorates from Yale, Princeton, Harvard, Dartmouth Indiana Universities, the University Of New Hampshire, Lafayette, Middlebury, and Barnard Colleges.
She and her husband, sculptor Don Gummer, are the parents of a son and three daughters.
Limited seating is available. If you wish to purchase a table or learn about sponsorship opportunities for the evening, please contact Jonathan Jensen, Managing Director at managingdirector@theatreworkshop.com or 508.228.9001.
Tables are on sale now. Individual Tickets are available March 15 through the Theatre Workshop Box Office at theatreworkshop.com or by calling 508.288.4305 or 866.811.4111.