•  by Sarah Teach  •
Editor's Note: All of Nantucket watched The Grammy Awards show on February 15, rooting for our home-town talent.
We're very proud of you, Meghan: congratulations …
all your hard work and sacrifice paid off!
We knew you had it in you, and in tribute, here is an article we published when you were just 17…
You know the drill: you're flipping through radio stations and you stop when you hear a catchy tune.  Even if you recognize the artist's sound, you probably don't know much about his or her personal background.  But not too far into the future, you'll be stopping that dial when you hear Nantucket native Meghan Trainor belting out her original lyrics alongside the sounds of her own guitar.  The seven-year-old in ponytails and cheetah pants who once performed at the Methodist church on Centre Street has blossomed into a producer, songwriter, and instrumental and vocal performer of three original albums.  Did I mention that we're talking about a 17-year-old?
Born and raised on Nantucket, Trainor's island roots go deep.  "I always liked my music classes on Nantucket.  In elementary, we had Miss Moores, then in jazz band, we had Mrs. Thompson."  Trainor laughs as she recalls, "I'd always get called out in class, though, and people would joke about how the only two people they could hear singing were me and my friend David Watson."  Barely after the days of Miss Moores, Trainor first began producing her own music.  "It started when I heard what my friend Rachel's brother, who's a rapper, could record using a computer."  At age 11, Trainor, with her dad's help, launched a home recording studio.  Since those Garage Band beginnings, she has grown into a pop genius with a propensity for writing hit songs.  With a voice that's gutsy but gentle, she's able to give her own songs justice.  Online radio site Janga lists her music as similar to that of pop/rock stars Jason Mraz, Madonna, Michael Buble, and several more.
Despite her remarkable talent, Trainor is very down-to-earth, and you would never guess that she is an award-winning singer/songwriter.  Her themes center on independence, love, growing up, and everything else that we all faced throughout our teen years.  Fittingly, her brand-new album, which will be released in September, is titled "Only 17."
The high production quality of her music makes it hard to believe that it's stemming from someone who can't even vote yet.  Unsurprisingly, music industry professionals agree.  Following the release of her first album in 2009, Trainor became the youngest person ever to win Best Female Artist in the International Acoustic Music Awards for her song "Waterfalls."  In October 2010, she was selected to be a Showcase Performer at the Durango Songwriter's Expo in Colorado.  Just a month later, she took home the Grand Prize from the New Orleans Songwriter's Festival.  She had a blast enjoying her prize of co-writing a song with acclaimed Nashville Songwriter Jim McCormick.
She lights up when she talks about that experience.  "Jim McCormick pretty much has the coolest job ever [as a songwriter for famous artists]!"  Her awards didn't stop there.  This past spring, Trainor triumphed at the Tennessee Concerts Song Contest with her song, "You're Good With Me," winning a music video shoot in Nashville.  Her new song, "Single," which you can hear on her next album, brought her to semi-finalist status in the 2011 Song of the Year songwriting contest; and also this year, she won the 2011 John Lennon Love Song Songwriting Contest for "Learning to Say I Love You."
Trainor has also received widespread acclaim for her heartfelt song, "Take Care of Our Soldiers," which urges people to honor those serving in our country's military.  "No, I didn't date a soldier," she says with mock defensiveness. "I got the idea for the song when I was talking to my parents one night about the soldiers who fought in Vietnam, and how they got spit on when they got back home to the states.  We talked about how it doesn't matter if you agree with a war or not; they're still people.  We all deserve respect from each another."  After writing "Take Care of Our Soldiers," Trainor contacted Cape Cod Cares for Our Troops to let them know she would donate 100% of the song's proceeds to the charity.  "Through that, I ended up getting to tour around the country with Jeff Perry to perform the song for soldiers and their families," Trainor says.  She also compiled a music video that will bring tears to the eyes of any American patriot or anyone who holds a soldier in their heart. You can hear it on YouTube.com.
Apart from of all of her awards and recognition, Trainor's favorite project so far is her new album, which will come out in September.  "I'm still obsessed with all the songs on it.  Right now, my favorite song on the album is probably 'Window.'  It's definitely cool to get ready to share something I've created with other people, and then see them enjoy it."
You would think that Trainor is nothing but thrilled to start performing all of her latest work, but she reveals a shy side.  "I do still get stage fright!" she confesses.  "It's funny, it happens in the most random places!  I'm actually okay in front of huge crowds.  Like, when I was touring with Jeff Perry, I was totally fine.  But getting up in front of teenagers…" she trails off and ends with "Ugh!  Teenagers, they judge.  You know?  I just get so nervous in front of them."  I assure Trainor that, as many of us know, when you leave high school, your life changes and you start learning to care less what others think of you.
When asked about her future plans, Trainor discloses her plans to study music at Belmonte University in Nashville.  "I actually got a full scholarship to go to Berkeley School of Music this summer," she says. "I had always kind of assumed that I'd go there since I've been doing their summer Performance Program for the past two years."   But life took a different path, and Trainor believes the Songwriting major at Belmonte will guide her best.  However, Trainor's advice for other young musicians has nothing to do with schooling: "Keep performing," she emphasizes.  "If you get a gig somewhere, any gig anywhere, go do it!  Even if you're only playing for, like, three people, you'll still be getting practice.  Something good will come of it."  She also encourages aspiring musicians to branch out in their songwriting styles. "Try a different genre," she urges. "Sometimes crazy things can come from places you don't expect."
Trainor's musical know-how extends beyond solo performances, though. "I'm a part of our family band, Island Fusion; we've been playing for about five years.  It's me, my brother, my dad and an old music student of his, and my aunt and uncle."  Island Fusion blends reggae with Soca, whipping up a Caribbean medley that is thoroughly danceable.  And the Trainor family's collaborative capabilities don't stop at the edge of the stage.  "My parents own Jewel of the Isle [a fine jewelry store here on Nantucket]."  Around her neck, Trainor is wearing a pendant that, at first glance, a Nantucketer might assume is a lightship basket. "It's actually a scallop basket," says Trainor. "My mom made it! I don't know how to make jewelry or anything like she does, but I'm learning to help my dad work on watches!"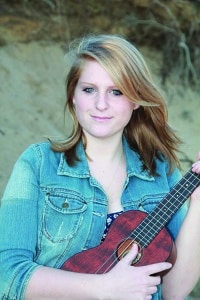 Trainor loves that her parents are jewelers, but her own aspirations are leading her in a different direction. Trainor says, "My dream job would be to write songs for famous people.  If I could say I was on that [well-known] album somewhere—if I could write songs that are that good—then I'd be happy."
But just between us, I think Trainor may be setting her sights more humbly than necessary.  With the kind of talent and determination she radiates, Meghan Trainor is going big.  It'll be exciting to see what she does after she writes her first song that's heard on radios 'round the world.  You have a couple more chances to hear this star-in-the-making perform live on Nantucket this season!  She'll be playing solo on Thursday, September 1 at the Jetties from 5:30 to 8:30 p.m. The next night, September 2, don't miss the chance to see Island Fusion at The Muse at 10 p.m.  If you cannot make it to either show, you can still hear her online or on her albums.
Fortunately, you've now found the perfect birthday present for that teenage niece of yours.  Trainor was only 15 when she released her first album, and her music is refreshingly age-appropriate, catchy, and sweet.  It's definitely the kind of music your selective sister-in-law won't kill you for bringing into her home; plus it'll upgrade you to "cool aunt or uncle" status.  Get any or all of Trainor's CDs at Jewel of the Isle, on iTunes, or on Amazon.  Gary and Kelli Trainor may have named their store Jewel of the Isle, but the real gem they've produced is their daughter Meghan.