The August evening glow sets in over the brewery's picnic tables as the band is playing on the porch. A little girl in a pink dress with blonde curls squeals delightfully as she is joined on the dance floor by a tiny boy who shares all her features, save for a missing front row of teeth. Two 30-something women clink recyclable cups together, spilling their brews, but they don't have a care in the world. The wavy-haired beauty whose voice rips through the twilight hits a tambourine to the off beats and swings her hips as the guitar picks an elaborate melody. This is dancing music at its most inviting, courtesy of the island's gypsy-style band, Coq Au Vin.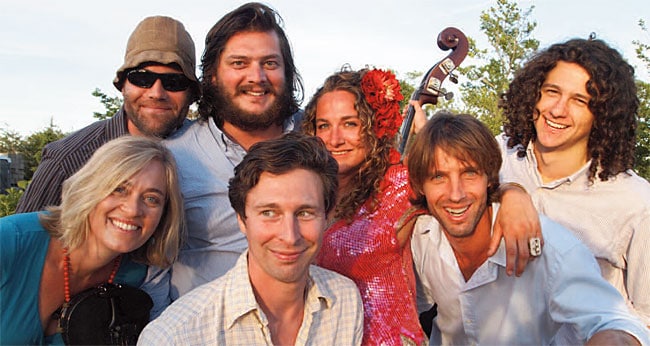 "Gypsy style" encompasses the traditional music of Eastern Europe that is primarily instrumental and finds its strength in string instruments. Many of us may think of it as the sort of Greek wedding music that begs for an exclamation: "Opa!" It is more about the sound than who wrote the song; a good musician can spin any song into gypsy style. And Coq Au Vin, with influences that range from Spanish gypsy flamenco singer Camarón de la Isla to contemporary Euro-pop group Ace of Base, dances to the beat of its own drum. Some original numbers are scattered throughout their repertoire, complemented by songs that anyone recognizes and loves.
"It's really Caleb's band," allows guitarist Bob Walder, referring to accordionist Caleb Cressman, who majored in ethnomusicology at Lewis & Clark in Portland, Oregon. Cressman was the common string that brought the band together throughout 2011. "He's the prince of the band," jokes Walder; Cressman simply waves this comment off and reveals his vision: "I wanted to have a really versatile band that could play a variety of music. I also love that we don't have to plug in [any electrical equipment]. We prefer acoustic."
Pete Arsenault, owner of local technology support firm Oasis Computer Consulting and former Boston rock musician, picks at a guitar alongside Walder. Arsenault says, "Along with playing modern pop in the gypsy style, we do a lot of traditional early 20th century music. We think it's really important to keep those traditions going."
The baby of the band, string bassist Zeb Bennett, just graduated from Nantucket High School. He may not be able to drink, but he can keep up with musicians twice his age. Bennett sheds light on the band's name: "Coq au vin is a French dish that translates as 'rooster with wine.' We were trying to come up with a band name, and we were all at Caleb's house eating coq au vin. Suddenly it became obvious." The band confesses that listeners have had some trouble knowing how to pronounce Coq Au Vin. The tambourine-hitting singer, Ingrid Feeney, draws on her linguistics studies at City University of New York (CUNY) at Brooklyn College to break down the band's name: "It's pronounced much like the English "Cocoa Van" but with the 'Coc' separated from the 'oa' and a more nasalized 'a' sound followed by a soft nasalized consonant 'n'." Feeney's strong, rich, fierce vocals span six languages and meld melodiously with the gypsy style. Violinist Joanna Hay hails from Kentucky, leading one to believe that the instrument on her arm may in fact be a fiddle. Andy Harris, a local farmer, blasts on the trumpet alongside drummer Jake Wardell. Both are powerful instruments, but neither drowns any other element of the ensemble.
All members of the band seem to take great pleasure in one another's company; and they acknowledge that they are in this gig for the love of music and not of money. They enjoy the dynamics of fancy weddings and cocktail parties, but they also dig the rowdy crowds of Nantucket's late-night restaurant and bar scene. "We have two people that turn up at almost all of our shows and dance. They're our biggest fans; we love them!" says Feeney, adding that Nantucket's local Russian-Americans usually come up and sing with her when their country's traditional music is played. "Some have tears in their eyes," she says, "And they've been very happy to help me with my pronunciation, too." Listeners must hear but one song in order to recognize that Coq Au Vin's mesmerizing influence crosses boundaries of culture, gender, generation and lifestyle, inviting anyone and everyone to take joy in the music they create.
Coq Au Vin has plans to record their music this winter, so you can look forward to dancing to Nantucket-made gypsy music every day! Coq Au Vin is available as a three-piece band consisting of accordion, guitar and tambourine/ vocals, all the way up to the full eight-piece band that adds a second guitar, along with a fiddle, a trumpet, drums, and a string bass. They are available for private bookings by contacting Arsenault at 508-228-5366 or emailing booking@coqauvinband.com. Revel in the dancing music of Coq Au Vin every Thursday at The Met on Main and every Friday night at Pazzo.